Facebook dropping support its apps on older Windows, Windows Phone platforms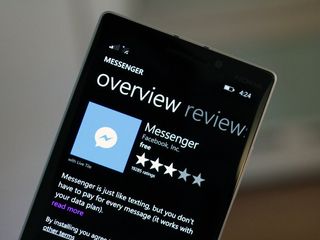 If you're still using the Facebook or Facebook Messenger apps on an older version of Windows or Windows Phone, you'll want to find an alternative soon. Facebook has announced that it is dropping support for the apps on Windows Phone 8 and 8.1, along with Windows 8 and 8.1 soon.
Here's a look at the platforms and apps affected, from Facebook's Messenger blog:
Facebook for Windows Phone.
Messenger for Windows Phone 8 and 8.1.
Facebook for Windows 8 and 8.1 desktop app.
According to both the post and a message being sent to users, Facebook plans to retire the above apps "by the end of March." That's approaching quickly and doesn't give users much time to figure out an alternative. Facebook is still maintaining pretty active development of both apps on Windows 10 and Windows 10 Mobile, so anyone using the apps there need not worry. For anyone on the cutting block, however, you'll have to upgrade your OS or to a new device if you want to keep using Facebook's apps past March. Alternatively, you could get away with using either service in a browser.
Thanks for the tips, everyone!
Get the Windows Central Newsletter
All the latest news, reviews, and guides for Windows and Xbox diehards.
Dan Thorp-Lancaster is the former Editor-in-Chief of Windows Central. He began working with Windows Central, Android Central, and iMore as a news writer in 2014 and is obsessed with tech of all sorts. You can follow Dan on Twitter @DthorpL and Instagram @heyitsdtl.
Feels like they already dropped it on windows 10 Mobile. No updates in like 5 months

I am running the Beta app. Works fine on my Lumia Icon. Not sure when it was last updated or what features have yet to make it into the production app. If you are not running the Beta app, give it a try.

It works fine but still can't go live, still can't video call in messenger mossing the latest features rolling out to everyone else

Review the app with a poor rating and submit feedback about how messenger lacks calling and how Facebook lacks live streaming.

Good joke. On Mobile only some happy few are eligible to give a rating in the Store: that is people with phones better than a Lumia 950 XL.

Your statement is false seeing as anyone with at least 2GB of RAM can contribute a review, meaning most windows 10 mobile phones except the 550, 650, and 640/XL.

It is not, sorry, rather your answer proves you are not using a Windows phone. I am not able to rate the apps with my 950 XL nor with my 950 before that nor with my 930: also not with our 640 XL or 650. It seems that you have to have 2GB Ram completely available for the app.

I have a 950 and can rate any app. Seems to be an issue with your MS account and not your phones.

Hardly possible since not all devices are on the same account; maybe it has also something to do with my location Germany as I read on others forums that they had also issues to rate Facebook or Messenger app.

I have a 950xl and cannot rate either app. That's why there are such low reviews.

"Your statement is false seeing as anyone with at least 2GB of RAM can contribute a review, meaning most windows 10 mobile phones except the 550, 650, and 640/XL."
You mean there's 650XL and 950 and 950XL right? Not like 550 and 650 make most of the market xD

It also almost always fails the first time I open it. It usually always loads the next time but it is slow.

Works fine lol. Hilarious! The app is extremely slow and basic. One of the worst apps on my phone

Depends on your phone I'm using a idol 4s with 4gb of ram. It's slow to start up initially but after that it runs great still needs updates to polish it it still has bugs that need fixing

Depends on your phone I'm using a idol 4s with 4gb of ram. It's slow to start up initially but after that it runs great still needs updates to polish it it still has bugs that need fixing

Same on 950 - Once running not a problem but slow to start. Facebook is particularly bad as it often crashes on the first attempt to open, then works the second time (from cold start, once started resuming is fine)

I have reverted to the Microsoft released version of the app because it is stable. As for the official app it crashes 4 out of 5 times anytime I try to launch it. I have even uninstalled it from my phone. It's a crap!

What phone are u using it on? The new app is only recommended for phones with at least 2gb of ram that's why it constantly is crashing. It almost never crashes on my idol

Yeah. About the recommended RAM size, I know about that. These guys at Facebook have tactically thrown those who use phones with only 1GB RAM out. They might have forgotten that this is Windows Phone where even the lowest-end hardware runs fine on the platform.

Sorry but asking for good Facebook app performance with a Lumia 430 is almost impossible, the same happens with Android, and that's why low range phones have Facebook Lite.

Check the version numbers - if you're on Beta you're running an older version

I am happy with apk file installer,if Microsoft didn't cut android subsystem support for Windows 10 mobile

There was before android subsystems support for Windows 10 mobile. But Microsoft dropped support in the latest update. If it is available, we can install android apk files on windows 10 mobile. That is i am saying..

For real?
I did not know that yet am using Windows 10 mobile...how do I do that,I still haven't updated my phone

Yeah because it made the os incredibly buggy and slow, just like lagdroid. The exact build they removed it, the os doubled in performance and battery efficiency

But android subsystem support is better than OS without apps..for Windows 10 mobile. I am facing every time apps gape and poor apps. So..

It is due to the fact that the support of W8.1 will end on July

I get updates almost daily on my Android phone, rarely on my Lumia.

There have been several FB updates for W10M lately. Got the last one on 3/24, v81.811.22862.0

I'd need to check version numbers but sure I've seen people saying they've had that version since Dec 2016 when others have posted it

I am also getting updates almost monthly with visible new features.

Ok, I get dropping support for WP8.0, but WP8.1 as well? I mean hell, a WinRT8.1 app could've been great for WP8.1 and W10M.

That would require them to maintain two apps for a small market, with the 8.1 market having no future. Now they only have to worry about maintaining the UWP app, which covers both the present and the foreseeable future.

Agreed. The only thing I will miss is the contact integration. That's how I use FB. My feeling is that I will probably get use to not using FB at all with it not being in my contacts. In the meantime I'm going start making sure my contact pics and numbers are updated in Outlook.

The UWP app actually has contact sync but it's far from reliable; it duplicates contacts sometimes, some avatars don't show up, no birthdays on Calendar, etc. I currently keep the good old MS app just for contact sync as it works better for me, and the UWP app for everything else.

Yeah, I do the same thing with my 950. But due to the unresolved battery issue, I actually use a 1520 on 8.1. So the integration is good. Also, I found turning off the sync on the FB version cleared up the duplicate and missing pics on my 950.

"...with the 8.1 market having no future." Why do I have this suspicion that Microsoft is behind this move. The majority of Windows Phone users are still using 8.X. I feel Microsoft fingers are all over this. To try to attempt to force users to upgrade. That's just the way I see it. I may be way off base, but something in my gut says different. Might be those tacos. :)

That's exactly what they're doing.

Yes, there's this crazy conspiracy out there that Microsoft wants people to upgrade to their current and future OS, rather than stick with an obsolete version that has very limited future support. It's crazy, but that's what I heard!

Well that says a lot about WP10 when 80+ % of users say they'd rather stay with an obsolete OS. It should be telling you as well as MS that your new Phone OS sucks. It's crazy, but that's what I heard! ;)

Most people who just bought WP8.1 devices because they were cheap probably don't have a clue W10M is even available

Yeah, I bought a Lumia 640 for $30, and I almost immediately installed Windows 10 (Insiders fast ring, actually). But that's because I'm a nerd. If I was a regular customer, chances are, I'd still be on Windows 8.1.

You heard the truth. Many WP8x users avoid updating because win10mo is a mediocre crap!

"80+ % of users say" ok lol

@hprvez What's so funny is that it's true. It's more like 82%! Don't take my word for it. Read if for yourself! Lol that! :) http://blog.adduplex.com/2016/12/adduplex-windows-device-statistics-report-december-2016.html

I was wondering when Windows Central would report this. That's a true bummer. A lot of people use Facebook and a lot are on 8.1 too.

On pc they can always use browser. For phone mean nothing as there are only 0.1% used WM/WP combine, FB user might be even less than that.

That's true. I somehow forgot to say that my comment was referring to Windows Phone 8.1. That's the real bummer.

I lot of people are still on Android Gingerbread, it will also lose support. I get that FB doesnt want to keep testing on such a wide field of devices. I'm glad they are still supporting Windows Phone - cant really expect them to maintain two windows phone apps.
​They have been gradually making changes that will probably, eventually break the older apps. They are continuing to shut off what remains of OS sync features in all platforms.

Fair point. Thanks for sharing that viewpoint. It's just tricky for Windows Phone 8.1 especially since some of these phones cannot get Windows 10 Mobile. At least on Android, people do have carrier choices in America. They can go to any carrier store and just pick an Android phone. AT&T and T-Mobile each have one option, which is a start, but not people on Verizon or Sprint. Personally, I like unlocked phones and that's my preference, but even though it is growing, it is still fairly uncommon.

I just got my wife an "almost new" unlocked Lumia 950 for $170 on ebay. (Her old one had a hardware issue) Its a fantastic phone for the price! Most go for around $200-220 new.


Wow, that's an amazing deal!

Buy an unlocked phone and upgrade to w10m

Yeah, I have one. Unfortunately with Windows unlocked phones, you are generally giving up carrier features. If that's okay, you're fine. If not, no deal.

Normally carrier locked phones have less features

In some ways yes. In other ways, not so much. An example is the T-Mo Idol 4s vs the unlocked 4s. If you're on T-Mobile and you use the former, you get VoLTE so that you can use all bands for data and voice. If you use the latter with the same carrier, you can only use Band 12 for data only.

Shhhh don't come here with the full story (old versions being dropped elsewhere too), you'll ruin the WP hate 😉

Wasn't the Windows Phone 8.x app developed by Microsoft? Anyway, I still have the Version 8.3.7 on my phone for the Lock Screen feature not available on the W10M version. I hope this doesn't finally kill it.

My guess is, things are going to start breaking on these apps. MS made the app and built in a lot of OS-level syncing. FB has been gradually cutting that stuff off. On my Android phone, I cant sync contacts with FB anymore. One thing I read said they will start requiring everyone you sync with on FB to have the same syncing app with permissions granted to allow access.

Hmmm...good question. That also brings up could a 3rd party app be developed that functions like the original app?

The Facebook app for WP8.x is made by Microsoft. The Facebook Messenger app for WP8.x was made by Facebook. Only Facebook Messenger support is being dropped on WP8.x.

I think they made the Facebook app itself but Messenger was published by Facebook

Great, unpin that app, and pin the website link #noappsjustbookmarks

#noappjustbookmarks = FEATURE PHONE!

I hope this doesn't put them out of business!


That's mean, windows creator update , soon coming . And most old devices will got this creator update . Great from MS . Lucky u old devices

Facebook live on Beta? Thought not.

Why don't they add Windows 10 mobile? Been ages since the app even got updates or new features.

And their app in Windows 10 still doesn't work behind proxy. Notifications are still crappy and do not clear up if you read them in another device (browser or other phone). Grrrr

To be fair even MS apps don't do this very well

Glad im not on 8.1 but the win 10 mobile version not seen regular updates on facebook or messenger 😳 i hope we see plenty of updates soon these new features be old by time we see them on lumias but ive got faith 👌

Microsoft was doing all the supporting as I recall.
So what i they dropping

What are the Messenger options for those on WP8.1, then? Can they use messenger.com? Is there a way to get back the original, Microsoft-developed Facebook app and send messages from there?

There's a reason that like 88% of all Windows phone users are not on W10 Mobile: they can't upgrade.

There aren't that many windows phones that can't update. People just are completely unaware of the update

So, which WP8.1 phones on Sprint are capable of being upgraded?

i hope you know like 90% of the users have a 512mb ram phone

Aside from that, performance isn't great.

or they simply won't! you think all are blind fanboys? you think all failed to see how bad win10mo is?

Did they even support windows 10? They haven't update for a long time, while android is updated every two weeks

Review the app as 1 star and comment on the lack of features, then submit feedback through the feedback hub.

Or just ask them by mail or any other support way. Bad reviews in the store may result in being pulled from it...

Not the Facebook apps. Microsoft would have their head

The difference being that they are effectively promising that the native Windows 10 Mobile app will continue to offer at least its current level of functionality for the time being. They are explicitly not making such a promise about the Windows Phone 8.1 app. That is to say, any changes they may make to their backend services will keep in mind compatibility with Windows 10 Mobile - either by releasing maintenance updates to the W10M app, or else by maintaining fallbacks to the old backend APIs. On the other hand, they will be free to completely ignore compatibility implications with the WP8.1 apps as they make backend modifications.

Time to dismember from Facebook...

In other words: "Facebook drops Windows Phone".

I dont think you read the article if this is what you got from it. Windows 10 and Windows Phone 10 are still supported.
Windows 8/8.1 is a dead platform that is no longer being developed. Windows 10 has been out 2 yrs now - time to move on.

Yes windows mobile is still supported but look at the situation of fb apps on windows mobile lol ..its horrible. Website is the only best choice for us.

How is it horrible? My god you're a complainer

That's 90% of the people here lol, the other 5% are sane and fair the other 5% are blind fanboys

FB apps in Windows phone required min. 2GB of RAM to run smoothly, they even mentioned in their app description read it once. Most of the users has mobiles with only 1GB RAM and it doesn't work properly to us... 8/10 when we try to open the app it crashes.

ironic aren't we? :)) it's a failed project, made by MS, a mediocre OS build by interns and tested by insiders because MS's CEO decided to layoff most of the experienced engineers and testers.

I don't think you read reality. Windows Phone is dead. Be it Windows Phone 8.1 or Windows Phone 10 (aka "Windows 10 Mobile"...you can call it whatever you want). Thing is, the current marketshare of Windows Phone / 10 Mobile is below 1%. And still, the majority of users in those less than 1% are on Windows Phone 8.1 with Windows 10 Mobile accounting for only around 10% of all Windows Phone users. So, when a company like Facebook drops its app from Windows Phone, there's no point in claiming "oh but there's a Windows 10 Mobile app". It's irrelevant. W10M users are a rarity. Like BB10 users. The majority of WP users are on 8.1. And those will lose Facebook. Which means that, in reality, Facebook dropped Windows Phone, period. And after this, you can bet that if they see the usage of the Windows 10 app isn't great (and it likely isn't since most normal people will access facebook through a browser), they will kill that one next. Because it makes no sense to develop an app no one uses.

Android Central is over there troll. ------->

Hey DJCBS. Good to see you. I see you are still spreading the doom and gloom message. 😄

And yet, even though I've been constantly right about everything, people still refuse to listen ¯\_(ツ)_/¯

Next twitter, then whatsapp.. :)) this is what needs to happen for MS to wake up! All major players to leave this pathetic OS, in order for MS to finaly wake up from their stupidity.

they should drop their support from current builds too... the official apps need atleast 2 GB RAM to run both facebook Stable & Beta. its a requirement.
Most of older mobiles comes only with 1 GB RAM's if they drop their apps from store then 3rd party developers build very good ones. I use Perfect Tube in windows phone which is far better than official Youtube app from android.... So pls drop all ur apps from windows store....

That's not the problem, facebook used xaml before and there were 3rd party apps available, even an official one from Microsoft, they were great and integrated with SMS application. Unfortunately facebook guys who obviously suck at pretty horrible programming (if that makes any sense) decided to just go with their propertiary protocol or w/e and they won't allow any 3rd party applications to connect with their chat app.
So even if they withdraw they'd have to opensource their stuff for 3rd party apps to be available.

And in my wife's situation if you have a phone that isn't eligible for the upgrade to Windows Mobile 10, such as the Lumia 1020, then you have few options. Switching platforms is probably what I'll do for her. Facebook is an important app for her.

Use the website... For facebook it really is not too much of a problem.

Invest some money in the platform and purchase a new device.

If she's still on a 1020 she has bigger problems than Facebook availability (P.S Had and loved my Lumia 1020 for over 2 years but hardware was dated from day 1, except the camera sensor itself)

And fantastic grammar on another article. Pffft and on the title too...

They're only dropping Messenger support, not Facebook itself. The linked article says: By the end of March, we will be ending support for messaging on the following older mobile app versions: Facebook for Windows Phone.
Messenger for Windows Phone 8 and 8.1.
Facebook for Windows 8 and 8.1 desktop app. So if you read it as written, only the messaging aspect of the Facebook app is being dropped. Facebook itself will still work.

yea because facebook with messasing faction is very useful plus they are removing the messasing faction on their mobile website aswell

I just checked you can go to facebook.com and click messeges and just use that through browser.
Fck Facebok tbh.

it has a notification that that tells you to install messenger because they are going to remove it

Facebook apps are a joke performance and feature wise... They feel abandoned on W10

I am using slim for Facebook. Bacos fb app is very poor..

works great on my iphone and galaxy note!

facebook is dropping support and many many peoples are still using wp8.1 coz they don't know windows 10 mobile update is available for them and if available then how to update it.

Great. Now focus on getting the Facebook/Messenger apps fly on 1 GB RAM phones. I mean, right now it is as slow as running iOS 9 on a 512 MB RAM phone (4S).

I dunno...I set up an iphone 4s for my mother in law and its fast. and all apps still work...whodathunkit!

The irony of this is that a co-worker just asked me why his facebook wouldn't work for his lumia 640 XL..MS needs to get their stuff together.. I will likely upgrade to android devices at this rate, because they don't have anything available in the mid-range for the most part.

Tell him to upgrade to 10.

Win10M not available on a lot of the devices dropped.

In this case it's 640XL which is supported.

Once again... it is facebook dropping the support not microsoft, lol. What's so hard about it?
Apps are not supported on many android 2 - 3 versions as well.


Can we see the pie chart breakdown of WP OS version again?

Cap deployed older version facebook work with messenger and is okay 👌

I had to reset my phone and the new app just seems to be a wrapper for the web site? Lost the ability to have my facebook photos on the lock screen! Anyone know of a safe xap file for facebook win 10 mibile?

It seems like the last Windows phone in my family will be gone. We started with five. My father-in-law has a Lumia 640 on T-mobile. T-mobile has not pushed out the update to 10. He is too old to be messing around with the windows insider. I have a 640 from t-mobile in a drawer that I put 10 on and facebook and messenger suck on it. You need to open it twice for it to work and is very slow even with a wipe. This phone doesn't even meet the specs for the facebook app. No choice but to move to another mobile OS for him.

When you learn to read you'll notice that it is Facebook corporation dropping the support, not the Microsoft.
Same **** with Facebook cutting the ability to use 3rd party apps to chat on messenger, cause Windows Phone used to have its own application.
Back then even some Nokias from 100 and 200 series (the ones with keyboard and pretty much that's all they had) had a working messenger application. It's fb's choice. FML
Why as a Linux user I end up defending the nest of a devil lol

I know how to read. But where in my post do I fault MS for Facebook? Well maybe can can fault them. Since MS is dropping support for their own apps (Skype) on 8 and 8.1 I suppose other companies are following suit by dropping support.

What's next? MS will drop support for your phone as a phone?

They already have....thats what windows10arm is! it's not a phone...it just has calling capability.

Facebook supported a Windows phone app?

Huh... Until recently I actually had both of them installed on my Elite X3 but practically never used them. First thing I kicked off my phone was the Facebook App when I realized it draining the **** out of my battery - While not even using it!
Shortly after that I kicked off the Messenger when I received a notification that the version I'm using isn't being supported anymore. Not exactly hurt by these event :°

Hey, doesn't Elite X3 use Windows Phone 10? The news is for Windows 8 and Windows 8.1 :P

Bye bye. Deal is now broken. Switching to Android tomorrow. It's been real as my Nokia 928 works the same today as it did 3 1/2 years ago. I knew this day was coming, but the day is here. Bye bye.

Install SquareHome 2. Enjoy.

It really isn't Microsofts fault, MS is giving security updates to Windows Phone 8 and 8.1 (and mobile versions as well).
It is the choice made by Face*cough*book.
Hate them, and I am a linux user so believe me when I say I hate/used to hate Microsoft.

Whats next? WhatsApp?
Using a Windows phone is now a matter of shame.

:))) too bad, yet they keep those pathetic windows 10m versions.

so if this is the ase will they update messenger so I actually get alerts of a message?????