Facebook for Windows Mobile Updated to v1.2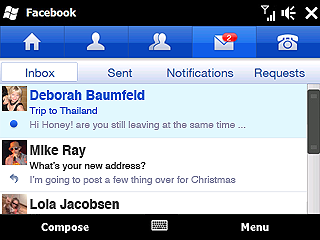 Microsoft's partnership with Facebook keeps getting stronger. Everything from Microsoft's development tools to Windows Phone 7 Series includes some form of integration with the popular social networking application. Windows Phone users have several different methods of getting to their Facebook accounts from their phones. In addition to their mobile site and SMS integration, the Facebook application for Windows Phones is one of the applications that Microsoft has been pushing hard as a demonstration of what is capable with Windows Mobile 6 based devices.
Facebook 1.2 is now available from the Windows Marketplace for Mobile. If you haven't played with it before, Facebook for Windows Phones allows you to perform most of the tasks that you are familiar with. Updating your status, sending and receiving messages, and managing and viewing pictures and videos are all simple to do within the application. Also new in the 1.2 update are the ability to comment and "like" posts.
If you haven't given Facebook for Windows Phones a try, head over to the Marketplace for Mobile and have a look-see.
Windows Central Newsletter
Get the best of Windows Central in in your inbox, every day!
George is the Reviews Editor at Windows Central, concentrating on Windows 10 PC and Mobile apps. He's been a supporter of the platform since the days of Windows CE and uses his current Windows 10 Mobile phone daily to keep up with life and enjoy a game during down time.
i really wish people would stop calling it 1.2 its 1.1.0.14 which couldnt even be rounded to 1.2

Microsoft is calling it 1.2. I don't know of any rule that says that the "version" has to match the "build" number.

Version 1.1 is still what comes up for a lot of us in the Marketplace. Even when I switch over to the United States - English store .... I can't get the Marketplace to offer me v1.2 from web site or phone, no matter which regional store I pick. But I have noticed there is some weird thing happening with the new Marketplace launch that it seems all the apps have to be recertified or something. Every few hours or so a bunch more apps show up - like the games section currently shows 71 titles in it for me. A few hours ago that was 42 titles. So I suspect those of us still seeing v1.1 need to be a little patient and it'll show up.

I had to jump through some hoops to manually update to the latest version of Marketplace. Try going to mp.windowsphone.com from your device and see if it will let you manually update.

I'm actually running Marketplace 1.2.1417.0001, and that's the weirdness I'm seeing -- Facebook 1.1 is what shows up in the store, not version 1.2 (and on marketplace.windowsmobile.com). I am pretty sure it has to do with the fact that I'm in Canada, and that Microsoft is still doing backend work on the ability to browse stores from outside your region. The Games category is back down to 43 titles now (was 71 an hour ago). I'm pretty sure there's a network admin in Redmond who is very stressed out right now.

Now, here's where it gets interesting. If I *don't sign into the Marketplace*, I am offered 1.2. If I sign in, it drops back to 1.1

Yup, that qualifies as weird.

Actually, I can't even find Facebook in the Canadian store. It's in my apps list but not in the store. Check this out: When I'm not signed in to the Marketplace, I'm offered 264 games and 24 social network apps in the USA store: http://twitpic.com/14wn4f If I sign into my account, and pick the USA Catalog the number of apps drops to 43 games and 12 social network apps. If I pick the Facebook shown in the USA Catalog, it offers me v1.1 released 16/10/2009 http://twitpic.com/14wn2k This new marketplace isn't doing the international users any favours right now. It actually looks to me that I have access to LESS applications now than I did a couple weeks ago.

Leave it to XDA to finish what Microsoft couldn't.
For those of us getting offered the OLD version, get the NEW one from XDA - http://forum.xda-developers.com/showthread.php?t=627072

Regardless, when I call a company for tech support on a piece of software and they ask me what version I am using, they give instructions to goto the about screen and get that info. EVERY company does that. So applying that technique this is version 1.1.0.17 not version 1.2. Just read all the boards regarding this, everyone thinks the version 1.2 is still not released, just this crappy 1.1.0.17 version. Boy are people going to be pissed when they find out they are using the latest version and its still crap.

Until it has auto update and facebook IM, what is the point of using it. You are just as well using the site or a program like FIM.

about time... facebook mobile for WM is crap, this makes it a tiny bit better but still a long way to go..

Agreed. I also like that MS finally got around to adding a proper 'Exit' option to the menu. Closing apps from Task Manager is so Y2K - which is one of the ways the built-in PIM apps show their age.

The log out or exit key still requires you to keep adding your user name & PW every time. This is even with the remember my PW checked. What gives..?

I don't know for sure, but I would guess that this is similar to the behavior that you would experience if you log into the Facebook page, checked remember me, and then hit log out.

May be this is the one that was required. Now I can really think about buying Windows mobile. As it looks complete one to get the fun of Facebook.

I got it (1.2) to load. Seems to be a reasonably good upgrade. The initial release wasn't better than FB mobile internet page. But this Window Mobile 1.2 might cause me to change.

i hope the contacts hub in winpho7 will also activate linkedin contacts.

I loaded this upgrade on Win6.1 and it is a vast improvement over the last version. It still hangs me up on occasion but that could be a service issue and not the program. I did notice that you really need to EXIT the program to get it not to run in the background. Nice upgrade.

Uh oh! It's got some bugs, at least on my AT&T Tilt2. Some of my posts aren't getting through. I like the new interface a lot. But until bugs are fixed, I'm back to m.facebook.com. Keep us posted on any new news.

I had a little bit of challenge upgrading to the new version. It is an improvement though!

Very nice and useful post.Some of points from this article are very helpful for me as I haven

I thank the writer friend for his writings on your site. I read all of it and i need to read new writings anymore. For the time being, i watched this type of topic on facebook and i liked it so much. In addition, it's one of the rare topics on the site. See you at a new topic...

A terrible application, even with the upgrade. When I see my friends' application for other phones, it makes me jealous. Come on Microsoft, you're better than this!
Windows Central Newsletter
Thank you for signing up to Windows Central. You will receive a verification email shortly.
There was a problem. Please refresh the page and try again.