Facebook for Windows Phone and Windows 10 Mobile updated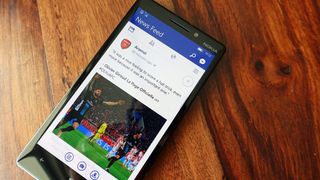 The non-beta version of the offficial Facebook app for Windows Phone 8.1 and Windows 10 Mobile are both rolling out new updates, but there's no word on what might be new in these versions
The version number for the Windows Phone Facebook app has not changed; it's still listed as 8.3.8.0, which is the same one that it had in its last update a few weeks ago. The Windows 10 Mobile app has the version number of 10.2.2 It's likely that theses updates just have some bug fixes and improvement, but if you do spot anything major, please let us know about it in the comments.
Thanks to everyone that tipped us
Download Facebook for Windows Phone 8.1/Windows 10 Mobile
Is the UWP app coming someday or should we give up hope?

No idea I think what we have now is 'it'. Microsoft like to make big announcements about nothing.

I know you probably know this already but... You do know there is a Facebook Beta-app that is UWP right? Sent from my Windows 10 PC.

You mean the windows 10 mobile app?

No, I mean the UWP Facebook beta-app that were discussed just a few hours ago in another article...

It is the same app as this one just a bit ahead...

It is an UWP-app, so... No... It is not the same app.

You mean this app? http://m.windowscentral.com/facebook-beta-picks-another-small-update-win...

No, I mean the closed beta version of the Facebook UWP-app.

I never read anything about that anywhere

Yet, here we are... Discussing it.

Point me to an article.. ****..

https://www.windowscentral.com/e?link=https2F%2Fclick.linksynergy.co... There's the store-link. But like I said... It's a closed beta. Sent from my Windows 10 PC.

Oh that one, but it is the pc version, I was under the assumption that this app in this article was the respective mobile equivalent...

That is the coming UWP-app. This article is about updates to the Windows 8.1-apps.

Nope, I just updated the w10m Facebook version..

No, you updated the Windows 8.1 version which is what we all are using. The UWP (Windows 10) version hasn't been released yet.

Why does this article headline say fb for w10m?

How retarded are you? There IS a windows 10 mobile beta AND an 8.1 app. They are two different things *******

Lol... You guys keep downvoting each other. SMDH Posted from Windows Central for W10M with the best phone currently running Windows10 (152☺) Arlington, TX US

Yeah... Negative people downvote everyone who shows a hint of positivity. Just the crop of the game.

I didn't click any votes unless the app did it for me..

The app doesn't click things for you. There's just the silent trolls who downvote people who say something positive.

Well mister obvious, the buttons are really tiny and close together.. People might click the wrong one by accident;) stay positive:)

Doesn't matter if it's negative comments, or positive comments. If they are true they are needed.. I would DV something just because it's negative, the same as I wouldn't UV something just because it's positive.
......
Kids around here inject too much emotion in their reply's, and votes.. Posted from Windows Central for W10M with the best phone currently running Windows10 (152☺) Arlington, TX US

Most comments are uneducated though. Posted from Windows Central for XL

you mean uneducated like you? Explain how a windows phone 8.1 facebook beta gets continuum support you freaking pancake: http://www.windowscentral.com/facebook-beta-snags-bug-fixing-update

end of the day, you made a complete idiot of yourself because there is indeed a windows 10 mobile only facebook app. and I'm using it. And it has continuum mode. Ive tested it with my dock.

Damn, dude. Why don't you chill.. Can't you get your point across without being a complete ♿ Via WC For WM10 ☣
Arlington, TX (Most Beautiful City) ♛
Lumia 1520 (Best Lumia $ Can Buy) ツ

nope. cos he was being a complete ass. he deserves it.

⛽ Via WC For WM10 ☣
Arlington, TX (Most Beautiful City) ♛
Lumia 1520 (Best Lumia $ Can Buy) ツ

its a fuel pump...well done :P

Lol. Random.. Didn't have anything else to say. Via WC For WM10 ☣
Arlington, TX (Most Beautiful City) ♛
Lumia 1520 (Best Lumia $ Can Buy) ツ

Obviously I discovered emoji

welcome to the party haha. I cant use emoji when replying via the PC notifications though so I cant return the favour :P

I don't know why the fuel pump tickled me, but it did!

Lol. Via WC For WM10 ☣
Arlington, TX (Most Beautiful City) ♛
Lumia 1520 (Best Lumia $ Can Buy) ツ

That's what I'm going to use for now on to express "whatever" ⛽

Listen... There is a "true" UWP-app built for Windows 10 coming too. When I last tried Facebook on continuum it did not work so I didn't know that the old app had been converted to UWP. This is however not the app that will be used in the future. And chill down a little with trying to move focus from the article to me as a person. Sent from my Windows 10 PC.

Its ok. U were completely wrong and being stubborn as a mule about it. Its cool. ⛽

lets all agree the situation with these apps is completely confusing

Lol.. Gas Pump "whatever"... Guess you're tired of arguing. Via WC For WM10 ☣
Arlington, TX (Most Beautiful City) ♛
Lumia 152☺️ (Best Lumia $ Can Buy) ツ

Lol. Yep I made my point ages ago. Dude was wrong.

You know, there IS an official Facebook in the Store, but it's in closed beta. I know because I'm a beta tester.

Yeah but we don't know which one is going to be retained on mobile

There's supposedly a twitter UWP beta app as well, which had its PC counterpart released last August, but that never came to mobile either.

I don't see what that has to do with this?

It means that probably the UWP facebook app, which is in beta, will release only on PC without releasing a mobile counterpart, like twitter did with its app

Twitter for windows PC hasn't been updated since a very long time, probably christmas or even before.

I flip them crap from time to time about it, but nothing comes of it. :D

Maybe because Mobile hasn't actually been released yet? I mean officially.

yea and it's taking them forever to release it out of beta, just like Windows 10 Mobile itself.

Again... I fail to see what either Facebook nor Twitter has to do with Windows 10 Mobile development?

Oh, you see what Facebook and Twitter has to do with the development of Windows 10 Mobile? Sent from my Windows 10 PC.

what exactly does that mean?

This one is a UWP app too. Not the same as the iOS ported app beta-private available on PC. But this one is also a UWP app, ONLY UWP app can deliver actionable notifications, and the current one does that. Posted from Windows Central for Windows 10

Oh, they've converted it to UWP? Last time I checked it didn't start in Continuum. But this is still the same old app as WP8.1.

Just doing a UWP app doesn't actually automatically put Continuum to work. And it's clearly a totally different app from the W8.1. Including settings, actionable notification, and others features not available on that 8.1 one. As I said this 10.2 app was written using the Win10 platform. It's far from a good though.

Not true doesn't have to be a universal app for actionable notifications

Yes it does. Please do a research.

Actionable notifications are a feature of windows 10 based apps. It can be a windows 10 app that's not universal with those features

I am almost sure that the new W10 app that we have is the UWA that they talked about. Belfiore tweeted about it right when it launched. This is it, and it still sucks!

Then why does the Facebook beta exist? By your logic it's going to be replaced by some new universal Facebook app!

There is a new UWP-app being beta-tested... Why do you think they are doing this? Sent from my Windows 10 PC.

Belfiore tweeted alot of things that were wrong or never happened. He's the original coming soon guy

started to write and then just gave up

No point of a closed beta that stays in beta. Basically nonexistent

Their will be two separate apps one for desdtop and one for mobile (the existing app). both written from the scratch using the same and latest code like any other UWP app. I think facebook chose to go away from the UWP so they can be more freely make the two apps and easier as well. you know as the facebook app is complicated compared to most of the other apps.

And as far as I know, the tool they're using to port that PC app from iOS only works on PCs, not mobile. For now of course.

Islandwood works on mobile

Without change in version number how does store identity that an app has been updated?

This! How does that work?

Who's updating this app? Microsoft or Facebook? On PC it says by Facebook inc. And on mobile it says by MS corp. •Lumia 930•

More or less , Facebook has commissioned Ms to produce the app. So while it is written by Ms it's an official Fb app. At least that's always been my understanding.

I just tested FB on Android phone. Amazing. And still use Edge for browsing FB on my 600€ 950 Lumia. Non sense.

You should use the browser in Android too... Android has a huge problem with battery efficiency if you have the Facebook-app installed. Sent from my Windows 10 PC.

http://www.theguardian.com/technology/2016/feb/01/uninstalling-facebook-... Use the webpage and save 20% battery. This was all the rage on the internet a month ago.

Makes no difference for those of us using larger phone that let I'd return from work with 50-70% battery life left.
At least there's a functional app on their platform.
Is everything about Windows mobile beta? Beta doesn't count. Android and iOS have a plethora of closed and open beta apps. The official offerings are on another level altogether.
Soon™ Posted from my Lumia 950XL

So... Saving 20% does nothing for you... Good to know. Sent from my Windows 10 PC.

Oh goody Posted from Rebel Base, Hoth.

You, sir, won a brand new AT-AT!! Going right away with some bonus snowtroopers! xD Anyway, improved app performance here! Nice update.

Has article writer confirmed this update on wp 8.1? Or just depending on tip from others?

Just release the real FB app already. I thought Zuckerberg and FB are supposed to be "All in" on Windows 10.

Why there is no Facebook app developed by Facebook.inc

Because Fb commissioned Ms to write and produce the app... So this is officially it

This was covered awhile back

That's always been the case.. He's right. Posted from Windows Central for W10M with the best phone currently running Windows10 (152☺) Arlington, TX US

They said they were making the new apps

What a waste of time..... this OS and platform...another update that brings NOTHING!

u no like, u can leave! since being an insider is actually testing both the OS and the apps

Finally, now it let us to reply comments.

Replying to comments is in the app for months now... Posted from Windows Central for Windows 10 on Lumia 535

You could do that in the WM10 app for awhile now. Unless you are referring to the wp8.1 app?

I hope its there now in 8.1.

Seems faster... Seriously, the flag for new items in one's feed has changed. It is not a little round bubble with an number in it placed at the bottom right anymore, but a rectangular "New Items" buttom appearing top center. At least on my W10M Lumia 640.

Does my news feed seem to be almost accurate also now also? Before it used to just suck and never show the right stuff. Now it seems to work. And you can resume paused videos it seems also...or at least it actually says "Resume". +640/Win10

REACTIONS are now there in Facebook (Beta) for PC :-).... but that app is from Facebook. Hopefully they bring their app to Mobile.

Are you sure you didn't get the "updates after build installation"? :))))

Good. Slowest app ever! Especially on WiFi. Wow

The Facebook app for Windows 10 Mobile it's indeed a UWA (it works on Continuum), but still lacks a lot of featured. The Facebook (Beta) for Windows 10 is another different app overall, and it's a lot better that the Mobile one. On the other side, this update kinda broke the Comment Reply, it takes an eternity to the Reply to appear, but a new Comment works just fine. Odd.

Finally someone that understands. O was going crazy reading through the rest.

Huge performance improvement, better timeline arrangement. UI tweaking. And live video support (maybe, I am not sure, but those live video links couldn't be opened in the previous version). Posted from Windows Central for Windows 10 Mobile on Lumia 950

I really don't understand some negative votes... *sigh*
Sir, you are correct, I noticed that too!! Nice performance update here!

This app is unless guess everything is baby steps with this app no features to speak of barely can get the news feed right even though it supposed to be with fb blessing this app is more of a curse Posted from Windows Central for Windows 10

Why don't they take a big step update like android /ios?

They are... It's called the UWP-version and it's in closed beta.

Because they have a 10 million years roadmap

Kidding me? Million years will be too soon.

The feed actually works now. Nice. Posted from Windows Central for Windows 10

Every update that the fb app gets I have never seen any kind of new features. I've seen maybe a UI tweak here and there but it's mostly ' performance and bug fixes as far as I can tell

Has someone compared Facebook vs Facebook beta? Which one runs faster?

OK, I did it. Surprisingly Facebook feels faster and smoother. Deleted the beta version.

Another update, another day, another failure. Tomorrow will be Friday and Facebook by Microsoft will still be there for people to complain....

Update messenger plsssss...to slow

Ok that headline is a little bit confusing. I think it meant to say Windows 10 and Windows Mobile.

No it's right, windows phone (8.1) and windows mobile (windows 10) +640/Win10

No, this is not for 8.1, 8.1 is dead.

Read the article again, both 8.1 and windows 10 versions are getting updates, so... nice try.

Oh please! I use 8.1, and I checked, there's no update. So...nice try...of defending Microsoft...

Whatever bro, just going off the article, and explaining to OP why the article is correctly titled. How is that defending Microsoft...and why does Microsoft need defending? +640/Win10

Ah! I don't know about defending, but the article's title is misleading. 8.3.8.0 came many days ago. And this time there's no update for 8.1

erm... it's not dead yet .-. and yes, both OS (8.1 and 10) had a Facebook update

No 8.1 didn't get update. It's not dead, but no updates for fb.

maybe they pulled the update off? Windows Central usually don't post fake stuff...

That's rhetorical +640/Win10

Is this the beta update that just fixed the recent newsfeed?

it's not beta but yes, the newsfeed now is fine, as I tested and other users noticed

This version is mote stable for sure. Also there's a new "new posts" button up top and when you click it, it actually loads the new posts unlike previous version that just refreshed.

In the last update for FB beta (for mobile) I noticed that recent timeline is properly working Posted from my Lumia 950

Noticed the new designed button "top stories". Now it is on the top of the screen Posted from my Lumia 950

Now there's a new popup like thing on the top of news feed saying 'New Stories' with an arrow pointing upwards. Small thing but looks cool. Still needs to be improved, less stability and fluidity.

It no longer takes me to the web version when clicking on add to timeline notifications.

ทำอะไรก็ไม่ทันชาวบ้านเขาช้าซิบหายควายเอย Posted via the Windows Central App for Android

These guys have released like 4 updates with no new features, what at all are they doing?

Do it have new reaction buttons like "love" or "angry" ??

Facebook for W10M -> "New stories" added •Posted from Windows Central for Windows 10•

As I noticed, it can now handle uploaded files. It shows a download link with the name of the file instead of just saying "xy uploaded a file". I don't think it was there in the earlier versions of the non-beta app, ' cause this was the only feature I missed from it. So bye bye Facebook Beta, Iv deleted you from my phone :D Posted from Windows Central for Windows 10 on Lumia 535

Contact syncing is still broken.

I have been getting a problem where my "Most Recent" feed skips alot of posts. It will jump from 1 minute ago, to 6 hours ago. How we this update appears to have resolved that.

Change is "new stories" shows up at the top of newsfeed (look like ios/andr ver) instead of in the right bottom corner. In setting, notification is just "on" (old is live tiles and noti ...)

Facebook for Windows Phone is finally getting better. The last time I used it on my Lumia 920 I noticed several new features such as actual reply to comments and better layout. It just needs speed improvements cause no one likes to see loading with every tap inside the app and auto video playing would be welcomed. But I only use my L920 every once in a while anyway. One picture at a time -- LG V10

I am experiencing much higher battery drain than with previous version for WM10, mainly consuming when running in background.

New stories option given. Higher stability.
Windows Central Newsletter
Get the best of Windows Central in in your inbox, every day!
Thank you for signing up to Windows Central. You will receive a verification email shortly.
There was a problem. Please refresh the page and try again.