Facebook app for Windows Phone updated to 5.1, includes new beta features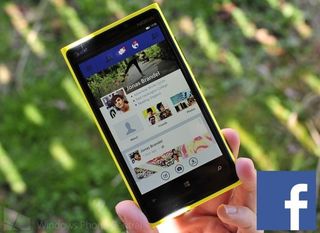 It's Friday and that usually means Facebook beta updates and while that may still happen, this morning we have the non-beta app getting an update instead.
As you can imagine, Microsoft dogfoods and tests out new features in the beta where they eventually find their way into the official app for the masses. It's usually a monthly event and that seems to be the case here as version 5.1.1.0 is now available, putting it slightly ahead of the beta (version 5.1.0.6).
While there is no changelog from Microsoft for Facebook, we could surmise it includes those performance enhancements, greater language support, improved chat options and more, which were all found in the beta.
Should you now opt out of the beta version? Probably not as we imagine Microsoft will begin the next round of development for the Facebook app with new weekly updates for that branch.
Head to the Windows Phone Store to pick up the official Facebook app, version 5.1.1 for Windows Phone 8 and version 3.1.1 for Windows Phone 7.x users. Want the beta version instead? Head here to pick it up.
Find anything new? Let us know in comments.
Thanks, Aaron C., for the tip
Daniel Rubino is the Executive Editor of Windows Central, head reviewer, podcast co-host, and analyst. He has been covering Microsoft here since 2007, back when this site was called WMExperts (and later Windows Phone Central). His interests include Windows, Microsoft Surface, laptops, next-gen computing, and arguing with people on the internet.
*insert "it's definitely faster" comment*

Mine slowed down for a minute, then got faster. 5 minutes later it was at medium speed and then turbo boosted back to faster speed so my overall review is that the app is slower, faster, and remains the same.

Gotta get more turbo boosts in the race for it to work well and get the top spot for fastest time.

Does the bèta support facebook group files? The current version doesn't

I've been asking the same question the last three updates. Why can I boy view files/docs in my groups? It's possible on the mobile web version.

Hmmm, after Microsoft released the Facebook Beta version, I immediately uninstalled Facebook (the original) so save space. Should I download it back or should I stick with Facebook Beta?

Read the end of the article.

What he said above. Dude, just stick with beta.

I think this is the first time the new Facebook is out of beta for WP7. If so, that's pretty big.

When on earth will they fix the notifications? Notifications never seem to come almost. This is pathetic.

It's pretty bad. Android has such great notifications. I wish WP would have something close to that.

My notifications are actually working lately.
Toasts too, and I had never gotten toasts before.

I doubt this is something that's ever going to be fixed. It's one of the oddities that come with a 3rd party app.

*sigh*
This app is made in conjunction with Facebook and Microsoft.

*sigh*
Facebook doesn't give two shits about this app. It's built entirely by Microsoft.

So, I have a question which you might have an answer for, is it legally possbile to create an app of fb without that meanning a violation to facebook privacy ? I mean just as microsoft did ?


Ms is just using whatever available APIs from Facebook. And that's legally alright. The problem is, MS did a worse job as compared to the official Facebook app on Android & iOS.

Yes it's legally possible. But let's suppose it wasn't; the most Facebook would do is just allow Microsoft access to a few APIs, not all but some. They won't play any part in development. When we'll see the official Facebook app for Windows 8 then we can really spot the difference.

The current Facebook app in our Windows Phones is made by Microsoft in conjunction with Facebook. If Facebook are not involved any part of developing the app, then the app can and will violate Facebook's Terms of Services just like the native YouTube app that Google rejected and blocked for ToS violations.

So you guys can forget about a Facebook-only developed mobile app for our Windows Phones, it will no longer happen.

Lock screen notification never works for beta version. App notification never works.

Notifications have always worked on my HD7, but after I've upgraded to Lumia 1020, the notififcations just doesn't come! It's ironic how WP7 is more robust than WP8.

*Comment about message notifications never working*

*comment about how late the previous comment is*

finally at wp7,i waiting for it almost 4 months

The worst thing is that I cannot see who is actually online. The list refreshs just few times in a week. It's terrible.

When viewing the list of online friends, shake your phone to refresh the list.

That only refreshes the news feed, not your friends list. Just tested and cross referenced with contact list online on my desktop and did not match.

It's probably just as reliable as the notifications.

Shake does nothin. It worked on older version, but now and on beta version it is not working

I'm still disappointed with the Beta version and having to tap repeatedly on icons just to get a response. And I haven't noticed any performance improvements at all

You know, up until now, I kind of figured I was just fat-fingering those damn icons, but now I realize they really are too picky about where you hit them, without good reason. (Lumia 920 4.5" screen)

Makes sense that you didn't see any improvements in the Facebook beta app... since this update is for the non-beta app.

@Josh
I was referring to previous updates to the beta version which nearly always claim to have performance improvements'. Cheers

Has anyone been able to use the app or built in features to check comments on facebook from foursquare check-ins? I receive the notification in my me tile but can't open it, and the facebook app doesn't show the comments.

Not too bad. News feed is snappier and the layout is better. They are making it more like the ios Facebook app.
Messages etc is still quite slow to load. Photo attachments!!! Epic win :) just keeps getting better

I have a Facebook account to stalk my friends.

I just keep the beta version now, more updates and it's the virtually the same with "beta" in the name

Can finally save pictures to phone...

Seems.....tastier! Now with real fruit.

changelog:
What's new?
• Inline @Tagging
• Photo messaging...
• Uploading multiple photos
• New status bar


Aren't these already in the current beta?

The WP7 official is much faster than the beta version

Great, now the official app is just as slow to load as the beta. Eighteen seconds...geez.

Try uninstalling & reinstalling, it should never take that long.
Loads completely in 5 seconds or less on my phone everytime.

Yet another update that doesn't support RTL for hebrew and arabic.
way to go MS...is it really that hard to do? the OS itself has full support for this languages,
so why the app doesn't?

I would advice a side of caution for both microsofts facebook app and the facebook beta app. The previous versions still had issues with server loading times to the apps, which made it a deadslow experience. I haven't seen much improvement of that experience and adding more features hasn't made the experience better. In my experience there is still some work to be done on the performance side before more features are added.

Does this version has the same problem with the beta? Like a very delayed notification? If someone chatted me it wont notify me.

I wonder can they ever make FB experience on WP to match iOS and Android... What can be so god damn hard with this, really? Its M$, not some 25yr old dude doing this from he's bedroom... I wish they would add groups and offline messages to the integrated FB, which most likely be good enough for me to get rid of the whole app. Some random things couls still be done through browser.

beta version iss better than the official one...... wat u think folks..?

Better in functions, worse in risk of bugs and instability. What's wrong?

If only all apps were as good looking as this one.

I don't like it. Toast notifications are still broken. It is not really faster either. I use this app allot but overall i am disapoint.

Time to give this app another go.

From Windows Phone's Facebook page:
"The Facebook app for #WindowsPhone 8 just got even more like-able. Attach photos to your messages, @ tag your friends in posts, and more."

The thing about this update is more like that they remove the pages!!! I regret upgrading, I like the metro style.. Shisss

So can't they just use the beta version as the "official" app, or is the beta label just bash proof.

Is tapping the comments link or press Back still having the ridiculous lags? Or have they fixed that already?

Fix the god damn notification and live tile update, plzzzz!

It does not show my cover photo on the large scale live tile. Geez!

I just want those games feed that I had blocked on my PC not to show up on my phone.

Okay updated and as far as i know there are 3 major updates: 1) Multi-Upload of Photographs
2) Unfriending persons
3) Tagging someone (@)

Finally now i can stop using my pc for using facebook. Thanks WP

I'm sure I got a notification last night in the beta app telling me there was a newer version in the store and to update to it but I cant remember as I was drunk.

Worst app. JDB for Facebook is much better & faster than this garbage which also has been just updated :P
http://www.windowsphone.com/en-us/store/app/jdb-for-facebook/d77dfdfd-b014-488d-8d98-e34e8ebbf4b6
http://www.windowsphone.com/en-us/store/app/jdb-for-facebook-B4%BEB4%BFB4%BC/068ede9a-5648-40fa-8e28-044d047e8571

this version is buggy. When trying to upload pictures through the facebook app. pictures selection screen displays duplicate pictures =/

I now have a messages tile. Idk how it made onto my main screen but it did!

My primary live tile is now just the "F" - no banner photo, no profile photo, just a blue tile. WTF?

Live tile not working on my fb beta anymore after this update wut

Why does people wishing b'day wishes to others shows in my newsfeed.. Very irritating feature, coz my newsfeed is filled with them and u have to scroll scroll further to see ur actual friends statuses
Windows Central Newsletter
Get the best of Windows Central in in your inbox, every day!
Thank you for signing up to Windows Central. You will receive a verification email shortly.
There was a problem. Please refresh the page and try again.