How Far Cry 6 embodies the guerrilla warfare fantasy as the craziest entry yet
In Ubisoft's latest revolution, anything is a weapon.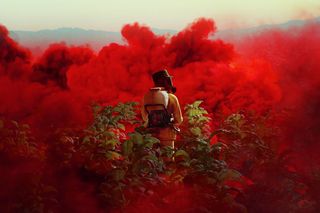 (Image credit: Ubisoft Entertainment SA)
Embracing the "guerrilla fantasy" and sparking chaos for an oppressive regime, the latest Far Cry once again sticks to the formula that's defined the series so far. The upcoming entry, tied up to the fictional Caribbean territory of Yara, conveys a traditional tale, fighting corruption and reclaiming control over the land. But there's a new tropical locale, and in contrast to recent Far Cry settings like rural Montana, it's unashamedly embracing the franchise's early roots and biggest strengths.
The fundamentals remain in check with Far Cry 6, reflected thematically and through gameplay, as an oppressed nation tackling an overarching regime. With an all-star cast, now presented under the Ubisoft Originals branding, the publisher signals a desire to distance itself from the "cookie-cutter" foundations that sometimes define its top-selling franchises. It leaves me cautiously optimistic that Far Cry 6 aims to retain its predecessors' best while pushing forward the franchise with a somewhat refreshed identity.
This time the focus falls on Antón Castillo, a ruthless kingpin portrayed by Giancarlo Esposito of Breaking Bad fame, and his son Diego, next in line for power. Esposito has to meet high standards, with past Far Cry villains fundamental to their respective narratives, although our small slice hasn't dampened expectations.
Far Cry 6 has laid low in recent months, following a delay that set the title behind its once-scheduled February release date, now targeting October 7. Ubisoft has marked its return with a gameplay deep-dive, providing more context on what's changed in this latest iteration, all tied together with what could be its greatest universe to date.
How Far Cry 6 channels the 'guerrilla fantasy'
The setting for Far Cry 6 feels right at home, riding the line between accustomed social commentary and unhinged action-packed sequences. The exotic backdrop of the Caribbean island of Yara invokes my earliest Far Cry memories, from the original 2004 title to one of the best-received entries, Far Cry 3. The publisher has discussed inspiration from Cuba, including the 1950s-era military dictatorship, with clear parallels to movements that spurred the Cuban Revolution.
"We actually went down [to Cuba], did some research, and not only spoke to guerrillas but the local population, deep into the night," Navid Khavari, narrative director and lead writer on Far Cry 6, tells Windows Central. "We came back with this notion of feeling really inspired by what a modern guerrilla revolution looks like on this fictional island of Yara. That caused us to look at revolutions around the world, guerrilla movements around the world, and finding these common thematics of fighting systemic oppression of being the ragtag group of folks against this overwhelming force."
Ubisoft regularly circles back to its concept of guerrilla fantasy, an internal philosophy that heavily influenced its vision for Far Cry 6. The parallel translates inspirations from guerrilla culture, primarily gathered via Cuban locals, directly to the first-person shooter (FPS) action synonymous with the franchise. It's directly reflected in story themes but also trickles down to gameplay systems.
"That's the beauty of it. You balance the more mature themes and serious elements with the wild and insane, sorta crazy gameplay and characters," Khavari stated. "When you talk to actual guerrillas, you find there's some that do it because they lost loved ones. They felt that the impact of that violence personally. There are others that are doing it just purely out of patriotism. And then there are others that just want to shoot guns."
"It was important to the folks that we spoke to, where they would often say, don't see this as serious all the time." Those learnings helped set the tone for Far Cry 6, juggling those themes heavily rooted in real-world conflict but retaining the boisterous energy that shapes those memorable moments.
Players assume the role of Dani Rojas, who over the course of the game will find allies on the island, and pushing Yara closer to a revolution. But Far Cry 6 will, more so than ever, push players to feel outgunned and outnumbered, rewarding those adaptive to push back the Castillo family.
One key gameplay trait inspired by guerrilla movements is "resolver," a word still prevalent in Cuban culture today, literally meaning "to resolve." For Ubisoft, it's also a new system in Far Cry 6 that represents the resourcefulness and creativity demanded in a revolution.
In the context of Far Cry 6, resolver sits central to the guerrilla tactics at play to take down Castillo's military powers. The weapons and gear are made from junk, imperfect but practical contraptions players can use to bring havoc to the streets. "Right to its core, we are an FPS, right? We want to respect that," said Khavari. "I think what was exciting to add was this concept of 'resolver,' and it's this notion of making do with what you have because you've been under a blockade for 50 years. This character of Juan Cortez takes that concept and creates guerrilla resolver, which is inflicting chaos with everything you have."
Resolver could bring some of Far Cry's craziest moments yet, all tying back to the unfiltered nature of guerrilla combat. Many of these are ingenious contraptions, hastily thrown together, but equally effective weapons. "You're gonna have a huge roster of amazing weapons at your disposal. The beautiful thing about them is that when you pick up these weapons that he's created, you can see the mechanics of how they're built from things you'd find in a hardware store. You take some nails, sardine can, and a gas pump, and you've got this crazy nail gun."
Resolver, and the tonal shift it brings, is something I'd have sooner expected to see from Square Enix's Just Cause games. The most outlandish creations include a backpack made from fire extinguishers, raining burning jet fuel on foes, or a CD player-turned-circular saw playing Macarena on loop. Those push the series into new ground, likely to see mixed reception, although helping differentiate its identity from the competition.
But Ubisoft's efforts don't only sit with combat. Its first bout of gameplay also demonstrates visible advancements in its open-world over past entries. "For us, a starting point was creating a country, which I think is very fresh for the franchise."
Far Cry 6 is the first game where Ubisoft created an entire country, rather than a sectioned region, now comprised of multiple towns and biomes that shape a diverse landscape. Past titles almost exclusively focused on rural locations, sometimes to the detriment of density. "If you have a country, you need a capital city. This idea of this capital city of Esperanza that is under lockdown, Anton's seat of power. It's extremely difficult to fight his horses there.
"We have multiple towns in Yara that players are going to be able to experience. Contrast that the more remote, jungle, wildlife, mountainous regions that will be a little bit more familiar to players."
Ubisoft is targeting an October 7, 2021 release date for Far Cry 6, and while we're yet to get hands-on ourselves, what Ubisoft has demonstrated to date is proving promising.
While the title missed its planned launch earlier this year, it comes as the industry faces the ongoing challenges of the pandemic and adapting to working from home. "I think the main thing for us was to make sure, you know, we shipped this game as healthy as we could. The studio and the team wanted to prioritize that everyone was safe and able to adapt to these new working conditions," Khavari said.
When Far Cry 6 hits store shelves, the publisher has committed to a cross-generational release on Xbox Series X|S and PlayStation 5 consoles, Xbox One and PlayStation 4, plus PC. More info on Far Cry 6 is expected for the Ubisoft Forward E3 live show on June 12, where the publisher is set to provide the latest on its titles for 2021, and beyond.
Get the Windows Central Newsletter
All the latest news, reviews, and guides for Windows and Xbox diehards.
Matt Brown was formerly a Windows Central's Senior Editor, Xbox & PC, at Future. Following over seven years of professional consumer technology and gaming coverage, he's focused on the world of Microsoft's gaming efforts. You can follow him on Twitter @mattjbrown.