Feed Viewer RSS reader updated for Windows 10 and Windows 10 Mobile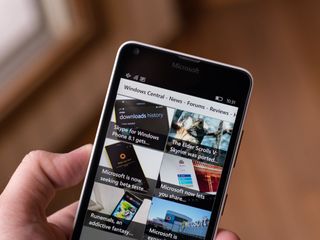 The Feed Viewer app for Windows 8.1 and Windows Phone 8.1 has been available to download for some time, but now the RSS reader has been updated to include support for both Windows 10 and Windows 10 Mobile as a universal app.
Here's what's users can expect from Feed Reader:
Read full article instead of short summary.
Search for hundreds of news or blogs.
Keep updated by live tile on Windows Start Screen.
Sync content across multiple devices
While the app is free, it does have an in-app purchase option to unlock more features. Let us know what you think of Feed Viewer for Windows 10 in the comments!
Thanks, Václav D., for the tip!
Download Feed Viewer for Windows 10/Windows 10 Mobile (opens in new tab)
Windows Central Newsletter
Get the best of Windows Central in in your inbox, every day!
Nice, in the download queue it goes.

I've tried it. I still prefer nextgen reader, unless feed viewer manages to add a text-to-voice in Dutch and with a good quality narration voice. Then the app will be as good as a boss;) ​

I bought next gen reader a while ago. But now its on the bottom of my apps list in the store and I have to re purchase it again. :/

Feedly integration would be really nice, I'd switch to this app immediately. Devs, if you read this please add this function. I don't really want to migrate my RSS feeds one-by-one to this app.

Yes, Feedly would be great. currently i'm using Magnify on the Phone and the website pinned as Tile in Win10.

missing feedly integration

Good to see another non-goog acct. option

NextGen has been my favourite ever since I installed it almost 2 years back. Fedora Reader is also quite good, just waiting for Feedly integration to get added. It's coming in the next beta release says the developer. :) Will try out Feed Viewer even though the screenshots are not very compelling...

Installed Feed Viewer on Lumia 520 with Windows 10 mobile and was able to select BBC news feed, then could not find any way to add additional feeds, besides the view is 'picture' focus'd and provides no real written paragraph until you drill down. Very basic at the best. Installed SimpiRSS and it's much better in my view.

Im still using NextGen on Windows 8.1.
Windows Central Newsletter
Thank you for signing up to Windows Central. You will receive a verification email shortly.
There was a problem. Please refresh the page and try again.