FIFA 14 lands on the Windows Store; Xbox LIVE enabled and free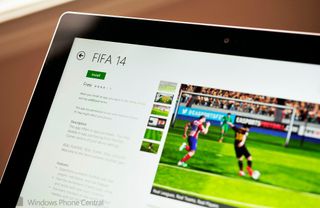 After being arguably the most popular soccer game for Windows Phone devices, FIFA 14 has now arrived on the Windows Store for Windows 8 PCs and tablets.
The Xbox LIVE enabled game would satiate your craving for authentic soccer experience with real players, teams, and leagues along with new touch controls that deliver the feel of every pass, shot and tackle.
The game features 34 leagues, over 600 licensed teams, and more than 16,000 players. And while you play, you can listen to game commentary in English, French, German, Italian or Spanish. To build your ultimate fantasy team, you can earn and trade, or buy and sell FIFA players. You earn coins as you compete in tournaments which you can spend on new players and items to improve your team.
FIFA 14 features three extra modes - Manager, Tournament, and Kick Off – that you can upgrade to or unlock via in-app purchases. Apart from English, the game is available in 10 other languages - Chinese, German, Spanish, Japanese, French, Russian, Italian, Korean, Dutch, and Portuguese. It's almost 1 GB of download, so make sure you have enough space, especially if you are on a Windows 8 tablet.
Download FIFA 14 for free from the Windows Store (opens in new tab), and let us know how you like it. I'm quite addicted to FIFA 14 on my Nokia Lumia 920, and have just finished downloading the game on my Surface. It looks like I'll spend quite some time on this one as well. Time for the kick off!
Need the Windows Phone 8 version? Grab it here in the Store (also free).
via: The Fire Hose
Hahahahah....love that. Horie shit

usually like to buy from http://www.fifa1314.com/?-affi-9578
for the fast delivery and cheap price and can also use the coupon.
8% code: 8%fifa1314
10% code above$60: 10%fifa1314

Hey this game is awesome on my bros nexus 4 ..,has EA given any news on wether this game is going to be optimized for lower memory devices? I really would like to play fifa 14 on my 520...i read in one site in November that this game would also work on 512 ram...guys please say something.im a big fifa fan

U cant axpect to run this game on 520

This wont work for 520 :(
But Abhishek do you have any idea whether it would be playable on a non touch laptop ?

With a Xbox controller, yes. Otherwise, no. It doesn't have keyboard controls.

That's too bad.. :( forgetting how they used to sell it on PCs... Atleast asphalt 8 had keyboard controls so i could play it on a bigger screen, wished this had it too...

Just pick up a cheap Xbox 360 controller. That'll work much better than a keyboard anyway.

I have an xbox controller hooked up but i cant set it up from the game. Do you know how?

can u play with any controller?

Can you teach me how to play with Xbox controller? I have it I don't know how to play with it.

I usually try and buy all the big named apps hoping that will lead to further big titles on the W8 app store, but I just can't stand soccer I'm going to have to pass on this one.

What part of FREE did you miss? ;) You can download it to up the numbers, and then erase it, without spending any money.


I'm actually not sure this is worth buying for free. I mean really! Who wants to play a football game!?! I can understand playing football. I don't really get watching other people play, and I reaaalllyyy don't get playing it on a computer! Gaming is meant to be for things you cant do yourself, like racing games, shooting prostitutes or raiding tombs lol

"Gaming is meant to be for things you cant do yourself, like racing games, shooting prostitutes or raiding tombs", Or, you know, like playing professional soccer or leading Barbados to the World Cup. I doubt you can do that in real life.

Can we sync wp8 and w8.1 #fifa14

I hate football and yet this game is strangely addictive. Thanks for the heads up! I just hope the achievements aren't cross platform.

What does football have to do with a soccer game? (;

Thanks for the input america

Asia here, I'm with Europe

lol he was joking ;) He knows we, in the normal World, call it "football". And measure things in celcius, use the metric system etc etc


bleh....Barcelona and Madrid both sucks

Football sucks nowadays but I've been a Madridista for over 11 years. Can't just let it go.

If you have nothing constructive to say, then don't bother posting a comment at all. Or do you just enjoy throwing yourself into conversations that don't involve you?

Bayern Munich!
Does it sync between WP and Win 8?

No idea since I don't have it on WP. But I'll tell you this. Ozil is still in Real Madrid and I scored against Bar$elona with Arbeloa.

Why the graphics in my 1020 is poor compare to my iPhone 5??
Jersey of the players are blurred in WP?? Why???

Only the developers will be able to answer.

Waiting patiently for madden :(

You'll never walk alone......:)

Awesome...can't wait to try it on my Surface 2 with an Xbox controller. Nor a big fan of soccer, but will support anything that someone puts a lot of time into....really hoping for a NHL pr Madden game for the Surface 2. Said it before and will say it again...Microsoft needs to get the original Xbox level quality games on this thing (like the latest Asphalt) and with Xbox controller support, it really becomes like a portable console.

Do we know if the original Surface RT will get Xbox One controller support?

Sadly no 360 controller support on this one... shame that a "Xbox" game doesnt support the "Xbox" controller....

At present im worried about wp dev preview. Windows 8.1 is going good now.

Well, Microsoft didn't promised anyone a dev preview on the 2nd...=P Also, Daniel can be wrong. Just relax and wait 6 more days. ;)

Yes, it does. I do have an issue though, it keeps telling me that the Store is not available meaning the other modes of play are currently unavailable.

Keep football games like pes2011 game in Symbian 512mb ram for windows phones like 520,620,720,625 please it is possible

no keyboard controls = total fail

Also no Xbox 360 controller support. Uninstalled :|

Really? No Xbox controller support? That is dumb. They better implement it.

will this work on 512MB RAM phones?

Windows Store dude ! Please read :)

Yeaaaahhhhhh now I will rocking this one !!!

Does anyone else get as ancy and school-girl happy whenever a new WP or Win8.1 app launches? It's just fun! :) like Christmas, but more than once a year!

RUBBISH I love this game and yet I can not play it as it only uses touch, where is the controller support, what a stupid decision.

using the install button: Can't buy app Sorry, you can't get apps in this region. Please check the Store in your region I am in Brazil this moment =D lets ride via proxy o/ []s

Had it for my Lumia 920 for a while and I love it! Entire team from England!

They took it down it seems

The achievements doesn't appear on my gamercard
EA does it again :(

I hope this means The Sims Freeplay comes to Windows 8 as well.

Win8 version nags for xbox live permissions every 10 seconds. I said no, I mean no. Uninstalling

No Xbox controller compatibility = waste of time

Needs 360 controller compatibility... please work on this EA and Microsoft...

Love it. Gamertag: Hindska

Anyone else having trouble with players that get red carded and the card never goes away?

How i play this on my laptop ?? its look like mobile contol game!!

On the pc can a xbox controller or gamepad be used. Please e mail me yes or no at: olyle81@gmail.com. thx
Windows Central Newsletter
Thank you for signing up to Windows Central. You will receive a verification email shortly.
There was a problem. Please refresh the page and try again.