FIFA 15 for Xbox One Review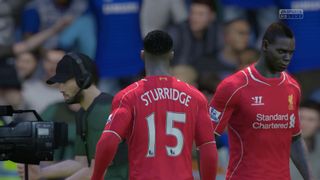 I've been playing FIFA 15 on the Xbox One in the past two weeks and I'm hooked. I don't follow football closely, but I love playing this game. It looks great, and it features several modes that are going to make Xbox One owners keep coming back for more. Whether it is a quick single player game, tournament, or online multiplayer, it's hard to get bored with FIFA 15. I haven't even mentioned FIFA Ultimate Team yet, which is EA Sports' most popular mode that I thought would be overwhelming, but has become my favorite feature of this game.
If you're still undecided whether you should buy FIFA 15 for the Xbox One, continue reading for the full review and watch our video demonstration.
When playing a game in FIFA 15, there are subtle things in the presentation that add up and stop me from skipping certain animations and replays. Usually, when a ball goes off the field or after a foul, I quickly tap a button to skip. In this version of FIFA, EA Sports has added what's called Emotional Intelligence. Players now have emotional responses based on what happens on the field. For example, when a goalkeeper blocks a shot, you can see his teammates giving him a celebratory hug or chest pump. When a striker misses a few shots, you can actually see his teammates getting frustrated, especially the ones that were wide open. After a bad tackle, you can see players get up to confront the opponent.
There are several subtle visual details that are worth pointing out. The field wears and tears as the match progresses. I didn't even think I needed to see that in a football video game, but it's there and it looks great. The jerseys also move realistically when players run or get pulled by opponents. You can also see jerseys get wet from the rain and get dirty when the players hit the ground.
If you need any more proof that FIFA 15 is aiming for authenticity, just look closely at the players' faces. Messi looks like Messi. Balotelli looks like Balotelli. If you're playing as one of the Barclays Premier League teams, pay close attention to the audio and commentary. EA Sports has recorded and implemented realistic audio to goal reactions, misses, whistles, and over 2 hours of crowd-specific chants. Tackles, bumping, and collisions look very real, too. I haven't noticed players going through each other like ghosts.
This game is pretty on the outside, and it's just as beautiful when you go deeper. FIFA 15 stays up-to-date with player rosters, so you don't have to worry about that when playing. Of course, that means your Xbox has to be connected to the Internet. There are several Game Modes available:
Kick-off: quickly jump into a single player game
Career Mode - choose a career as a manager or a player
FIFA Ultimate Team - manage, buy, or trade players to make your own team.
Tournament Mode - play in tournaments like the Premier League or La Liga.
Skill Games - 26 new Skill Games added to the popular practice mode including four new games that cover the basics – dribbling, shooting, passing, defending
Highlights of the Week - weekly high profile matches and challenges you can play
Online Seasons - compete online in a season format.
Online friendlies - compete online against your friends
Co-Op Seasons - compete online with a friend in 2v2 matches
Pro Clubs - Join or create a club with your friends and play online up to 11 vs 11.
Match Day Live - Follow your favorite team and play their upcoming matches.
Since there are several modes to choose from, you'll find something that fits what you like. I mainly play Kick-off, Online Seasons, and FIFA Ultimate Team. I haven't even touched career mode yet, and I'm probably not going to.
If you aren't careful, you can easily get addicted to FIFA Ultimate Team. This is FIFA's most popular mode. It lets you manage, buy, sell, and trade players to build your own team. You can then play seasons offline and online against other gamers' ultimate teams. You'll be tempted to create a team full of superstars, however, there are limitations that prevent you from doing that. Team chemistry is very important and your team won't be very successful if that number is low. Chemistry is higher when players are in positions they usually play in, and when teammates are from the same country, league, or club. Players with similar skill levels tend to have better chemistry too.
I don't follow football that closely, but building an Ultimate Team is an addictive challenge. While I don't know most of the players, it's all about balancing the overall skills of the team with chemistry. You also need to keep a close eye on the budget. You can buy players with coins and you earn coins by winning matches. You can also earn coins by simply trading in the Transfer Market. You can do this by buying low and selling high. You can also spend real money to get more coins, but that can get very expensive.
You can use your coins to buy FIFA packs, which include random players, staff, and consumables you can add to your team. Buying and opening packs can get very addictive, too. You never know who's going to be inside the pack and you might get lucky with some really good and very rare players to find, like Ronaldo or Messi. I haven't been very lucky with opening packs. I usually end up selling the players for coins I can use in the market.
Another cool thing about Ultimate Mode is that it's hard to stay with the same squad. Players get injured and have contracts. You won't be able to use them unless after they heal or you extend their contracts. You can use consumables to heal injuries or add more games to the players' contracts.
FIFA 15 Ultimate Team expands outside of your Xbox One. You can buy, sell, trade and manage your team through the web and companion apps on mobile devices. The FIFA Companion app has been available for a while on Windows Phone, but it has been updated to complement the latest version of the game. One thing you should note is that the Transfer Market where you buy, sell, and trade players has been mostly down outside of the Xbox One since the game's release. It has recently come back online, but we don't know if it's going to be stable from now on.
Conclusion
EA Sports' FIFA is one of the best-selling sports video game franchise in the world, and I think they've got another winner here with their latest release. It looks great and feels more authentic than ever before. There are plenty of modes available and Ultimate Team will keep you busy even when you're away from your Xbox. If you already have FIFA 14, you won't be disappointed getting the latest version.
Did you buy FIFA 15? How do you like it? Sound off in the comments and feel free to play with me online! My gamertag is Mackarus.
Other than that.. Its a copy paste repeat job.. Its football.. What more can you do with it?

Add Suarez mode where you can bite the opponents while dribbling and shooting lol...once they give that..ill be hooked in

Well, be glad it's not NHL 15. They charged us $60 and REMOVED half of the most basic features. For crying out loud, there is no season or even a playoff mode. Lazy, lazy. Lazy.

Game play physics have been improved. Definitely noticeable if you have played the others for a period of time .

The last FIFA 14 release was rubbish, I think.

Great graphics both on Fifa 15 and NBA15. Next gen is really goood.

Be sure to check out the official fifa thread on the forums!

Cool. Thanks for the other half of the Microsoft News. I like it

If You're not sure to buy Fifa15? Who the fuck is that?. . >.

I got it free when I bought X1 here in India. Loving it but I prefer manager mode over FUT

its still available for free with Xbox one right?

Yes, and it's 4k off right now. http://www.amazon.in/Xbox-One-Console-Free-Game/dp/B00M1D1BBQ/ref=sr_1_2...

The achievement about scoring from the ground is driving me insane. I hate it when they put in luck based achievements.

I love this game...my only issue is that u can't skip some of the dramatic scenes..it gets focking repetitive and annoying to have to wait for the ref to run half the field just to issue u a warning....other than that, FIFA killed it again.....

Add me sagargarag92.
Please share your gamertags...

My $.2. Was playing FIFA and Winning Eleven (PES) series since 1999...this year PES 2015 looks and feels better than FIFA. Check out demo on XBone yourself.

Can't wait to have this on windows phone.

It's already on Windows Phone. What are you waiting for?

Dosent work on Lumia 1520

Works on mine running cyan and 8.1

PES> FIFA
FIFA is for kids

Real soccer fans play PES and only PES

1st: Can we get a Forza Horizon 2 and NBA 2K15 review? I want to know how you guys feel about how they removed the halftime show and presentation aspects and the terrible face scan issues.

We reviewed Forza Horizon 2 last week. I even reviewed the VIP membership over the weekend. Where have ye been? NBA 2K15 reviewed is scheduled for next week, along with Alien: Isolation. We're missing fewer and fewer games! :)

Been paying FIFA 15 everyday since Launch. It so nice to go home and say "Xbox On" and Jump in rich where I left off.
Graphics and crowd animations have all been upgraded.
My biggest complaint has always been the Commentary, its always the same. My Daughter can tell what the commentators are gonna say after each win.

I think I am going to wait for it to come to EA access. I'm no longer buying EA games. I'm also waiting for EA cards to be available at Gamestop. Anyone have any idea when they're coming?

I'm hoping the same thing but its been a month already with EA Access and there's nothing new yet. Fifa14 isn't even there so who knows when 15 will show. Hopefully it does otherwise I may unsubscribe and just go back to buying what I want.

Well, if you're expecting them to put FIFA 15 soon, I think you may as well give up now. I don't expect them to put that game until 6-9 months down the road. I expect the same for their high selling properties. After all, these companies are out to make money, that's the bottom line. FIFA 14 should be there though. It was what it launched with. I'm gonna be 9 months behind the curve, but really, how different can the next FIFA really be or the next shooter or whatever.

Great review Mark. As someone who has played FIFA since the 'Road to World Cup 1998' incarnation on PC many years ago, I can categorically say that FIFA 15 is the most authentic, playable, addictive, fantastic and genuinely frustrating Football (yes Football) game ever made. PES challenged FIFA briefly in the mid-noughties but FIFA has gradually been improved year on year until IMO its lead over PES is unassailable.
I am loving FUT mode at the moment but will no doubt get through all modes by the time FIFA 16 arrives. One welcome mode that has returned this year is custom tournament so you can get your mates round, get some beers in and see who has the skills to pay the bills. Thank you EA sports, keep up the good work!!

Give PES 2015 demo a try this year. Seriously. I usually play both cause well FIFA has RFPL and PES don't. So I've been playing FIFA 15 since launch, but PES is soooo good this year.

Tried PES probably couple of years ago and hated it. Might give it another chance this year.

Try it Mark. Passes and especially off the ball movement is more advance there. Plus look at AI strategies and possession it is more realistic in PES. They have completely revamped 2014 physic and now also player animation. And plus free demo on XBone. So nothing to lose really. Remember, for,FIFA controls in PES to use TYPE2.

Manager Mode all the way!!!

I like manager mode especialy when i create my self as player....Dope

PES Has been shit for ages

Liverpool beating Chelsea 2-0. I like you.

Can I play the World Cup in here, both locally vs. a friend and online vs. a friend?

No. You can play international matches with the teams they have though.

Ooooo balotelli! He's a striker,he's good at darts. Sets fire to his gaff with rockets from his bath.

Fifa 15 is the best football game ever but then m a ps4 fan but either way they are great on both consoles WELL DONE EA SPORTS

I hope they have fifa 15. Like fifa 14. Have kick off. Have manager mode. In nokia lumia. Idont like the ultimate team.

The only game I play now! And excellent review! :D

....hahaha... I hate/love the Kinect-Integration with the FIFA 15 (& 14) so far. In the second a teammate got fouled or was offside i screamed at the referee and Kinect (the reporters) mentioned it... The minutes i continued shouting at the Ref' he gave me (or the fouled/offside standing teammate) a card, so I went quiet... :P Just can repeat what i said before: Great Kinect-Integration!!!

Why do people b**ch about a game been the same as last year and they see no difference. Can you guys be more stupid or what cuz I'm pretty sure you guys half more than 2 call of duty's. How ironic and hypocrite is that

No one did what you are saying. And the Call of Duty games vary more from year to year than sports games, so that's not a great comparison.

I think mark is a Liverpool fan

Xbox FIFA 15 is really amazing, and you can enjoy cheap fifa 15 coins with special offer and free discount code (fifa1314jyy5%) for 5% price off at http://www.fifa1314.com/?-ref-10456

does any know if playing online seasons requires an xbox membership or a subscription or is it for free?? someone answer plz and thanks:)
Windows Central Newsletter
Get the best of Windows Central in in your inbox, every day!
Thank you for signing up to Windows Central. You will receive a verification email shortly.
There was a problem. Please refresh the page and try again.