Final thoughts on the Eve T1 Windows 8.1 tablet
Some additional thoughts on the Eve T1 tablet after living with it for a few weeks.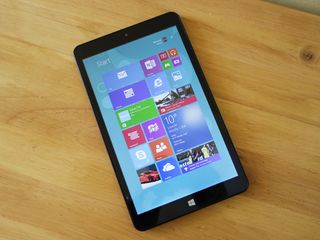 A few weeks ago I took a first look at a new Windows 8.1 tablet from Eve, the T1. Clocking in just under 150 Euros it's not the most expensive tablet you'll find, but it's firmly inside an ever increasingly crowded space. There are now so many low cost Windows tablets out there that standing out is a big ask.
Does the Eve T1 do that? Initially I was quite impressed with it, but what about after a few weeks of use?
Rather than just going through the motions of a traditional review, here's some thoughts on how it's been to live with the T1.
The form factor is pretty much ideal for a smaller tablet. I've often felt 7-inches is too small (especially when we have 6-inch phones in the world) but 8-inches done right I think is the sweet spot.
Compared to even some other 8-inch tablets, the T1 has done a good job with keeping the bezels to a minimum and as such the overall size of the tablet down. It's easily one-handable in portrait.
The display is bright and colorful with great viewing angles and is overall pleasing to spend time looking at while being very responsive.
The front is however very much the fingerprint magnet.
Having 2GB of RAM in even a small tablet such as this does make a difference. Especially if you have any ideas on running desktop apps. It's not that common right now in low cost Windows tablets, but it's good news for the T1.
The design on the back is reminiscent of the finish on the Dell Venue 8 Pro. And that's not a bad thing at all. I prefer holding something with a 'grippy' pattern to a soft touch finish personally.
I've been getting through a couple of days on each charge of the battery. As much as it might sound like a great idea to try and do actual work on a small, portable Windows machine, in practice it's still more of a media consumption, light communication, perhaps some lighter work kind of device.
I've no problems using a small Windows tablet in this way. I actually packed this for the recent jaunt to MWC where it spent a good amount of the travelling as a music/reading machine.
I'm prepared to allow some hardware concessions on this review unit as I was sent an early pre-production device. But in the interest of full disclosure the microSD card slot cover was difficult to get back in once it was out and there's a bit of a hollow feeling if you push down on the center of the back cover.
But then, pushing down on it isn't every day use, is it?
So, the verdict, then? Pretty impressed. Aside from any hardware concerns that would require an actual retail unit to compare to, it's been a solid experience all round. Nice design, great form factor, ample battery life.
Eve is trying to build from the ground up and it'll take some time and a number of quality devices to do so. But the T1 isn't a bad start.
Windows Central Newsletter
Get the best of Windows Central in in your inbox, every day!
Managing Editor - Tech, Reviews
Richard Devine is a Managing Editor at Windows Central with over a decade of experience. A former Project Manager and long-term tech addict, he joined Mobile Nations in 2011 and has been found on Android Central and iMore as well as Windows Central. Currently, you'll find him steering the site's coverage of all manner of PC hardware and reviews. Find him on Mastodon at mstdn.social/@richdevine
I wish America got cheap, little windows tablets.

Why not the rest of the world, too?

Agreed, Windows is better, imo

You mean like the HP Stream 7?

HP Stream 7 has a problem where I.cant download some apps

Winbook W801, I have one and it is pretty good for the price.

We bought two during holiday period for $28.99 each with 1 year Office 365 subscription that came with it free as a bonus. I can't complain anything about it. They are being used as online gaming pads and e-Readers for kids.

They have IMO. Bought a HP Stream 8 a few months ago for $149. W8.1, free Office 365 for a year and monthly 200MB of free T-Mobile data plan forever.

Eve T1 ships worldwide. So its not a problem:)

Considering that there a very few options for windows tablet in Australia, the eve t1 sounds like a nice tablet. The problem is that shipping to australia is approx 30 euros which converts to about $42 australia which is quite alot for shipping which doesn't make it such an attractive option. It would be interesting to see in the future if eve tech finds another way to distribute their products internationally that makes them more accessible and not so expensive to ship.

Hi Awusr!
We did now T1 and shipping to Australia is 163 EUR altogether

Do you mean North, Central or South America ?

Check out the ASUS VivoTab 8 M81C-B1-BK! It has GPS, E-Compass, G-Sensor Gyroscope, Hall Sensor.

I've been thinking about this tablet as a low-cost alternative from the first time you previewed it. I think you have just tipped me over the edge. As long as I can get it shipped to my end without issues.

The fins always build the best hardware.

No full usb port No 200*135 mm design No 2 gb ram 160 euros is way too expensive I have the Winbook TW801 and I paid 110 euros for it. it has a full usb port and 32 gb space and 2 gb ram. The only thing it lacks is 200*135 mm iPad mini 3 design. I m waiting for the Lenovo Miix 3 8 just for that feature

According to the specs the eve t1 does have 2gb of ram.

I'm interested in this tablet, and have to say this article had tipped it for me. The pound is doing well against the euro so this makes the deal even better ;)

I have a hp stream 7, barely use it at the moment. Just isn't as good as my nexus 7. App gap is embarrassingly huge for these type of tablets. Desktop is very hard to use touch with. Ok with my Bluetooth mouse and full windows. Which my nexus cant do. Hope windows 10 is as good as it looks and apps get developed

Lack of diverse apps is the killer, but I'm all in for Windows 10: It could be the game changer.

http://www.lovesummertrue.com/touchmousepointer/en-us/ Thank me later :)

But the Android's touch interface is horrible. There is an app gap, which strangely is not as big on phones. Windows is hamstrung by legacy desktop mode, and developers not moving over to store apps. Univeral apps will help if only the phone apps that are available will "just work" on Tablets. I hope Desktop goes away for Windows Tablets. Contrary to your findings, I find the actually usablility as a touch tablet better with Metro than both iOS and Android. I have no Android tablets in my life. Lollipop does make the Nexus OK, my Mum has it. She prefers her SP3, but its too heavy for couch use so uses her Nexus. I have an iPad for bedside gaming. All tablet OSes need work. Windows needs Apps. iOS need to get ride of OSX derived things like the smal [x] close buttons in Safari. Android needs to massively declutter and re-organize. But they are all pretty good. I just ordered the Stream 7 for 50 quid. Thats bonkers cheap, if only use it infrequently it will still be an OK buy for meetings. I was thinking about pairing the Stream with Microsoft's new fold up Bluetooth keyboard. Great meeting note taking device!

I use desktop all the time... I don't think it needs to go away to close the ago gap... Hopefully the more widespread availability of Windows 10, with the free upgrade offer, will cause developers to see the potential in releasing apps for what will suddenly be a very large market with serious holes needing to be filled.

You are crazy. If you don't like the desktop then don't use it, but if it went away then windows 10 would just be windows RT. Which is kind of pointless when you can have it both ways.

Does this device have a sim slot? Looks beautiful btw..

I was debating between this and the Vivo Note 8, which have the same specs more or less (i think the vivo has a better cpu in addition for having a stylus). Went with the vivo, and so far so good. Great device!

I had one... Was stolen... I liked everything except that cheap plastic screen, and the super poor performance of the stylus close to the edges. I bought a more expensive Bamboo stylus, and that helped, but I see why companies, including Wacom, have started moving towards active stylii, as opposed to battery-free options...

I don't mind the pladtic screen, but I understand why some do. The stylus was much better after wacom digitzer firmware update and switching to Wacom drivers, although I don't use it that much. Just from time to time so I might not be the best person to justify if it's good or not. Still, for its price it's a very good tablet :) (Just like the eve t1, don't get me wrong)

Looks more like a phone running Windows 8.1(not WP). Looks cool.

What's the company who makes this? Posted via the Windows Central App for Android on my Oneplus One

Eve Posted via the Windows Central App for Android

Have had the T1 for the past week now and I'm loving it! Haven't yet managed to use miracast with my Sony smart tv yet though. By any chance have you tested out miracast with your device Richard? Miracast (and 2GB ram) was one of the stand out features in my opinion.

Hi it's Eve here! We are releasing software patch that would improve battery life and fix miracast issues. We would send out update next week. Eve Team

You guys are everywhere! This is definitely also another great feature of the T1, apart from the device specs itself, the team at Eve are very active and respond to the users' queries swiftly! Keep up the good work guys!

Thanks! Eve team patrol:)
For us customer support comes first as we are Eve family!

First look, it seemed like a Windows Phone 10.. :/

Is is the same as onda tablet?

in the UK - I have a Linx 10 (bought from Argos £180), 2GB ram, 4 core, working very well for me at the momment

I really enjoy my Linx 10, cracking tablet. Great for Doom Builder and Hearthstone :)

I have the EVE and I'm very happy with it! Using this as my "play" device.

I Think 2GB RAM should be a forced minimum. I believe that this alone should be a reason to buy a EVE vs a Stream 7? It offloads drives so much.

Why a "forced minimum" of 2GB? I have a 1GB Stream 8 and it never has had a "memory" problem.

Okay, so do you use Metro or Desktop apps? The metro environment I would take a stab works great. But if you use desktop, you should basically take a hit on speed. Desktop environment is a memory hugger and if there is little memory (1GB in the PC world is non heard off today), your hard drive will have to take the fall. Just simple facts. That's why im thinking that a 2GB policy on devices that run full desktop will make for happy users. Its not rocket science, just thoughts on a problem that's been forever on the PC side of things. Now, if you had a mechanical hard drive this would be devastating for obvious reasons? How digital drives are affected I don know, but never the less, there are at such a low level of hardware, a lot to gain with more memory for Windows to work with.
On another note, I'm happy you like your Stream tablet and hope you keep liking it. HP have really done something of lately which I never thought they could do, and that is impress me.

I use both Modern and Desktop apps with a definite edge towards Desktop and never feel like the Stream 8 is swimming upstream against a strong current. Of course I don't run particle physics applications or Zelda Vs the Klingons games on the thing so maybe that's where there might be a problem. And of course, YMMV.

I would agree with your assessment, my only caveat, is that I know I purchased a $79 ($79!) pc...so no, I don't expect it to decode the human genome. I do however play Psychonauts via Steam on it and honestly, haven't seen any issues with the game on it.

Thank you for understanding my thoughts. Yes, the price is astonishing. All I was thinking was, with that little memory, can this device be used for anything at all on the desktop effectively, exept maybe some video files played with VLC? I get that we can't expect too much with it. Maybe with 2GB some expectations can be had? But on a interesting note, how cheep and small can a device get before it looses a purpose or just becomes unusable.
Well, I stated my thoughts. I'm not out to diss people buying, say a Stream 7, just putting some thoughts down.
Edit: and maybe I'm thinking Tha a device like this EVE thing is on the right path.

I just like the fact it runs a full web browser. If an app isn't there you can always use the browser and since its not a mobile IE you will never have compatability problems.

I read that Microsoft has already given developers some of the Data needed to make Universal Apps now renamed "Windows Apps" hopefully this will mean more and better Apps for Windows touch screen devices. When Windows 8 was released I read an internet article that stated that microsoft had not given many developers the data needed to make Apps for Windows 8 touch screen devices if that articles fact were true that was a bad mistake for Microsft. it seems they have correced that mistake. MS Build comferance is coming in April there more info will be given on how to make "Windows Apps AKA Universal Apps". I think Windows 10 will be a hit at least Microsoft is doing a better Job of introducing developers to info about their new operation system. That's a good thing for developers to take advantage of.

Cab you install apps to the micro SD card?

I would echo much of what the writer shares regarding the T1. The tablet is a great value. After a couple weeks of use our Eve T1 has only minor issues (more like annoyances) but for the price can't be beat. By-the-way, shipping and customer service are excellent with the T1. I live in remote Alaska and received the device in the timely manner. If your looking for a consumtion win 8.1 tablet (upgradable to Win 10) with great customer support give it a try. SISU
Windows Central Newsletter
Thank you for signing up to Windows Central. You will receive a verification email shortly.
There was a problem. Please refresh the page and try again.