Financials: Lumia is growing and Microsoft doing just fine for now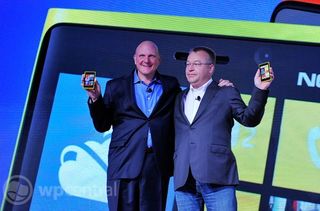 This week the two biggest components of the Windows Phone ecosystem reported financial results. Microsoft and Nokia both printed decent numbers.
I won't spend much time on Microsoft. It was a fairly boring quarter. The Redmond giant came in with results that were in line with analyst results. They've now sold a grand total of 60 million Windows 8 licenses, but this includes licenses sold to Dell and other manufacturers. So it's hard to pin down exactly how many boxes consumers are actually buying with the latest and greatest Windows OS.
In the land of mobile, Microsoft won't say how many Surface tablets they've sold. I can't say I blame them. If they revealed numbers they'd just be compared to iPad and Samsung Galaxy Tab sales. Why would Microsoft want to give people more reason to print negative headlines?
The bottom line, to WIndows Phone people, is that Microsoft is holding its own. They posted small growth in a declining PC market. They're well positioned to hang onto the enterprise market. They're cash rich and cash flow positive. They can afford to push like hell on Windows Phone. They have to. They need it to succeed.
Nokia results were more interesting. As those of you who follow the story closely will remember, Nokia has been losing money for a while now. They've been busy restructuring the business around Windows Phone (Lumia brand) and the S40-powered Asha brand.
So the financial markets were surprised to see Nokia actually post a profitable quarter yesterday. Not only profitable, but respectable. Operating margin in the devices and services division was 7.2%, and Nokia shipped 4.4 million Lumia phones in the quarter. That's up from 2.9 million in the prior quarter.
Nokia's stock performance: 6 months
Not too shabby, Nokia. Not bad at all.
Nokia actually sold 6.6 million smartphones with an average selling price of 186 EUR (about $250). The vast majority of Nokia's device volume is still outside of the smartphone market. They still sell a lot of dumb phones. Almost 80 million of the last quarter, to be specific. They sell for an average price of 31 EUR, or $42. That's a lot of cheap phones.
My big worry on Nokia has been the imminent decline of these dumb phones. It's hard to compete with a $42 phone, but on the really low end, Android hardware is closing in. Even in the most emerging markets around the world, people will save to upgrade to a full smartphone operating system in order to get all of the benefits they bring. I don't think Nokia can compete here.
But Nokia's dumb phone sales have been shrinking. The more they shrink, the less future risk they represent. And Lumia sales have been increasing. Obviously Lumia phones have better margins too. That's good for Nokia.
Microsoft acknowledges that the Windows Phone store still has holes. They're working to fill them. Android and iOS don't have these holes. BlackBerry 10 certainly may still have holes. So it's a big fight between Microsoft and RIM to solidify that 3rd place spot in the smartphone platform market. Yes, RIM has that spot for now. But they earned the spot on the old BlackBerry OS, and they will have to keep it with BlackBerry 10. In the same way, Microsoft will have to displace them with Windows Phone.
As far as the stocks: If Nokia can get its Lumia volume up towards 10-12 million per quarter, I think people (including me) will stop talking about the risk of declining dumb phone sales. They'll have created a sustainable position with Windows Phone, and they'll be nicely profitable. The stock likely keeps rising if that happens.
MSFT stock performance: 6 months
Microsoft? I'm less excited. Even if Surface sales pick up and other vendors so a reasonable job of selling Windows 8 tablet hardware, I think Apple is going to steal away a lot of market share as the PC market sees cannibalization from tablets. It's not so much a knock against Microsoft as it is a result of old-world (desktop OS) market shares. Microsoft won that war, and if they don't win the #1 spot in mobile, they lose share. End of story.
(Chris Umiastowski is a contributing financial writer to the Mobile Nation network. You can see the rest of his posts here at AndroidCentral, iMore and CrackBerry.)
Get the Windows Central Newsletter
All the latest news, reviews, and guides for Windows and Xbox diehards.