Firefox 40 released with interface changes created for Windows 10 users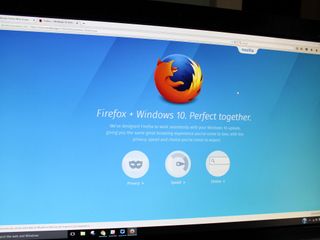 Fans of the Firefox web browser who also use Windows 10 will see a few changes when they download the newest version. Firefox 40 is now available from Mozilla, and as promised, there are some tweaks in its user interface specifically developed for Windows 10.
Mozilla says:
Even with this new Windows 10 support, Mozilla is not happy with Microsoft. It claims that it is harder for Windows 10 users to set up third-party browsers like Firefox as their default browser in the OD compared to earlier versions of Windows.
Source: Mozilla (opens in new tab)
Windows Central Newsletter
Get the best of Windows Central in in your inbox, every day!
Is this the one from the Win10 store or at Mozilla.com?

Firefox is not a Store app.

Hopefully they Will manage how to migrate to appx and push it on the store

They'll probably just wait and use Centennial to put their Win32 app in the store.

Or Astoria and port the Android one. Might be easier.

I think they're aware people are only going to use the Win32 version of the browser. So Centennial is a better bet.

im really waiting eagerly for putting WFA in the Store! :D

I think Astoria is only for Windows mobile...

Of course they would port an Android app, that make perfect sense.

The minute they port that horrid version is the moment I never use it again. Firefox on Android is the definition of torture.

They need to make it a store app that's the reason it was unsuccessful in testing when it was a app through Firefox instead of the store smh

It was unsuccessful as an app because it was rubbish and far too slow and buggy for anyone to use. If they had worked on it for longer before releasing the beta it may have actually done well.

Great design love it! Feel like nostalgia remind me days with Windows XP.

Eh, it's still useless for touch.

Really? Still? Three years of touch becoming increasingly common on PCs and Firefox STILL can't get a handle on it? Good grief.

You know, Edge is out, right? And you think it sucks? Meh, since Edge is out, I'm using this rather than using Firefox.

It suck because it doesn't have plugins and addons.
So until then it suck

Don't need plugins and addons, so it doesn't suck for me.

Yes, you do. If you're not using them, then you're just missing out. But that's not the only reason it sucks. It also sucks because it's slow, crashes a lot, and has compatibility problems.

yep, with HOSTS file as the 'ring 0' adblocker, Edge now runs much better without those ads on those sites.

New: Support for Windows 10. New: Added protection against unwanted software downloads. New: User can receive suggested tiles in the new tab page based on categories Firefox matches to browsing history (en-US only). New: Hello allows adding a link to conversations to provide context on what the conversation will be about. New: New style for add-on manager based on the in-content preferences style. New: Improved scrolling, graphics, and video playback performance with off main thread compositing (GNU/Linux only). New: Graphic blocklist mechanism improved: Firefox version ranges can be specified, limiting the number of devices blocked. Changed: Add-on extensions that are not signed by Mozilla will display a warning. Changed: NPAPI Plug-in performance improved via asynchronous initialization. Changed: Smoother animation and scrolling with hardware vsync(Windows only). Changed: JPEG images use less memory when scaled and can be painted faster. Changed: Sub-resources can no longer request HTTP authentication, thus protecting users from inadvertently disclosing login data. HTML5: IndexedDB transactions are now non-durable by default. HTML5: Implemented AudioBufferSourceNode.detune to modulate playback rate in cents, a logarithmic unit of measure used for musical intervals. Developer: Improved Performance tools in the developer tools: Waterfallview, Call Tree view and a Flame Chart view. Developer: New rules view tooltip in the Inspector to tweak CSS Filter values. Developer: Console API messages from SharedWorker and ServiceWorker are now displayed in web console. Developer: New page ruler highlighting tool that displays lightweight horizontal and vertical rules on a page. Developer: Inspector now searches across all content frames in a page. Fixed: Kannada text does not display properly in built-in pdf viewer. Fixed: bug fix

Edge vs mozilla , chrome, opera

He's probably asking Windows Central for a comparison.

Is it working better than Edge in tablet mode? That makes me think that it would be interesting if you could do a comparison between Edge, Chrome, Opera and Firefox when used in tablet mode.

No. Firefox doesn't work with tablets.

Works better than Edge. Which is to say, works.

Nope, Firefox doesn't work. can't input text = does not work

I can input text...I am doing it right now using the on-screen keyboard.

They all suck in tablet mode.

I'll install it just in case. I love Edge and f*** Chrome

Yes, harder to set up with twice the clicks lol. Will check it out and if it's not a ram hog like the recent versions then it will probably see more frequent use. As opposed to gathering virtual dust on my taskbar; solely been using edge, which despite it's lack of extensions handles pretty well for the occasional web browsing and is not a ram hog. Barely seen it go above 50 Megs with a few tabs open.

Hard to change default browser but their start page explains it in 3 simple steps.

The irony is pretty hilarious, however they have a point and that is some people have become ridiculously lazy. The future depicted in Idiocracy is worryingly not too far at this rate.

type def in search - top entry

I just wanted to say 'Windows Defender' as the top entry, until I tried myself.

I'm not really noticing anything different. I wish Firefox would do a tablet mode which worked like Metro IE. That was the best touch browser ever made and it really suck that Win 10 does not have a built in full screen touich based web experience.

They had one in beta for like a month and then they discontinued the feature.

Worst decision ever... Loved that firefox Posted via the Windows Central App for Android

They still make it. But only for Android.

Firefox doesn't even work in tablet mode.

Using it in tablet mode right now. Works fine.

but that small buttons.....

I'll have to check it out. Still using Firefox until at least Edge adds extension support.

Edge is pretty decent, renders well, doesn't hog the memory like Firefox does. Unchecked Firefox gobbles every ounce of available ram on my laptop and only has been doing so in the more recent versions. Prior to that it would hit 250 Megs and level out. You could fiddly around with host file to block adverts in edge but only do so if you are aware of the risks therefore not really recommended for novices. Have a look in the forums if your interested (Jazmac's thread springs to mind).

Firefox doesn't hog memory. Have you used in the last two years? It's the lightest major browser out there.

Does it have reading mode and a Share button?

Yes for reading mode. Not sure about the sharing menu.

It has a sharing feature one can use. Options are Yahoo mail, Google +, Facebook, Linkden, Twitter, Tumbler, and more. There is also a separte button for only sharing email.

No Windows Share. They have their own sharing scheme, which will probably make it harder for them to decide to leave it and work with a system sharing only. But I think they will have to do it unless they think Firefox OS is more important than keeping PC users.

When will they change their icon? Or Maybe it is already awesome icon

I like edge, its good, and after using it, cant go back to Mozilla as default browser .. however, upgrading to Mozilla 40 to check it out.

Chrome+Win10 Perfect together :3

never using Chrome since 2011.

The day windows10 released I deleted chrome and Firefox. Now using Edge . Also installed opera because edge is still in early stage and not working for some sites .

Microsoft helps me in leaving chrome browser because I hate google because of their ego for windows phone . Now only YouTube remaining .

I read somewhere that Mozilla is planning to release their browser as an universal app soon. However, this might be just a rumor.

No thanks, already switched to Edge

Nice design but still can't beat the x64 Chrome in terms fo performance and speed. Mozilla also need to cut the crap about W10 defult apps. It's as easy as previous Windows and now you have even more ways to do it I can think of 3. One from Setting app Two from Default programs in control panel Third when you install a new browser it asks to become the default you click Yes and that's all. Browser changed. Edge is a joke as it is now it suffers from performance hiccups, no add ons till now, bad rendering on many webpages.

It still crashes randomly :/

Are you an AMD user? I see that the latest graphics drivers have the following bug.

Known Issues:​ ​[424127] The Firefox browser may crash while opening multiple tabs (2 or more) Disabling hardware acceleration or opening multiple windows instead of multiple tabs is a temporary workaround solution

I can still see gradients in the title bar...

With 40 though? What's so special about that number in the OS title?

Downloaded and I am running. It looks nice, and so far it appears to be fine. FireFox is my default browser. I like what Microsoft is doing with Edge, but it's not quite up to par for me yet. Most important function for me are extensions -- Roboform and Adblock Plus are my mainstays!

Huh, I didn't know Win32 apps could change their window title bar color.

You could see that at least in Office 2007, and maybe and before... WinAMP I guess?

OK, I've been a FF user for some time now but the new Edge Browser is going to be my go to browser from now on. If they can just get it so I can import all my short cuts from FF I'll be set!

I can't see why Mozilla says that it is harder to set their browser as default. The first time we run a new browser, we are asked if we want to make-it our default browser.

I am still in awe that Firefox still using a separate URL and Search Bar. Seriously... It's as if they're allergic to change, even change that makes perfectly logical sense.

While I am unsure if that is a good enough reason, but I know why - Mozilla is a non-profit and they'll go an extra step to keep the privacy. So Google or Bing doesn't have to know every single character that you type into your browser, but rather only when you are searching the web and when it makes sense.

uhh, you can customize firefox and get rid of the search bar and the address bar will work as both...

It's even more strange because you can search directly from within the address bar. Maybe some website searches, like ebay and amazon, won't work as an address bar search or wouldn't make sense to be used that way.

¡FAIL! Doesn't work on tablets.

I works on my Surface 3 and Pro 3. Granted those are really laptops that look like tablets. It wouldn't work on my old Surface 2, but Windows RT is dead and so is any hope for Firefox on it unfortunately.

Nope. can't input text = does not work

really funny when people said its hard to set ff as default browser. any homosapien with at least 2 digit iq can do it. stop whining. anyways, for me if someone has that much of a time to customize their browser, they should get a real job. or at least a girlfriend. or both.

Nice and clean version than previous releases..Thanks FF

I don't know about everyone else, but it looks the exact same to me as the last version. However, Firefox does start up faster and runs a bit smoother for me on my Surface 3.

Its still as slow as hell. Why does it take ages to open? It always has even on an i7 with an SSD there is a notable delay of a second or 3, whereas edge and chrome open before you finshing clicking!

I do not see any difference?? Still the same Firefox...

Pathetic on their part, should've made a windows app.

Honestly Edge is my new browser of choice. I have been a chrome user forever, and I still have it installed because I need it for some things like running hangouts and google's Inbox for Gmail. However, Microsoft Edge is really much better than Chrome in many ways. I prefer the interface and the smooth scrolling. What will put the Edge browser over the top and allow me to finally uninstall Chrome is the ability to run pluggins and Chrome Apps like Hangouts.

We have Microsoft edge! :)

Sorry Mozilla, but in the time you were whining about how extremely difficult it is to change default browser, I've settled up on Opera which has less bugs than your browser on my PC.

I must admit I love Edge and its start page with the news feed is better than the horrible new News app, which I have dumped. I wish they would make the address bar a bit easier to see (don't like the dark scheme), but really don't miss the add-ons. Very few sites are a problem and if they are I can stand IE as a back-up.

Also, I will never use Mozilla stuff because of how horribly they treated their CEO for giving money to a political cause they didn't like. I just say no to fascists.
Windows Central Newsletter
Thank you for signing up to Windows Central. You will receive a verification email shortly.
There was a problem. Please refresh the page and try again.