First look at Vixl for Windows Phone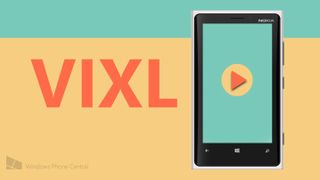 Remember Pixl? It's a pretty cool Flickr application for Windows Phone. It allows you to capture images and share them to your Flickr account. It's got a beautiful UI and some pretty creative filters to use with your photographs. The team behind Pixl have been working on a new app for Windows Phone. They took what they learned with Pixl and created an app centered on video instead of photography. It's called Vixl and it's coming soon.
Let's check it out.
Vixl for Windows Phone takes concepts that are very popular with photographys apps and applies it to video, namely filters. With Vixl you can create short clips of video, up to 20 seconds in length, for sharing to social networks. You can also apply some pretty cool filters in real time to the video. For filters you get:
Original
8mm
B&W
Lomo
Sepia
Pixels
Jamaica
Night vision
Bleached
Toaster
Crime Scene
Blue Filter
Green Filter
Red Filter
Windows
Cycle through the filters and the effects are applied in real time to the preview. Once you've found the filter you want to use, hit that big red button to record. Clips last 20 seconds (or shorter if you'd like), this is because you're meant to create video lengths that you quickly share to social networks. After you're done filming you can add a description about the video and share it to your social networks. The first version of the app shares to Facebook and Flickr. The next update, coming shortly after launch, will include support for YouTube, Tumblr, and Vimeo. The developers are also planning on looking into working with other Windows Phone developers (notably 6Sec and Instance) to enable sharing of clips.
The app is expected in the Windows Phone Store sometime by next the middle of next week. We'll be sure to let you folks know when you can download it. What other social networks would you want to share clips with? Sound off below.
Windows Central Newsletter
Get the best of Windows Central in your inbox, every day!
Nice! Hope they add the ability to upload to Skydrive too, if possible.

Ha! No, you'll be able to enjoy it no matter who bills you each month.

Omfg, there is a Jamaica filter. I am so getting this app so i can make every vid remind me of home.

Sam, you based in SD too? :)

this i like, looking forward to it.

Nice logo, sounds interesting

cool idea i will be waiting for this app

true here take my spot then notify me please when they release the app so i can download it

Actually, the official Flicker app ain't to bad.. But im going to have to try this one out... You know, support the developer silly❕❗❕❗

Everybody loves the Nokia camera. I don't recall so many apps to take advantage ot the camera on any brand in a while.

That cooperation with 6Sec and Instance!

Contacting them very soon, after our Ver 1.0 launch!