Your news never looked so good: Sneak peek at Weave for Windows 8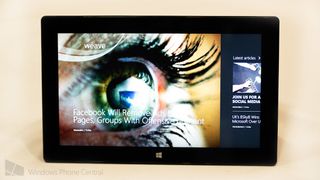 One app that has been popular on Windows Phone for a very long time is Weave. The news app is always floating near the top of the "news + weather" section in the Windows Phone Store and easily maintains an average four star rating.
Seles Games, the developer of Weave for Windows Phone, is teaming up with Lazyworm Apps (MetroTube, Tweetro+) to bring Weave to the big screen – Windows 8. We met up with the guys from Lazyworm and had a first look at Weave this past week during //BUILD/.
Video and details after the break!
Weave is currently in alpha for Windows 8, with a beta expected about a month and a half from now. The guys from Lazyworm Apps made the trek from their home of New Zealand to join the large congregation of Windows Phone, Windows, and Azure developers at Build in San Francisco. We had the chance to get a demo and first look at Weave for Windows 8. Spoiler alert: We like it a lot.
You'll notice that Weave for Windows 8 carries over a similar look and feel to Tweetro, the excellent third-party Twitter app from the very same guys. The app ran really well for being an alpha build and running on a crowded Wi-Fi network. Scrolling was responsive, articles loaded lightning quick, and navigation was intuitive.
There are two basic views for finding stories you want to read. When you launch the app you'll be put in the immersive view, which you can think of as your homepage. Here you'll see the most recent articles from all your sources. Or you can scroll to the right and discover your favorite categories and the feeds from specific sources you pin. In this immersive view you can also pinch out to do semantic zoom and get a big overview of all your sources. It's nice for flying around if you pin a lot of feeds.
The other view is the browsing experience. It's an efficient way to power through all the different feeds you follow. On the left you have a list of all the feeds and sources you follow. The right side shows the most recent articles for whichever source you're currently in. It's great for browsing when you're holding something like a tablet. Articles fly in from the right when you click an article. And, holy guacamole, the articles load super-fast. Just watch the video above to see how quickly you're reading an article after tapping it.
If you're interested in joining a public beta of Weave for Windows 8 keep your eyes here. We'll let you know when and how you can join in about a month and a half or so.
Get the Windows Central Newsletter
All the latest news, reviews, and guides for Windows and Xbox diehards.