The official Real Steel game arrives on Windows Phone 8, let the robot boxing begin!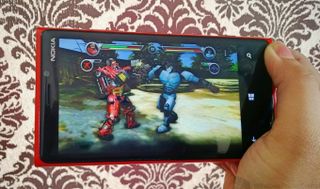 Based on the Dreamworks movie, starring Hugh Jackman, Real Steel is an underworld fighting Windows Phone 8 game set in the near-future, where 2,000 pound robots fight in a no-holds barred battles to the death. In many respects, Real Steel is a futuristic version of the classic Rock 'Em Sock 'Em Robots (opens in new tab).
The game has been available on XBox Live Arcade, iOS and Android for a while and has now made its way to the Windows Phone Store.
While the game description claims it to be a smash hit with over 6 million downloads across all platforms, it is a little awkward to release a licensed game two years after the movie released and didn't hit the jackpot in reception.
Also, the app hasn't impressed most on XBLA and iOS/Android all this while. The Windows Phone version isn't much different. While it is an interesting game with an engaging gameplay, it's pretty slow and rough and could do with a major update. The game includes a Tag Team mode which lets you team up two of your favorite mean machines and take them to glory.
The game is available for Windows Phone 8 devices for $0.99 from the Windows Phone Store. There's no trial version available, which may hurt the game's appeal. If you give it a spin and test your skills in the steel sport, let us know how you like it.
Thanks, everyone, for the tips!
Windows Central Newsletter
Get the best of Windows Central in your inbox, every day!
Wonder why devs skip on giving the trial option ?

Yep they shuld atleast let we guyz try once

Is because the tools that they use to port these games. Some tools don't offer an easy way to implement a trial version. So the developer choose to not have more work and to not have a trial option...

People like you will be the reason games don't make it to WP8.

Why not? Xbox Achivements are one of the main selling points for WP8 gaming. That shouldn't be a reason for devs to hold back on making games for WP8. At the same time, you're right as well. We can't expect every game to have Xbox Achievements, otherwise we'll get low-quality games tainting the Xbox brand. So it's a toss up really.

Some games like wordament/happy wars(mmo's) for example shouldn't have achievements that they have.

No its the ones who expect free games(with iap content) personally id like it if they charge us the .99 cents &stop nickel & diming us.

One again: no Brazil love. :(

What's going on with Brazil ? Why region lock that country ?

To publish a game in here the developer has to upload a brazilian certificate (DJCTQ) for his game and the process to get this certificate is not too easy to people that dont speak portuguese. But, since November 2012, the government accepts PEGI/ESRB certificates in the place of the brazilian one and now the process is almost the same to upload these certificates do USA, Europe and other places. But almost every developer dont know that. So, since November 2012, I started to request developers to do that and helped them with the process. I already helped hundreds of them but there are always more developers that need to be asked...

Am not from Brazil, but am grateful for what you are doing. :D

Thanks buddy. The Brazilian WP Store grew a lot since I started to do that but is a working in progress, there is always more to do...

You got all the hot women give us video games.

Y u make me cry no space. :'(

Good to see popular games like this coming to WP. This is making WP more attractive. :D. WP FTW

I can't decide this or final fantasy

Remember 'Try before you buy' What? There is no 'try' 'Do' or 'Do not' there is no 'try'! 'Try' all he might, he could not get it to budge. Timmy got on the bus, but he forgot his homework. We'll do it live!

There is a new game called 'dragonhunter' in store. Its a fps.

No storage in my device(only 154.41 MB left) but sd card is having still 5.13 GB free. Wish there was a option for installing apps and games on sd card. Now waiting for clean update(GDR3+black) so that i can remove other storage(2.5GB) :( :(

Will it be available in gdr3?

Just asking did u clear temp data and if u used any app to download songs or something

I have only 86MB of temp data. Other storage is 2.5GB.

do you play against players on other platforms?

For God's sake why .99 ! you either charge a fortune or give it for free. It's not that i can't afford .99. But living in a Third world country, there's no easy way of buying from the store. So pls spare me the agony!

I'm living in the so called third world country. But still can easily buy from the store. That's why Microsoft adds carrier billing in the first place. (-_-)a

There's no carrier biling for my country yet (-_-)

No xbox ? Really ? #SaveXboxWP A no buy for me for sure with the lack of Xbox...

Huh?
it lags waay too much!
the name should be 'Real lags' -__-
*uninstalling*

On my L820 not working...

Only 79p... bought it -) another good time waster for the commute.

I will buy a none game app with no try option.. But not for games . Yes I know .99 is nothing but still. If I like it fine if not I don't buy I rather like that option.

My son was just playing this game last night on his galaxy tab. Dad you don't have this game do you? No son I sure don't that's why I got you android. Ha on my way home can wait to fire it up. #Nokia #Microsoft Go Go Go

Nice game, but technically bad. I have purchased a robot but then suddenly the game closed after the purchase is successful. Then when I start again, the game in fact doesn't save my purchase. I try to restore my purchase but the game say I'm offline, although I'm in strong signal bar
Then I try a game, the graphic is bad too, the robot's leg walk but the robot didn't move forward nor backward. Then I try to punch, but once more another bug, suddenly my robot move to far far away from the arena.
Bad luck, I hope the dev will respond to this bugsss, or Rudy should build a 6Steel for it.

Not working on my Lumia 520

Not working on L920.... the main menu is bugged, cant see sh*t, cant do anything.... cant even quit this crap... How can one put something like this on the store, for money???? Havent they tested it?

Timing.... Years after they put an ad in the film for Xbox 720, they release the game to Windows Phone, without Xbox branding too. Shame.

Looks nice! But the reviews in the store say it sucks. Tough it's not expensive, I won't spend even a quarter on a shitty experience.