First wave of indie games on Xbox One coming early next year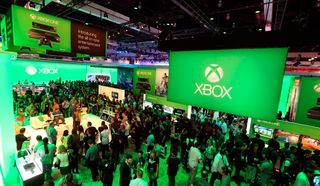 Little was said from Microsoft about indie developers on the Xbox One when it was first announced in May. It wasn't until late August that Microsoft announced the ID@Xbox (Independent Developers @ Xbox) program for self-publishing. Details have been scarce since, but we're now getting an update about the initiative from Microsoft to promote indie developers.
Chris Charla, Director of ID@Xbox, details some of the recent progress his team has made. While the Xbox One launched to consumers nearly two weeks ago, his team is still working hard on their project to make ID@Xbox a success for all independent developers who are interested in making games for the Xbox One.
Currently, Chris and his team are working to lower the barriers to entry for self-publishing on Xbox One, providing Unity for free to any Xbox One developer, hold developer events and working behind the scenes to turn any retail Xbox One into a dev kit. Pretty impressive stuff or a company that was initially slammed by the press for their apparent lack of interested in indie devs.
Right now they've had thousands of developers submit interested in the ID@Xbox program. For the first wave of indie titles they're working closely with a set of developers who have a track record of unique and interesting games. There are more than 50 studios with dev kits right now that will make up the first wave of independent games for the Xbox One. Chris also provided a small list of some games/studios that are now working on titles for the Xbox One.
Crytek has built Ryse: Son of Rome for the Xbox One, but has also expressed interest in self-publishing on the Xbox One and are currently in the ID@Xbox program. We've also got studios like Signal Studios, Half-Brick, Bongfish, and Team17 working on titles through ID@Xbox. That's just a small sampling of developers listed by Charla, which itself is also a small list of developers in the ID@Xbox program making games right now. Hit up the source link to see more devs.
Either way, it looks like early 2014 is when we'll start seeing some of the first titles from indie developers on the Xbox One. We can't wait to see what comes from the program.
Are you a developer interested in joining the program? Check out the ID@Xbox homepage (opens in new tab) for information on how to sign-up and other FAQs.
Source: Xbox (opens in new tab)
Windows Central Newsletter
Get the best of Windows Central in in your inbox, every day!
Dev kids.. Gotta love proof reading :)

You haven't heard of dev kids? They're these little humans that are bred just for creating video games. They're born knowing Assembly, C, C#, C++, Java, JavaScript, Perl, PHP, Python, Ruby, SQL and Spanish.

That's me, well 50% of that! :P

I used to know Cobol. But I know SQL

Crytek probably means Warface that free to play FPS on PC. Its supposed to be coming to 360 next year too. Its isn't that interesting though

I won't be paying attention to indie games because of Titanfall

Indies can be fun little time wasters when you don't want to full on game though. They're welcome in my book.

I'd rather keep my Indies on my windows phone and blockbusters on my Xbox one

Team17!? Gimme some next-gen Worm carnage!

If you want to play worms with me search for simphf on XBL and Steam.

So would angry birds on Xbox count as an indie came? I mean, it's $50, yet it is the same thing as on my phone, just more $$.

Oooh team 17, that means a new worms title woohoo

I wonder how many of these games will support up to 8 players, as I see Indie Games taking more of an advantage from it than normal games (not sure I can see a racing game take advantage, but a side-swiping game, sure).

We don't have the same definition of indie when they use Team17 as an example. I'm pretty sure they've been making mainstream game for 10+ years

They've been around since the 90's. Maybe longer.

Indie=independent. Independent means you create a game without the help or pressure of a publisher. That's it. Indie doesn't mean the game has to be created by a three man group in the back of their garage on their weekends in the summer.

This should be a Windows Phone project. Working to get quality indie titles Xbox-branded.

Exactly! The ID at Xbox program is a great program and it should be extended to Xbox on Windows Phone and Windows 8/RT. I've updated the thread for our #SaveXboxWP movement (http://forums.wpcentral.com/gamers-lounge/249754-asphalt-8-not-xbox-title-lets-mobilize-reverse-trend-savexboxwp.html) to include relevant Twitter accounts for the ID at Xbox program who whe should all start tweeting to:
@ID_Xbox (Independent Developers Publishing Program for Xbox One)
@iocat (Chris Charla, Directof of ID at Xbox at Microsoft)
@albertpenello (Albert Penello, Lead planner for Xbox One, Xbox 360, and Kinect)

Awesome. Indie games are probably by favorite category of games (as I don't thing 'genre' is a suitable word in this case) by far and I'd love to see a lot be released on the Xbox One, which I'll be getting later this year. Right now 95% of my Indies games are on Steam and my Wii U.

As long as they aren't like the indie games on x360, I'll be happy (unless they have achievements)
Windows Central Newsletter
Thank you for signing up to Windows Central. You will receive a verification email shortly.
There was a problem. Please refresh the page and try again.