Fitbit Windows 10 app updated; new Flex 2 and Charge 2 trackers revealed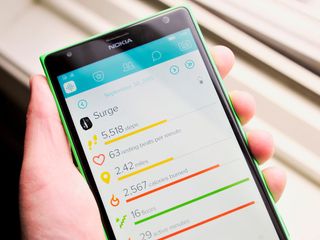 Fitbit has updated its Windows 10 app, adding the new Fitbit Dashboard by default. The update comes the same week the company officially revealed its new Flex 2 and Charge 2 wearable fitness trackers.
Here's the breakdown of what's new and improved in the Fitbit app:
The new Fitbit Dashboard is now enabled by default.
The Fitbit Dashboard has new celebrations for hitting your goal
Bug fixes and general improvements
Download Fitbit from the Windows Store (opens in new tab)
Fitbit's two upcoming trackers will likely support the Windows 10 app. Here's what the company said about the small Fitbit Flex 2, which is 30% smaller than the original Fitbit Flex:
The Fitbit Flex 2 is available for pre-order for $99.95, with buyers able to choose a band in black, navy, magenta, or lavender colors, with additional bands and accessories sold seperately. The Flex 2 will start shipping in late September.
See at Fitbit (opens in new tab)
Here's what Fitbit has to say about the upcoming Charge 2 tracker:
Pricing for the Fitbit Charge 2 begins at $149.95 in a variety of colors. It will begin shipping in early September.
See at Fitbit (opens in new tab)
Windows Central Newsletter
Get the best of Windows Central in in your inbox, every day!
Until it supports call and text messages, its a deal breaker for me.

Sorry, but my Band 2 still does everything compared to any Fitbit. Their lack of built-in GPS kills the Fitbits as an exercise tracker.

Except the Fitbit Surge does have built in GPS and excellent it is too

Strap looks the same as the standard Charge HR, mine fell apart....................

Pretty much everyone's fell apart.

I'm surprised by how other people had theirs fall apart. I had my HR for a year and a half before it started lasting only a few hours, but the band looks new still. The Charge 2's band is replaceable though.

My flex bands have all fallen apart and I'm extremely careful with them since I know they always break at the junction between the hard plastic window and the flexible band. I switched to the Microsoft Band and only miss the fitbit dashboard, but my band finally stopped tracking heart rate because I accidentally showered with it on a couple of occasions LOL.

Mine is falling apart while I type this...

Mine was falling apart too and I contacted them through their chat and they sent me a new one! :)

My girl couldn't get her Alta to sync reliably. Hoping the Band 3 is boss. All I ask is waterproof, resizable tiles, and realistic 2 + day battery life .

Built in memory would be another.

Resizable tiles? On the Band?

The alta sync issue was a fitbit app issue which has since been resolved with a previous update

Why does this not support messages and text yet? I don't get it

Guys, do you know some cheap fitness tracker, that works with W10M?

Yep, Misfit Shine & Misfit Flash.

Just jumping in.. Band 2 FTW! Yes... I wish it were waterproof but Fitbit never got the Windows Phone Messaging to work... Plus now the killed the Microsoft Heath-vault link... remind me why I give two hoots about Fitbit?

Honestly, any day now I expect Microsoft to announce they are killing off health vault. It's pretty much a ******* child that doesn't really fit in anywhere. They haven't pushed it to it ultimate potential, and for a medical records app, it has even less acceptance and participation from providers than windows phone. I use health vault, but it won't be a shock when they decide to kill it off.

Would love to support Fitbit but Microsoft are shooting themselves in the feet with them. Any word Dan or John on when Microsoft will enable Fitbits notifications on windows 10? Thought it would have happened by now for sure!

Don't think it's Microsoft that you are waiting on but rather Fitbit. Garmin has notifications working between their app and devices - text messages, email, missed calls, weather and music controls. I had a Fitbit Charge, which of course fell apart (two of them in a year). Bought a Garmin Vivosmart HR and would never go back to Fitbit.

"Hello everyone.Today I am able to share a little more information on this topic. I know many people have been asking for a more detailed explanation about why this feature has not been made available on Windows devices.Today the Microsoft Windows platform does not provide a GATT server. Fitbit leverages this technology to provide notifications on our hardware. Microsoft and Fitbit are working together to bring a solution to our shared consumers.I understand that this will raise many additional questions regarding timing and availability. Unfortunately we don't have further information to share at this time. I'll try and answer followup questions where possible.Thank you for your continued patience and support." This is straight from Fitbit themselves.

It should be standard with Windows 10 UWP apps: https://msdn.microsoft.com/en-us/windows/uwp/devices-sensors/gatt-scenarios?f=255&MSPPError=-2147217396 Dont get the issue anymore unless your Fitbit app is not UWP of course. Then the solution is clear, make an UWP app. Then I will buy a Charge 2

Don't you know whenever something doesn't work the way someone wants it to it's always Microsoft's fault for blocking the functionality from working? (don't get offended, I'm being sarcastic).

I just ordered a Fitbit Charge 2, so I'm glad the app got an update. For those of you who have had problems with your Fitbit falling apart, my husband has gone through two of them (and will probably need a 3rd soon), but I have never had any problems with my Charge HR. I think the HR is just better quality, especially in the band.

My HR has been replaced 4 times. I had both hardware and software issues. Never buying Fitbit again!

Anyone know what features don't work on Windows Mobile that do on Android and iOS?

Call and text notifications

New update broke the app.
cannot add or edit activities as the app crashes and closes.

Tried restarting my phone and reinstalling the app. The pc app has been updated and it crashes as well. Thanks.

Still no Gatt server support

Has to be added by wm not fitbit.

I dont get why so many people give negative replies about fitbit. We should be happy they still support windows. I'm glad they're still onboard and will buy one of their products seeing that Microsoft does not want to sell their bands in my country.

I totally agree with you! Fitbit are really supportive of windows 10. Their app is awesome. Like I said earlier I think Microsoft are letting them down not supporting Gatt on windows mobile to enable notifications.

Yeah i just hope they don't drop support in the future due to that or the "too low users" excuse.

What's the phone on they guy's hand?

Any reason for Fitbit leaving msft Health Vault? Is it not viable anymore?
Windows Central Newsletter
Thank you for signing up to Windows Central. You will receive a verification email shortly.
There was a problem. Please refresh the page and try again.