Climb EDM charts worldwide with FL Studio Groove for Windows 8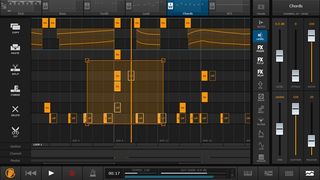 Fancy yourself the next Daft Punk or Deadmau5 and you can't wait for the Surface Music Kit to hit? Then you might want a new Windows 8 from Belgian software company Image-Line, the company behind the massively popular FL Studio. That's right, there's finally a Windows 8 version called FL Studio Groove that came out a few weeks ago and it just received its first update. Let's check it out.
History time. What's FL Studio? It's a digital audio workstation that's came out for Windows back in the late 90's. It's really popular and among the most used in its field. Some notable users include Deadmau5, Afrojack, Skream, and others. There's now a version for Windows 8 that isn't quite as feature packed as FL Studio on the desktop, but does a good job for the first version.
Quick Demo of FL Studio Groove in action
With FL Studio Groove you can create a variety of loops and chain them together to create complete songs. Here's what you get to play with:
Synthesizer
Load from the extensive library of bass, keys, lead, pad, sfx and synth sounds. The flexible dual-oscillator, wave-shape driven, design with filters, 3 envelopes and LFO architecture will ensure you can create fresh and unique sounds for years to come. Listen to the presets and you will know how powerful the FL Studio Groove synths are.
Drum and percussions
Punch out a beat on the 10 drum pads. The velocity-through-position feature will allow you to play with feeling to get the right groove. Layer up two samples per-pad for complex sample mash-ups. A comprehensive library of percussion samples is included covering kicks, snares, toms, hats, cymbals, SFX and more.
Keyboards
Take control over the synthesizers with FL Studio Groove's two-tier touch keyboard, perfect for playing chords and melodies. The visual feedback will even help you to learn to play music just by watching the existing projects play.
Effects
A wide array of modern and classic effects are available including a Bit Crusher (for lo-fi gritty sounds), Flanger & Phaser (to create complex stereo washes and spacey effects), Filters (low, high pass & vowel-voice simulation), Delay (echoes), Reverb (to simulate the sound of large halls through to tight spaces), Panning (so you can spread your sounds across your speakers) and Ring modulation (creating screaming-feedback type sounds).
Sequence
After recording a performance FL Studio Groove's touch-optimized easy editing features make it a breeze. You can edit in all the musical parts from scratch here too. The Piano-roll allows note entry and step-entry for percussion tracks. Finally, record and edit the movement of almost any knob or control with the Automation editor.
I won't pretend to know half of what the above means or the full power of FL Studio Groove, but I'm really excited to play with it and learn. The app does include some samples for both loops and songs that you can load to get an idea of is possible to create with the app.
Performance on the Surface Pro has been great so far, no crashes or slowdowns to report. FL Studio Groove does work on ARM machines too (like the Surface RT and upcoming Surface 2), although the developers say the more power your CPU has the better experience you'll get. The app also works great with just touch controls or mouse input.
If you look at the reviews, some of the early complaints center on no tutorial and the inability to import your own samples. Both are unfounded though, there's a great video and textual tutorial online from Image-Line and they have stated many updates will add more functionality in the future. We'll link them up below. There isn't support for any hardware peripherals like a MIDI controller, but again the team is working on adding functionality with future updates. Maybe they can tap into the Surface Music Kit when it comes out.
Already have FL Studio Groove? Sound off below with your thoughts on it.
FL Studio Groove is available for Windows 8. The price is currently at $4.99, but get it now because it says the price is a limited time offer. This app so far is a steal at $4.99, but could be justified at $10. Grab it in the Windows Store (opens in new tab) today.
Resources: Getting Started (Video), Tutorial (Text)
PLEASE SOMEBODY TAKE AWAY ALL THOSE MCBOOK PROS FROM DJS

Yes please, no respect for those squawking jukeboxes

Why? I love Windows, but face it, OS X has better applications for producing multimedia built in. Hell, Microsoft isn't even competing with GarageBand

I wish edjing would hurry up with their DJ app for windows phone.

Hmmm deadnau5 hates fl studio he actually uses ableton...just a friendly heads up

Weird, I was going off Wikipedia. Don't trust everything you read there kids! On that note, it would be also sweet to see Ableton make some Windows 8 software.

He used to use FL studio back in the day

"Don't trust everything you read there kids! " Kids? Do you always talk so stupid. You could be my son. As for Wikipedia; there is nothing wrong with Wikipedia, in most cases their data is pretty accurate as independent research has shown. It's just important to know that when you're searching for data that needs to have a high level of accuracy, that you check the sources or double check the information that is provided.

And that makes it crap?
What about all those other producers? Do they matter?
I love deadmau5, don't get me wrong. In fact, I respect him heavily, but there are other opinions. Just like Jeremy Clarkson saying the best car in the world is the Lexus LFA doesn't render all other vehicles useless.
See what I'm saying?

Hahaha the LFA is a POS, it has no down force with all of that light weight.. See there's my opinion :)

I hope that's not your actual opinion.

Drive one over 135MPH bank it and feel the rear slip due to not enough down force and tell me im wrong

Okay, you're wrong. Downforce has to do with aerodynamics, not so much the weight of the car.

I'm not sure if you're serious or not? A bugatti can't go 250+ without down force to keep it planted and stable.. The LFA is so lightweight that the rear wheels can't grip the road, throwing 550+ HP on the pavment without any real down force in such a light chassis makes the car very difficult to drive; especially on bumpier tracks such as LS and the Nurb.

I guess you don't have a very good understanding of cars. The LFA's weight has virtually nothing to do with its downforce. The faster a car goes, the more downforce it creates.

Have you ever raced a car? Take the wing off of a bugatti and go fast then tell me the car was stable.. A car needs down force to be stable just like the GT-R R35 needs down force to grip those turns like it does. You should learn about down force/speed in race cars to understand what I'm getting at and also race actual cars.

Seriously though, downforce has nothing to do with weight and everything to do with how air hits the car (aerodynamics.) It's just the reverse of how a plane flies.

But it does, a light care uses down force to stay planted that is exactly how it works. Those big wings you see on DTM cars are to push the cars rear wheels into the ground for grip since they reduced the weight of the car drastically making it unable to use the weight of the car to push the tires into the ground.

Avicii uses FL Studio to make all his tracks. Dead mau5 = analog monster and only uses Ableton for recording and production as I do as well. https://soundcloud.com/k00ksta I would assume both also side chain Propellerheads Reason for some things as well with their tracks. :/

I hate abelton but love reason, dont mind fruity, really excited to see it come to win 8, Im a sonar X2 user, thinking about / planning to be a protools 11 user as well

I personally hate pro tools clunky ass software .. Wish I never bought my Pro Tools LE Digi 002 Rack for 1800$ was a horrible investment. The setup time of pro tools and the problems I have had hardware wise with the rack (Firewire bus) has been a nightmare. You know if you love reason I dont see why you dont re-wire from reason to Ableton and use Ozone for mastering your music it seriously kicks butt. http://www.izotope.com/products/audio/ozone/


I still have my Digi 002 Rack. I haven't upgraded since PT9


I guess I am harsh towards it as I can only play thru it for a few minutes before the firewire bounces itself and the rack turns off and then back on over and over. When it did work correctly from ya same PT9 LE days it did the job well I guess. I use a presonus audio box now which suites my needs.

I'm looking for somthing smaller. I think I may go with the Focurite Forte.

I use X2 too! Its been optimized for touch screen. I'd love to use it on a surface pro 2.

I love Ableton, there software shouldnt be to hard to make a app? You can go fullscreen and hide the desktop already after all.

Used to use old FL back in HS when I made beats for the guys in school's mixtapes. Seems like such a long time ago...

Looks nice! Didn't know it was Belgian...

Loving it for the last week. I've been annoying everyone at work with it.

I bet this would be awesome with the DJ type cover that was recently announced.

As soon as i get my Surface 2 ill be downloading this APP....love FL, this version looks AWESOME

Buy it now to lock in the $4.99 price. You can then just download it on your Surface 2 later and won't have to spend more if the price does go up.

Thanks for the heads up, but i dont have a Windows 8 device...so im not sure how i'd do that (is it tied to an account, similar for WP?).

Ties to your Live Account which you would also use on your windows phone. Now the real question how in the heck do you not have Windows 8 yet? ...

I am still using Windows 7 Pro for my home, and because i mainly use my PC to Record/Create Music and manage my song library...there was no need to upgrade. In addition, i believe some of my Recording applications may not work on Windows 8...so i held off.

I was on 8 loved it but went back to win 7 hate it but all apps work, but most of things like reason the version i use dont work on win 8, in their latest update is win 8 ready only problem is I have upgraded yet don't have money, cant wait to get back on win 8.

yes, i get your scenario. i am using Cubase SX 2.0/SE, Wavelab and FL6 which im sure do not run on Win8. Im preparing to upgrade to Cubase 7 shortly which works on Win8.

for what its worth not sure of Cubase SX 2.0 but 7 which is newest I believe (from cubases web site) runs on windows 8. FL 6 should work as well not sure on wave lab tho :/

I have not found a single problem with Windows 8 on any audio application I use as I also record/produce music in my free time. But what I did do also as I do with all Windows releases is just buy a cheap hard drive and install on that leaving my original intact. :)

This great news. I'm wondering if the Surface Pro 2 could run programs like Studio One and Ableton Live. (I mention those programs because, with them, there is no need to ProTools anymore).

I know for a FACT Surface Pro and Surface Pro 2 will handle Ableton Live 8 or 9 just fine. Even with an Akai APC40 attached to it via USB :)

Unfortunate separate news, Image-Line has long confirmed that they have no intentions on releasing a WP version of their FL Studio Mobile app due to our market share. I'll attach the thread from their forum soon. http://forum.image-line.com/viewtopic.php?f=1964&t=107067&p=841084&e=841084

Bummer. While I wouldn't really care for it on small devices, it could be nice on something like the Lumia 1520 with the larger screen. Hopefully they'll reconsider once WP marketshare rises.

Well if Windows Phone and Windows RT combine, maybe they can recode it then.

Also, please vote for Windows Phone if you own a copy of FL Studio! http://forum.image-line.com/viewtopic.php?f=100&t=115580

I am an avid user on fl studio and I've been waiting for a full touch version to really take advantage of win8! Surface pro 2 may need to happen now... also add 9th Wonder to that list of FL users. Credits include jay-z, little brother, destiny's child, ludacris, Mary j. Blidge, Erika badu, etc...

Yay! This kind of sells me on a surface pro now. I'm very familiar with FL but would love a RT version.

It runs on Windows RT too. Like almost all Windows store apps.

If you buy the pro, you could run the full FL studio. This is an app version for rt.

Even better! I'll be buying a surface 2 for sure now.

Cool. But not money...much less a Windows 8 tablet yet.

I was one that said custom samples needs to be implemented. I used custom drum packs and sounds I find and it sucks I can't use them in the app.

It's so cool to see the iSheep and Droidheads beg for their app to look and play like this on their forum.. That's just so funny..

It's actually a fun app to playaround with

For what it's worth, it seems much more likely that USB -> MIDI support might be possible to include once 8.1 is fully out.

I mean, I don't know what the developers of this intend, but Windows 8.1 adds much better support for store apps to connect to devices.

Does anyone know if you can record you voice and use FX for audio.

No, you can't record or use samples unfortunately. Likely a RAM issue, though the app runs amazingly on my RT.

I'm a FL Studio power user love that DAW. Check us out! Facebook.com/mdbgg
Soundcloud.com/mdbgg
Twitter.com/mdbgg
Search us on iTunes, Google play and of course XBOX MUSIC! ;-)

It's all about Studio One.. Best DAW out there imo

Fruity Loops.... Awesome!

Runs surprisingly well on RT, haven't made anything but the sample only consumes mid bar on the cpu-o-meter when playing.

This app looks really sweet. I couldn't see making a full track in it, but it's great for diddling with ideas. There's still some stuff I can't figure out how to do, I'll probably hit youtube.

The full track is in the score and the automation, I think.

I quite like it. Hope it can work with a usb midi keyboard. That would be wonderful.

Thanks so much for this! Gonna give it a try on my Surface Pro! Good job FL!

I use FL to create tracks, riffs and instrument the measures. I know there's an easier way, but then I compile with Sound Forge, which allows cut & paste to put it all together.. https://soundcloud.com/papa-juan Once I get me a W8 touch enabled machine, I am getting this app. Looks great!! Now, will it work with the "project remix" blade?? Would be the $h!znit!!!! Money baby!!!

I've never used any of this software before but without some of the video tutorials online, I could never have understood how to get started. Even so, in a couple of hours I was laying down a jam but couldn't work out how to record it into the song. I'll keep trying tomorrow. Thanks for now. Looks like a winner. Any more tutorials? I just started with this today really.
Windows Central Newsletter
Get the best of Windows Central in in your inbox, every day!
Thank you for signing up to Windows Central. You will receive a verification email shortly.
There was a problem. Please refresh the page and try again.