Climb EDM charts worldwide with FL Studio Groove for Windows 8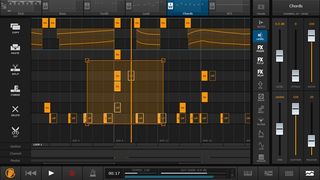 Fancy yourself the next Daft Punk or Deadmau5 and you can't wait for the Surface Music Kit to hit? Then you might want a new Windows 8 from Belgian software company Image-Line, the company behind the massively popular FL Studio. That's right, there's finally a Windows 8 version called FL Studio Groove that came out a few weeks ago and it just received its first update. Let's check it out.
History time. What's FL Studio? It's a digital audio workstation that's came out for Windows back in the late 90's. It's really popular and among the most used in its field. Some notable users include Deadmau5, Afrojack, Skream, and others. There's now a version for Windows 8 that isn't quite as feature packed as FL Studio on the desktop, but does a good job for the first version.
Quick Demo of FL Studio Groove in action
With FL Studio Groove you can create a variety of loops and chain them together to create complete songs. Here's what you get to play with:
Synthesizer
Load from the extensive library of bass, keys, lead, pad, sfx and synth sounds. The flexible dual-oscillator, wave-shape driven, design with filters, 3 envelopes and LFO architecture will ensure you can create fresh and unique sounds for years to come. Listen to the presets and you will know how powerful the FL Studio Groove synths are.
Drum and percussions
Punch out a beat on the 10 drum pads. The velocity-through-position feature will allow you to play with feeling to get the right groove. Layer up two samples per-pad for complex sample mash-ups. A comprehensive library of percussion samples is included covering kicks, snares, toms, hats, cymbals, SFX and more.
Keyboards
Take control over the synthesizers with FL Studio Groove's two-tier touch keyboard, perfect for playing chords and melodies. The visual feedback will even help you to learn to play music just by watching the existing projects play.
Effects
A wide array of modern and classic effects are available including a Bit Crusher (for lo-fi gritty sounds), Flanger & Phaser (to create complex stereo washes and spacey effects), Filters (low, high pass & vowel-voice simulation), Delay (echoes), Reverb (to simulate the sound of large halls through to tight spaces), Panning (so you can spread your sounds across your speakers) and Ring modulation (creating screaming-feedback type sounds).
Sequence
After recording a performance FL Studio Groove's touch-optimized easy editing features make it a breeze. You can edit in all the musical parts from scratch here too. The Piano-roll allows note entry and step-entry for percussion tracks. Finally, record and edit the movement of almost any knob or control with the Automation editor.
I won't pretend to know half of what the above means or the full power of FL Studio Groove, but I'm really excited to play with it and learn. The app does include some samples for both loops and songs that you can load to get an idea of is possible to create with the app.
Performance on the Surface Pro has been great so far, no crashes or slowdowns to report. FL Studio Groove does work on ARM machines too (like the Surface RT and upcoming Surface 2), although the developers say the more power your CPU has the better experience you'll get. The app also works great with just touch controls or mouse input.
If you look at the reviews, some of the early complaints center on no tutorial and the inability to import your own samples. Both are unfounded though, there's a great video and textual tutorial online from Image-Line and they have stated many updates will add more functionality in the future. We'll link them up below. There isn't support for any hardware peripherals like a MIDI controller, but again the team is working on adding functionality with future updates. Maybe they can tap into the Surface Music Kit when it comes out.
Already have FL Studio Groove? Sound off below with your thoughts on it.
FL Studio Groove is available for Windows 8. The price is currently at $4.99, but get it now because it says the price is a limited time offer. This app so far is a steal at $4.99, but could be justified at $10. Grab it in the Windows Store today.
Resources: Getting Started (Video), Tutorial (Text)
Get the Windows Central Newsletter
All the latest news, reviews, and guides for Windows and Xbox diehards.