Meet the Surface Music Kit and Microsoft's new blade concept for the Surface family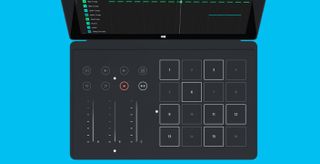 Earlier, Microsoft finally announced the second generation of the Surface family. We've got the Surface 2 and the Surface Pro 2, both of which come with a handful of new accessories. One of those is super niche, but beyond cool. The Music Kit for Surface brings out your inner DJ with a really creative keyboard. What's more, Microsoft is also doing a contest to kick things off.
The Music Kit is a keyboard in the sense that it attaches to your Surface like one. From there it's a completely different beast. The Music Kit has 16 buttons, various sliders, and keys with specific functions like volume. As a result, the Surface Music Kit will allow you to create remixes like you're the next Daft Punk.
When you click in the Music Kit the accompanying app will install automatically. This app works with the keyboard (or blade if you will) to allow you remixing powers that wouldn't be possible with a touchscreen. You can make use of the loop, mute, and solo functions to make a new song. The keys are also pressure sensitive, so you can get a wide variety of outputs when using the kit. It will work with the Surface 2, Surface Pro and Surface Pro 2.
Microsoft also took the Music Kit to the Art Center College of Design in Pasadena, CA three weeks ago. There they created the concept of blades with design students. The video below highlights the day.
Ideas like this are what we love. The Music Kit doesn't have an availability date yet or pricing, but it's something we can't wait to get. Lack of music experience skills be damned, we'll be creating our own banger before long.
What's also cool is the contest Microsoft will have in conjunction with the Music Kit. Create a mix using a Surface Music Kit and it might end up on an official album release. Create a Vine video with the hashtag #RemixProject telling Microsoft why you deserve one and you could win a Surface Music Kit. You'll win the Surface 2 and Surface Music Kit.
What do you think of the Music Kit concept? The idea of blades is beyond interesting and will puts a new twist on the Surface family.
Get the Windows Central Newsletter
All the latest news, reviews, and guides for Windows and Xbox diehards.