Microsoft announces new accessories for the Surface family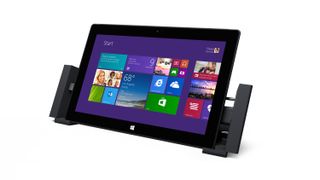 When the original Surface and Surface Pro launched last year there were only a handful of accessories in the Surface family. You had your various HDMI out dongles, two types of keyboards, and a pen for the Surface Pro. Today, Microsoft announced even more accessories alongside the new Surface 2 and Surface Pro 2. Here they are.
There is no denying that Microsoft created a groundbreaking product with the original Type and Touch Cover that launched last year. They show no signs of slowing down their innovative pace with the next generation of Surface. Here are the seven new accessories:
Type Cover 2 - $129.99
The second generation Type Cover is 1mm thinner and adds a backlit keyboard. Available for pre-order September 24 in the United States and Canada.
Touch Cover 2 - $119.99
The Touch Cover 2 is thinner and lighter with the added ability to support touch gestures across the entire keyboard surface. Available for pre-order September 24 in the United States and Canada.
Surface Music Cover
One surprise in the Surface accessory lineup is the Music Cover. It's a keyboard tailored specicially for Daft Punk inside us all. Pressure sensitive pads all you to remix all day and night.
Power Cover - $199.99
Microsoft has finally added an extra battery for your Surface Pro. This is give you a boost of 50% battery life. Coming early 2014.
Docking Station for Surface Pro -$199.99
Your Surface Pro and Surface Pro 2 can now call your desk home. The Docking Station adds a power supply, 1 USB 3.0 port, 2 USB 2.0 ports, an Ethernet port, 3.5mm audio input/output, and 1 DisplayPort video output. Coming early 2014.
Wireless Adapter for Typing Cover - $59.99
A nice surprise, the Wireless Adapter for your Typing Cover gives your Surface keyboards some extra range. It connects to your Type and Touch Covers magnetically and allows you to use the keyboard from far away. Available for pre-order September 24 in the United States and Canada.
Car charger with USB - $49.99
Here's an accessory that will boost the adoption of Surface as a tool for trucks and mobile road warriors. Charge your Surface via USB by plugging in the car charger. Coming early 2014.
Arc Touch Mouse Surface Edition - $69.99
Microsoft releases the Surface Edition of its very popular Arc Touch mouse. The device uses Bluetooth 4.0 low energy to work on nearly any surface with its BlueTrack technology. Available for pre-order on September 24 in the United States and Canada. Coming to other markets in the coming months.
We'll be getting hands on with all Surface accessories as they come out over the coming months. Which accessory are you most looking forward to?
Don't forget to join our Surface 2 and Surface Pro 2 forums! And make sure you get your pre-order on!
I would have no clue how to use that music cover, but damn.. I want it so bad

+1, can't wait to buy one. I don't make music but I love tech.

What if AKAI made a MPC cover for Surface❔... That would be awesome❕❕❕❕ They make a lot of accessories for the iPad...
http://www.akaipro.com/en/index.php

I make Beats I really want to see how this works and if it can be configured to work with FL studio or any other DAW for that matter. I might have to get one now!

I've been using a MPC for almost 15 years, and I would definitely invest in anything AKAI would make for Surface, or WP.. I'm sick of Apple getting all the attention...

If you are a music producer you would know that Apple has that industry sowed up... Most of the computers used to make music, and CG movies for that fact, are Macs... MS needs to change this because the music production, and movie industry is huge... Us MS fans, who are into music production, should have to watch our platforms be left out while iProducts are constantly getting all the accessories, and apps...

Exactly. I want a Garageband equivalent on WP and W8. I use it on my iPad for recording guitar with a USB mic, and it's so awesome how portable it is. An app like Garageband could probably be a big selling point, especially with that music cover

Yep❕.. These kind of apps, and accessories, would really help me when I come up with a beat at work, or anywhere.. As they say "when inspiration strikes"... We all really need to start hitting up these companies to produce more for all these new WP/W8 products.. The world now has two new powerful platforms to use as music production, and on/off stage, performances...

Will the power cover have backlit?

I've been wondering that too.... They made it seem like all the covers were backlit, but we'll have to see

Seems a bit counter intuative to include a backlight on the Power Cover but I suppose the option would be nice.

This is innovation, and is getting very little press outside the Windows world.... In the mean time, the lame fingerprint security setup for the new iPhone has been hacked in 48 hours, yet that's all I heard about for 2 weeks. Ridiculous.

So true. It is a gimmick feature that allows a different way to access the phone, nothing more. To tout it as making the phone more secure is ridiculous and I'm glad that hacking group called them out on it. As they said "people leave finger prints everywhere." It is similar to facial recognition to unlock the phone. Looks cool and high tech to the general public but no more secure (actually less) than pin passwords.

Not true, iCNET was freaking out over it. I followed the live blog and they even sent 4 people to go watch it, same as the iPhone 5Same keynote. Even their Apple fanb-- uh... Experts were talking about how cool everything was. Their main Apple man, Scott Stein, said he thought everything about the event was fantastic, except for Microsoft's music selection i.e. They remixed a new Linkin Park song on stage.

wait until tomorrow before you give CNet too much credit, I'm sure they will be saying how its no different that the first generation surface devices.

WOW! These are excellent improvements to an already great product. Great work, Microsoft!

Yes, its amazing how little media time the Surface Pro 2 is getting.

Any info on whether or not the Power Cover will be back lit as well?

Not sure, can't find any info in the press materials or online. Will find out for you!

Lets crash facebook, everyone here go get the link or microsoft video advertising surface 2 & Pro 2 from youtube and post them on you facebook. I'm first doing it now.

No docking station for the RT? Bummer :(

It's not like it could power anything.

I know but... it looks nice. lol

C'mon, US and Canada only?

Compatibility with the 1st gen devices?

This. Please let us know WPCentral!

Microsoft visted my office a month ago with pre-releases of these models. All of the new keyboards are backwards compatible but you obviously don't get the benefit of all the improvements. For example, the Power keybaord won't provide power to the original RT but it will fit and be functional.
For everyone that keeps asking, the Power keyboard IS backlit.
One benefit of the new keybaords is they are 5x more sensitive than the predecessor. As I understand, this improvement is backwards compatible.

so how many will your office be ordering?

Our company is like most where budgets are established and RFC's must be sent/received. That takes 1-2 years.
Surface Pro 1 was a non-starter last year because no dock and can't support multiple monitors. Both problems are fixed so Pro 2 won't be ruled out on that basis.

IIRC, everything should be compatible with the original Surface Pro, but the Power Cover won't work with the original Surface RT, which lacks the extra pinouts required to supply the power.

Would like to see some exact details on the power cover. How thick/heavy is it compared to the other covers? How much battery life does it provide to Surface 2, Pro 1, and Pro 2? And I assume it recharges through being connected with the surface. Pro 2 + power cover could be a serious game changer (if the media would give it coverage).

Also, I'm dying for a yellow or amber touch/type cover

Million dollars Top Hollywood movies are released worldwide at the same time but why is this partiality only US and Canada when it comes to tech?? ;)

Just like these items have to be approved by the FCC here and the equivalent in Canada, they have to do the same for every single country and that takes time. Including translation, import approval etc.
Everyone is gimmie gimmie but there is a lot that needs to be done to export an electronic product

While that maybe correct there are companies that can do it, and they're wining the 2 horse race at the moment.

Awesome awesome awesome, I want all of this! @_@

Good lord, that's a lot of high quality (looking) accessories.

Do these accessories work for 1st gen Surface devices too?

They retooled the keyboard connector between Surface RT and Surface Pro, and for the most part, they've been saying not Surface RT, but Surface Pro. Of course, it'll depend from accessory to accessory, i.e., the cigarette lighter adapter probably works for all of them.

Here's an accessory that will boost the adoption of Surface as a tool for trucks and mobile road warriors. Charge your Surface via USB by plugging in the car charger. Coming early 2014

Without GPS and/or Mobile Data, hardly!

If they offered LTE + a GPS with Nokia HERE you would be closer to good to go.

As a photographer I cannot wait to see how Surface Pro calibrates with Spyder 4

As a Surface Pro owner I am blown away. Pretty much every possible keyboard variant you could want. For me I will need to see which features are included in each. If I could get an extended battery, backlit keyboard and touch sensitivity for gestures in one place it'd be a real hit!

What app is running on the pic of the Surface Music Cover?

That's a Microsoft-made DAW app that installs automatically when you "click-in" the music cover. So slick. Lovin it.

Does anyone know if the Docking station actually adds three more USB ports as the article stated? That would give a total of 4. Or is the existing one port "expanded" to provide a total of three?

The Arc mouse looks really nice. I'll have to wait and see if I can nab it cheap somewhere.

Why would you want to pay 60$ to use your type cover wirelessly when you can get an entire keyboard with a touchpad for 20$ less?

I have two of the original Arc mice, one for each the RT and the Pro, and people absoutely love them. I am always having people ask about them, especially the mouse with how it snaps flat to turn it off. It's a real attention getter. Several Surface and Arc Mouse sales have occured after people took notice and asked me about them. Above and beyone visual appeal... the Arc Mouse works great and is very comfortable to use. It was wise for Microsoft to make this an "official" pairing because they are a great match and they each really show off some of the great design that Microsoft continues to crank out.

That power cover is desperately needed for the pro 1. Battery life is killing me.

Touch: How and the hell did they make the touch cover thinner!? Is it like a piece of paper now? Impressive. The 'touch gestures across the entire keyboard' are a nice touch too.

Type: Thinner and backlit! Awesome. And it finally comes in the sexy colors like the touch cover! Power Cover: I'd like to know more about this. It's a keyboard cover like the Type cover but adds battery life? Sounds amazing. How much thicker and heavier is it?
Music Cover: This is a cool, niche device that I think can really be successful in advertising (showing people swapping covers and apps and using this) which will make the entire Surface line seem cooler and more appealing to everyone except probably real DJs, who I assume wouldn't actually get much use out of this, but I hope they do. The Docking Station and Wireless Keyboard adapter are also a nice touch. As for the mouse, I'd recommend the bluethooth Wedge mouse by Microsoft instead of the Arc one. I love how compact it is, and the horizontal and vertical scrolling features.

It's only slightly thicker, I believe, but it's MUCH heavier... I read 1.1lb. And I'm not saying it's TOO HEAVY, I lift bro! I'm just saying that by comparison it's much heavier. That said, it's still lighter than the average ultrabook weight, and way cooler.

Hmm, it's gonna be really difficult not to go broke this holiday season...

Shame on Microsoft for not developing a keyboard that can sustain the tablet part. I want a surface branded laptop.

Yes!! I hated that the original arc mouse was not Bluetooth. Getting one asap.

But it still looks like there's no back button. So i'll stick with my wedge mouse for now

Want car charger and power cover nao!..lol

So Microsoft isn't including a touch cover with the tablets? :(

I've been asking for that mouse to have Bluetooth for a year! I can't believe they heard my whining! I love you Microsoft!

$200 for a docking station? I would like one but is'nt this a bit expensive?

But apparently still no Insert key on any of these new keyboards. What's with that? Wouldn't it be easy to make <Fn>Del into an Insert? Can't do hard crossword puzzles without an Insert key! Sometimes MS is so stubborn and so wrong.
Windows Central Newsletter
Get the best of Windows Central in in your inbox, every day!
Thank you for signing up to Windows Central. You will receive a verification email shortly.
There was a problem. Please refresh the page and try again.