Microsoft announces new accessories for the Surface family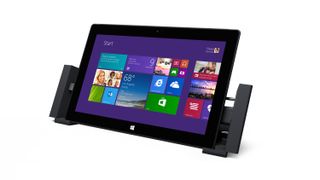 When the original Surface and Surface Pro launched last year there were only a handful of accessories in the Surface family. You had your various HDMI out dongles, two types of keyboards, and a pen for the Surface Pro. Today, Microsoft announced even more accessories alongside the new Surface 2 and Surface Pro 2. Here they are.
There is no denying that Microsoft created a groundbreaking product with the original Type and Touch Cover that launched last year. They show no signs of slowing down their innovative pace with the next generation of Surface. Here are the seven new accessories:
Type Cover 2 - $129.99
The second generation Type Cover is 1mm thinner and adds a backlit keyboard. Available for pre-order September 24 in the United States and Canada.
Touch Cover 2 - $119.99
The Touch Cover 2 is thinner and lighter with the added ability to support touch gestures across the entire keyboard surface. Available for pre-order September 24 in the United States and Canada.
Surface Music Cover
One surprise in the Surface accessory lineup is the Music Cover. It's a keyboard tailored specicially for Daft Punk inside us all. Pressure sensitive pads all you to remix all day and night.
Power Cover - $199.99
Microsoft has finally added an extra battery for your Surface Pro. This is give you a boost of 50% battery life. Coming early 2014.
Docking Station for Surface Pro -$199.99
Your Surface Pro and Surface Pro 2 can now call your desk home. The Docking Station adds a power supply, 1 USB 3.0 port, 2 USB 2.0 ports, an Ethernet port, 3.5mm audio input/output, and 1 DisplayPort video output. Coming early 2014.
Wireless Adapter for Typing Cover - $59.99
A nice surprise, the Wireless Adapter for your Typing Cover gives your Surface keyboards some extra range. It connects to your Type and Touch Covers magnetically and allows you to use the keyboard from far away. Available for pre-order September 24 in the United States and Canada.
Car charger with USB - $49.99
Here's an accessory that will boost the adoption of Surface as a tool for trucks and mobile road warriors. Charge your Surface via USB by plugging in the car charger. Coming early 2014.
Arc Touch Mouse Surface Edition - $69.99
Microsoft releases the Surface Edition of its very popular Arc Touch mouse. The device uses Bluetooth 4.0 low energy to work on nearly any surface with its BlueTrack technology. Available for pre-order on September 24 in the United States and Canada. Coming to other markets in the coming months.
We'll be getting hands on with all Surface accessories as they come out over the coming months. Which accessory are you most looking forward to?
Don't forget to join our Surface 2 and Surface Pro 2 forums! And make sure you get your pre-order on!
Get the Windows Central Newsletter
All the latest news, reviews, and guides for Windows and Xbox diehards.