Flipkart and Microsoft are hosting a Twitter chat about universal apps on Jan. 29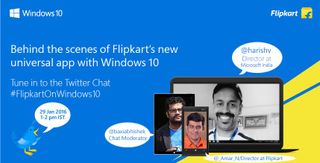 A few days ago, Flipkart announced the launch of their new for Windows 10, taking advantage of the Universal Windows Platform (UWP). Since Flipkart is one of the first major apps from India to go universal on Windows, Microsoft and Flipkart are collaborating to host a Twitter chat to showcase the value to consumers on the Windows ecosystem, as well as helping the developer community to get on the platform.
The chat would feature Amar Nagaram from Flipkart, Harish Vaidyanathan from Microsoft, and I, Abhishek Baxi, will serve as moderator
Amar Nagaram is the Director of Mobile Engineering at Flipkart. In his current role, he is responsible for product development across Flipkart's consumer-facing Mobile Applications. He is passionate about building Mobile products from the ground-up to deliver superior value and user experience to the end consumer. Excited by start-ups that are solving challenging problems for emerging markets, Amar works with and mentors many such start-ups on all things mobile.
Harish Vaidyanathan leads the Independent Software Vendors business & evangelism efforts for Microsoft in India, spanning Mobile & Cloud products including Windows, Office, Azure and Data platforms. Harish has been with Microsoft for over 16 years now where he has been in a variety of roles spanning sales, consulting & support services, practice management, business planning & managing corporate strategy.
Join us for the chat tomorrow at 1 PM IST on Twitter. Follow me at @baxiabhishek if you'd like to participate and the hashtag, #FlipkartonWindows10, and you'd also want to follow @_Amar_N and @harishv.
Follow the #FlipkartonWindows10 chat on Twitter, starting at 1PM IST on January 29
Windows Central Newsletter
Get the best of Windows Central in in your inbox, every day!
They need to host a twitter chat on the release date of windows 10 for mobile instead

No. Why they need? They don't. You need.

If they want people to use windows 10 mobile they need to do alot better communication and have release dates that they cab deliver on. Microsoft has nothing but delays and coming soon ™

It's being released monthly or whenever Gabe Aul informs us since insiders technically work with Microsoft to build the OS around our requests dynamically so to speak. In plain English, "Windows is constantly evolving"!

Then they shouldn't release the original version. They should live with the insider(beta) version. Also it looks like windows central also forgot windows 10 mobile is NOT officially released yet.

Don't know about others, but for me the uwp Flipkart app crashes and closes occasionally. Also it takes a good time to load.

Yeah @pallav you are correct even mobile app of flipkart takes too much time just to open up and load up things and yea sometimes unresponsive also. I'm using L730.

I don't have such issues I am using L730 as well, it was bought on the first day of release, I am telling this because most of people also face mediocre camera performance but I don't.

For me the app doesn't crash on PC don't know about mobile. Posted via the Windows Central App for Android

Are the Windows Central devs going to be present? Seems like they need a little bit of help...

I think windows central wants to abandon wp lol

@MihirM2 and you need to go outside and enjoy life :).

"I think windows central wants to abandon wp lol"

After reading comments here lately we are very happy to move away from mobile ;)

If anybody here noticed that since the release of windows 10 none of the wc staff replies or comments on anything related to windows central universal app.All of them are quiet over this topic...

You just made me laugh Daniel. Outloud. My programmer looked over and asked "what's so funny" I told him Windows Mobile just died. Stop writing code.

See what you guys did. Thanks to you, they might *actually* not care anymore :P

Flipkart app crashes every time but will not if i attempt to open after crash.
Scrolling down on app gives horrible feedback to touch. Even worser than what we found in Lumia 535

Mine doesn't crash but lags while scrolling! Also some UI elements are blurry. Posted via the Windows Central App for Android

Uninstall and reinstall it...

MS.u have screwed up things

the Flipkart UWP app has problems. touch gestures have not been implemented as it should be. its slow to load. they have to work on their own app before they let others know how to create UWP app

that universal Flipkart app is so good... that once in a day i always open it for no reason..great UI...will definitely be there

Hopefully Joe Belfiore will tweet about it from his iPhone.

flipakrt have reportedly sold defective pieces of motorola handsets..
Windows Central Newsletter
Thank you for signing up to Windows Central. You will receive a verification email shortly.
There was a problem. Please refresh the page and try again.