Flipkart eBooks refreshes their Windows Phone app to compete with Amazon Kindle in India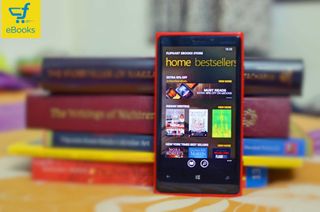 Flipkart eBooks (opens in new tab) is an eBooks service from Flipkart, India's leading online retailer. Not indulging with their own devices like Amazon Kindle, Flipkart eBooks is almost a similar ecosystem with an eBooks store and mobile apps for all platforms.
The Flipkart eBooks app for Windows Phone just got a major overhaul that addresses issues that a lot of users faced apart from a design refresh and new features.
The version 2.0.0.0 fixes the Reader and download issues that a lot of users complained about. The new design is very impressive and functional. The Store experience too is revamped, and the entire user experience of the app has gone several notches up. The update also introduces collections in library and the ability to use Google account for login.
The app allows you to purchase your favorite eBooks from the extensive catalogue at the Flipkart eBooks store from within the app, and read them on the go through the app, even when you're offline. Like the samples that Amazon Kindle store offers, you can read 10% of the book for free before buying it.
Download the Flipkart eBooks app for free for Windows Phone 8 devices from the Windows Phone Store.
Remember that only users in India can download full eBooks from this app. If you are not tied into the Amazon ecosystem, give it a whirl and let us know how you like it. There are thousands of free books on the store, so it's not a bad deal.
Windows Central Newsletter
Get the best of Windows Central in your inbox, every day!
All my previous books are on Google Play. No app coming to my rescue... ever!!
Have them, can't read them :(

You can if you buy an Android.

Yes, it's obvious!!
Carrying a lagdroid isn't possible now. Microsoft has spoiled me with Windows Phone.

Hahaha ! Good one ! And the spoiling is nice man, I'm loving wp ! ;)

are audiobooks available in this app.....i think they are available in kindle.....i'm more of a listener than a reader (nah just plain lazy)

Not lazy enough to mention how lazy you are

Abhishek baxi is very busy with Indian articles.... :P

Or maybe, India is very busy with wp today..

May's gonna be huge. Also, another one coming in a bit. ;)

Good news today! Hoping for the whatsapp update!!

What kind of free books ? Just the 19th century ones i presume, and some non sellers, as on amazon. Am i right ?

In Priyanka chopra's new album song she is showing a l1020

Her new single is totally sponsored by Nokia Mix Radio

Oh i didn't know that ! Though its a pathetic song. Didn't like it at all, just like her previous 2.

And there s something b/w she and Srk.. And Srk is the B.A of nokia

Why do I keep saying flickfart?

Kindle is far better than Flipkart eBooks. The problem is ecosystem.

Sorry tried it but the propriety format of their books .fkb turned me off as it means I have to read through flipkart app or nothing else, that was a big downer.

Completely agreed. They need to come to the open standard not just there properatory app.

Absolutely! PDF, mobi, epub anything!

very nice article
for more info and news about electronics just welcome here
http://tinyurl.com/q44azgm

am a student and use my Kindle for revision notes using Clippings.io. Was wondering if anyone had any other good site recommendations?