Flixster and Netflix updated; Flixster improves integration with Rotten Tomatoes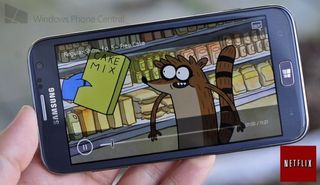 Flixster and Netflix have been on Windows Phone for quite a while. In fact, Netflix was shown off on stage at the Windows Phone 7 Series unveil at MIX back in March 2010. Both apps were available for consumers when Windows Phone went on sale at the end of 2010. They've received small updates here and there along the way. Both just received two updates today, let's check them out.
Netflix was recently updated on the Xbox 360 to include support for the new Netflix user profiles. Unfortunately, version 3.3.0.12 doesn't seem to bring that to Windows Phone. In fact this recent update could be nothing more than routine bug squashing mixed with performance increases. Please let us know if you notice anything else.
However, the update for Flixster does bring a new feature that might not be super obvious at first. Head to the Windows Phone Store to update Flixster to version 1.9 and you'll notice two new things. You can now add movies to your "want to see" list or rate them within the app. The app will sync with your Flixster/Rotten Tomatoes account, which is a very welcomed feature for heavy users of both the app and website. You can find your list of movies in either category by heading to the "my movies" section from the main menu. Besides that, it looks like regular bug fixes and performance boosts for Flixster. Again, notify us in the comments if you catch something else.
Both apps are free for Windows Phone 7.x and 8 users. Although you'll probably want to actually have a Netflix subscription to take advantage of the app. Grab Netflix in the Store or go grab Flixster. QR codes below for you folks in front of your PC.
I wish they (flixster) would increase the frequency and variety of the movie on the live tile. It would be cool if we could pick which film appears on the live tile. Also, I always need to open the app before it updates the live tile, does it not do it automatically?

Netflix - while it is very well done, still lacks the ability to allow users to send feedback from within the app. :/

I was hoping a bigger update from Netflix.

I just want flixster to support ultraviolet like the Windows 8 app does. is that too much to ask

That's what I'm waiting on as well

Doesn't Flixster support Ultra violet? I can redeem Ultra Violet codes off my Flixster account and download my Ultra violet movie collection to my tablet devices via flixster.

The only place it doesn't currently is on Windows Phone 8. On regular Windows 8, Android and IOS it is supported. You can even download movies to watch them offline on other platforms. But no WP8. :(

In Netflix they changed Instaqueue to My List

that's because they are getting ready to implement profiles...man if they could implement profiles with Kid's corner that would be a killer feature no other platform has.

Thats changed across the board, which is good, because across the board also means some of the poor Canadian schmucks that didn't really seem to have a queue before. Like me...with profiles and the queue, i'll probably use netflix more now since my wifes stuff will filter out.

Here in Brazil, the Netflix update also included the "my list" functionality. For some reason, the option to create a list of things to watchlater was absolutely lacking in the country. They also included this functionality on the 360 today.

No Ultraviolet yet??? Hummm.... I want VUDU also!!!

In Flixster, every time I go to settings, the "Use Current Location" box is checked, even if I had disabled previously.

I also use the fandango app but it hasn't been updated for HD screens :(

Why the heck would they update Netflix and not include the profiles? Dumb.

And still no ultraviolet support for Flixster.

The movie?? Not one of Milla's best movies. She still looks awfully tasty!!

Lol, lets check them out, if you notice anything let us know. Ok. . . . Breaking news there for Netflix. I know that wasn't the point of the article, I just got a kick out of that. Hey, I'm easy

flixster was too buggy, I guess I'll re-download it. I literally just deleted it last week

Finally a "my movie" section in flixter.

Umm my flixster in marketplace still says 1.7 o.O

Same here. I only see 1.7 on WP7.

I'm on same. Was looking forward to being able to finally rate films

Hit download app link and it came up with a Netflix app I had to install...but I already have Netflix on my device. Weird. I have a WP7.8 device. I would have thought it would just say update..not install

Downloaded it and now have two separate Netflix apps running two separate versions of Netflix on my device...haha

Flixster is not available outside US, right? It says I can't use it (I'm in Argentina).

The Netflix update was to get the My List functionality out to non-US users. I'm up in Canada and I now have access to the list that I could always see on the website, but never on my phone or 360.

My phone didn't notify me. Thank you WPCentral...

Flixter is now all kinds of buggy for me. The two biggest problems are 1) It is not picking up some of my closest cinemas and 2) If I look to see what's on any day other than Today then all I get is a screen of garbled text. It's a real shame as it is currently useless for me. Uninstalling and reinstalling doesn't help, so can only hope for an update.

not available in philippines why?? :(
Windows Central Newsletter
Thank you for signing up to Windows Central. You will receive a verification email shortly.
There was a problem. Please refresh the page and try again.