Follow-up: AT&T Tilt2 ROM Official Update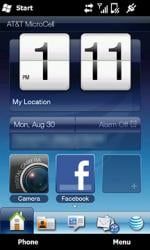 Yesterday, AT&T and HTC released an updated ROM for the Tilt2. Earlier this summer, a leaked version of this ROM surfaced over at XDA Developers. Asides from maybe a little fine tuning under the hood, the "official" version and the "leaked" versions are basically the same thing.
The update ROM is built on Windows Mobile 6.5 and Sense 2.5. This is probably the last hoorah for the Tilt2 and it would have been nice to see HTC and AT&T take the plunge and build this update on Windows Mobile 6.5.3. You do get a new radio version (4.49.25.95) which I have found to be a solid performer.
Like the "leaked" version, the updated ROM has some zip to it. Sense tabs flow smoothly, apps load without delay, and the overall feel is improved. Also like the "leaked" version, AT&T choose not to include the most recent versions of essential software. The most notable outdated version is likely .NET Compact Framework. Sure, you could always install the current version but it's odd that AT&T would release a ROM with outdated software. Right?
The "official" update also has the customary AT&T bloatware installed. You have the AT&T Navigator, Media Mall, and an assortment of trial versions pre-installed. If you need to free up the space these app take up, you can always turn to third-party apps such as Crud Scraper to clean things up.
In using the "official" update, it appears to be stable with no freezes, crashes or bugs experienced. Overall, as with the leaked ROM, I think the update is an improvement over the original. If you're running the original ROM, this update is worth considering. I don't think this ROM is strong enough to lure those running custom ROMs away from their chefs. But I have seen some really nice custom ROMs built off this update.
For me, it's the little things that are missing that could have helped this be a better update. Little things such as a Task Manager icon on the menu bar or having "mark all as read" as an option on the email menu. You do have a Twitter tab but what about Footprints, Documents or Facebook tabs?
It is nice to see AT&T give the Tilt2 one last update before it's likely to be replaced with an assortment of Windows Phone 7 devices, but I can't help but think they could have done more. You can download the official updated ROM for the Tilt2 over at HTC's support website (opens in new tab).
Windows Central Newsletter
Get the best of Windows Central in in your inbox, every day!
George is the Reviews Editor at Windows Central, concentrating on Windows 10 PC and Mobile apps. He's been a supporter of the platform since the days of Windows CE and uses his current Windows 10 Mobile phone daily to keep up with life and enjoy a game during down time.
Well, there is actually at least one bug in it, I posted it in the other thread on this topic. There is something wrong with the .NET installation on this rom. As I stated before, Wordly, from the Marketplace, does not run on this rom. It runs on the original ROM and on all the custom roms from XDA that I've tried. Wild Child from XDA has cooked a version of this rom with minor tweaks it and Wordly runs on his tweaked version. Sadly, HTC says it the third party app that needs updated to work with their "new" software. "New" is the operative word because it is HTC's rom that ships with an outdated .NET version and you have to install a newer version of .NET before you can install Wordly. HTC has mucked up the rom somehow with the old .NET version and Wordly just won't run even after updating .NET.

No love for the AT&T Pure I guess...

I really liked my Pure--screen sharpness was amazing and quite a nice camera (by HTC standards). Having said that, the phone basically flopped on AT&T which is why you see so little support for it. :-/

Well I have installed it as I said I would in the last article. The install was painless despite having to reload all the apps one by one. I used PIM backup to get everything back into it (contacts, txt msgs, etc). There was a problem with the txt msgs (the second I loaded them all in the phone kept locking up), so I had to delete them all to get things working again. Also with the contacts imported in, when I Activesync'd, it doubled everything in my phone and PC (duplicated everything) which was odd. I had to one by one delete all the dupes while it was in sync to fix that. Since then *gasp* lol, it has been good to me. I wish they included the txt/email/voicemail links on the home tab, but at least it does feel smooth. It didn't crash or anything as it sat overnight (which is always a good thing). In the near future I will have to try OC'ing it with the tools on XDA and see if I can get anywhere with that. As for if it is better than the last rom, I guess I won't know until I get some long-term use out of it.

When I turn the screen on almost everytime it starts the data connection. Not that big of a deal as I still have the ATT unlimited data plan but I am wondering if there's a settuing I need to adjust or something to stop the data connection from starting when the screen comes up. I am planning on trying out the crud scraper and moving programs to the sd card like bing and windows Live and soft reset.

Crud Scraper is highly recommended.

Thanks jh20001 I take it that you have used it and it works well? if so can you tell me more?

I have used crud scraper and it does perform. It removes the apps you ask it to and cleans up space. I think you just copy the exe and config file over and run (no cab to install). I also recommend installing "ClearTemp" (that is a cab/install). It helps with cleaning temp files from various locations/apps and freeing up space here and there when you need it.

I have found one issue. Voice Command for some reason doesn't want to open Media Player directly. It will find people, dial numbers and play music if you request it by music name/genre/artist (Etc), but if you simply use the "open" option like "open media player" or "open windows media", it will give you the "Error opening shortcut or locating the target filename". Then again, unless someone else can reproduce this error, it may just be me.

I love the new ROM, also added Co0ki's Home Tab Editor and it works great. I have noticed that in the middle of Memphis where I used to have full bars, I now only have two? I don't need my signal to get worse, it's bad enough in the rural area where I live. But now it's in the middle of an area where my signal was perfect. Any ideas?

After updating ROM - I cannot find where to enter "Owner Information" can anyone help?

Waiting for a Sprint Touch Pro 2 update...

For those who are in the same predicament as me (as to whether or not indulge in the new TILT 2 ROM), I thought I will do this post.
I have installed the new ROM and all other applications I was using earlier + configured all my email accounts. so after using it for 4 days, here is my take. Compared to the original stock ROM this one is really fast. (I did remove the crapware using crud scraper)
I never enabled the TOuch flo 3D on the original ROM as it used up lot of memory and made the phone to really SLOW DOWN. But I found that I am quite contempt to run Sense UI. It doesn't slow the phone down as much and I still run all the applications as I originally did.
I did try out Cookie's home tab, but this one really slowed the phone down. I have since uninstalled this and am just using the original HTC Sense.
The applications do launch faster than it did on the old ROM
The GPS locks are fast if not better than what is was on the old ROM
The old ROM showed 5 signal bars. This one only shows 4. The locations where it used to show 5 bars, now toggle between 2 and 4. This one never shows 3 bars. Even though it shows like the signal as only 2 bars, the call quality is the same. No issues with dropped calls or bad internet speed, etc.
Overall, in my experience, if you were using the old Stock ROM, this one is good to get.
It makes the phone zippy even when you have Sense. Same or better calls/GPS signals.
Better music playback. :) Hope this helps someone.

I have been hunting around for a fix on the annoyanec I have encountered with the update regarding my data connection starting every time my screen turns on. Has anyone else encountered this issue and if so is there a fix?

I have noticed a few other things sometime when I get the phone out of the case to answer a call when the screen comes on it only gives me the option to ignore not slide left to answer and right to ignore. and the screen awakening almost always turns on the data connection.

This phone still continues to get horrible reviews at the ATT site. And some of the posters said they have installed the new ROM. It will run good for a few months then goes downhill. I much prefer to go to this phone because it has all the same features as my Q9h-not ready to go to WP7 because too many holes in OS for now. People still paying $200-$300 for new ones on ebay-what gives?
Windows Central Newsletter
Thank you for signing up to Windows Central. You will receive a verification email shortly.
There was a problem. Please refresh the page and try again.