AT&T Tilt2 Official Update Available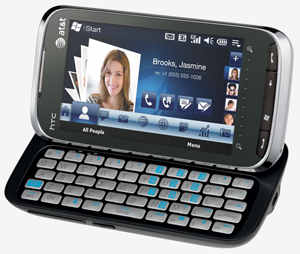 Well it's official.
AT&T and HTC have released an official update for the AT&T Tilt2. We saw an "unofficial" version surface back in July and our initial impressions were good. The leaked ROM had a little more bounce in its step.
The official update includes Sense 2.5, the ability to format the SD Card from the phone, and an assortment of hotfixes. The official version of the updated ROM is 2.10.502.4.
We're in the process of downloading the 226mb update and will be able to tell later today if it shares the same pep that the leaked version did. If you've already downloaded and installed this ROM, feel free to share your impressions in the comments section.
Just remember, when updating your Windows Phone ROM the update wipes your phone clean and data backups are strongly recommended before you proceed.
You can find the official update here (opens in new tab). A tip of the hat goes out to mvierling for alerting us to this update through our tip line.
Get the Windows Central Newsletter
All the latest news, reviews, and guides for Windows and Xbox diehards.
George is the Reviews Editor at Windows Central, concentrating on Windows 10 PC and Mobile apps. He's been a supporter of the platform since the days of Windows CE and uses his current Windows 10 Mobile phone daily to keep up with life and enjoy a game during down time.
It is same thing that was leaked by in July. I performed a byte-by-byte file compare on the two files and they are identical. Being so, that means the .NET CF version installed is still outdated (it the same version as on the original stock rom which was already outdated when it shipped). Because it is the identical file, the bugs in the leaked version are still in the released version (Try to install and run Wordly from the Marketplace).

Oddly enough the .Net 3.5 Compact Framework was never made part of the Windows Mobile AKUs, so it's never been one of the default components available when the OEM is building a new OS image (that's not to say they can't install it anyway, but had it been part of the AKU I think some of the OEMs would have preloaded it).

Well, I received a response from HTC support and was not pleased. I mentioned to them that Wordly worked on the original released rom and every custom rom I tried. They responded that they are no responsible for third party apps and to contact the third party because (get this): "Third party developers are responsible for keeping their applications up to date with the latest software." -- Really HTC? I have news for you. HTC is the one that needs to keep their ROMS updated with the LATEST software. HTC are the ones shipping roms with an outdated version of .NET CF. In fact, Wordly won't install because it says it requires a newer version of .NET CF and then proceeds to install version 3.5. Yes I am miffed by HTC's response. They have lost a customer.

If MS wont release to HTC to put in the rom update how can HTC be faulted? Last that I checked HTC did not own MS. And according to your logic once it "proceeds to install (netCF) version 3.5 it should then work!

The problem is that IT DOESN'T WORK. Like I mentioned in my previous posts, even after .NET CF 3.5 is installed on this ROM, Wordly does not work. Wordly DID work on the original release of the rom (once .NET CF 3.5 was installed) and Wordly worked on every custom ROM from XDA that I have tried. It just does not work on THIS rom. That is why I'm blaming HTC. It that too difficult to figure out?

Well the newer version of .net can be installed so that shouldn't be a problem. I'm going to grab it myself and as soon as I get around to having some free time (lol), I will install and share.

Yes, the newer version installs automatically when I try to install Wordly. The problem is that even after the install of the new version, the program does not run. It does run on the original released with with .NET CF 35 installed, as well as all the custom roms I have tried (and I have tried plenty). The the ROM that Wordly fails on is this updated ROM from HTC and HTC says it is not their problem.

I have installed the newer rom and it is working great. I am planning on getting the crud scraper program from xda developers and getting rid of the ATT bloatware. mvierling have you checked your programs memory status maybe the memory is too low or what about open programs and a memory leakage as affecting your device?

I'm not sure how it can be memory leakage, here are the precise steps to produce the problem: 1) Upgrade to the new rom
2) Install Wordly from the market place (this will also install .NET CF 3.5)
3) Reboot phone
4) Try to run Wordly - does not work On the flip side:
1) Downgrade to original released rom
2) Install Wordly from the market place (this will also install .NET CF 3.5)
3) Reboot phone
4) Try to run Wordly - works!

Does this fix the useless web browser response? Yesterday someone asked me to look something up on my phone. I told them we weren't young enough to wait for the page to come up.

Does this work on the HTC Pure?

NO its only for the tilt2 You can download it but it probably wont let you install it and if lets you install and you brick your phone well we told you not to try it.

Does this work with the HTC Pure also?

Anyone else having trouble connecting with the Marketplace using this ROM? I'm trying to download Wordly (or anything for that matter) but keep getting connection errors.

Wow!
How old is that thing?
Should we call it "update"?

It's not even a year old.

Hey Jfa1: can you post a link to the "crud cleaner" from xda? Thanks. Crud stinks!

Well, I for one, am going to go ahead & install the new release ROM from HTC/ATT. I lay SPB Software's Mobile shell on top of it anyway and once I do that, it bears little resemblance to WinMo anyway since Mobile shell had it's own UI, utilities and tools. If the new radio embedded within it is better, that would be something.

For those who are in the same predicament as me (as to whether or not indulge in the new TILT 2 ROM), I thought I will do this post.
I have installed the new ROM and all other applications I was using earlier + configured all my email accounts. so after using it for 4 days, here is my take. Compared to the original stock ROM this one is really fast. (I did remove the crapware using crud scraper)
I never enabled the TOuch flo 3D on the original ROM as it made the phone to really SLOW DOWN. But I found that I am quite contempt to run Sense UI. It doesn't slow the phone down as much and I still run all the applications as I originally did.
I did try out Cookie's home tab, but this one really slowed the phone down. I have since uninstalled this and am just using the original HTC Sense.
The applications do launch faster than it did on the old ROM
The GPS locks are fast if not better than what is was on the old ROM
The old ROM showed 5 signal bars. This one only shows 4. The locations where it used to show 5 bars, now toggle between 2 and 4. This one never shows 3 bars. Even though it shows like the signal as only 2 bars, the call quality is the same. No issues with dropped calls or bad internet speed, etc.
Overall, in my experience, if you were using the old Stock ROM, this one is good to get.
It makes the phone zippy even when you have Sense. Same or better calls/GPS signals.
Better music playback. :) Hope this helps someone.