Follow Windows Central for all the best from MWC 2015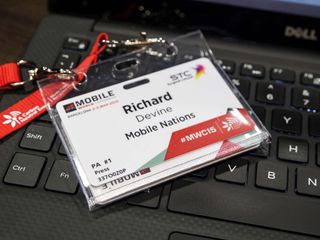 Greetings from Barcelona! The Mobile Nations team is on the ground ahead of the Mobile World Congress activity starting tomorrow, March 1, and Mark Guim and myself will be representing Windows Central. But, it's not just on the homepages where you'll find the best that MWC has to offer.
For the full experience, be sure to follow the whole team on the socials, where you'll more than likely see a couple of things throughout the week that we'd class as "behind the scenes." You won't see absolutely everything on the front page. We've got all the links you'll need below.
And of course, don't forget to bookmark our dedicated MWC 2015 page here
Richard Devine is an Editor at Windows Central. A former Project Manager and long-term tech addict, he joined Mobile Nations in 2011 and has been found on Android Central and iMore as well as Windows Central. Currently you'll find him covering all manner of PC hardware and gaming, and you can follow him on Twitter and Instagram.
He's not going to the MWC.

I just slide to comment section for commenting this question. But I found this on top. Maybe Everyone is puzzled by his absence

GDC. Or the moon. One of the two.

Because Windows Central has representatives and authors in Europe. No need for Daniel to cross the ocean.

I'd bet he is uninterested as MS is expected to simply release more budget devices.

Daniel is clearly in his basement building a time machine to head to the future, so he can write a piece on Windows 11.

He's getting his hair cut.

Good luck guys. Looking forward to some great unveilings :)

I'll keep my fingers crossed for some good updates.

#off topic please help me when i download any language or phone update on my pfd phone its take 4-5 hrs what to do :3

Use strong/fast wi-fi
And run away from here now! -_-

I have the same perform problem but more like 3-4 hours... I just wait in agony thinking my phone is bricking every time since at least the first 8.1 pfd.

This app should have it's own section.

Look forward to the new flagships. After all, for Microsoft to not presents some would be Windows phone suicide right?

Yea, but they will probably announce a $15 Lumia 130, made completely from cardboard.

Lumia is the 99 cent store of phone makers.

There won't be any flagships. Expect more Windows 10.

Yup, it is a catch 22 and releasing flagships with windows 10 is lesser of the two evils. As releasing flagships now and becoming dependent on carriers to roll out the Windows 10 update..... Is a no go especially after what happened with the Icon.

Looking forward to all those new low end phones from Microsoft. Two in fact. And those zero high end phones. Zero.

Where's Daniel?? He's not going to MWC??

He's going to Game Developers' Conference.

Woow woow woow, What does STC do there?
STC = Saudi Telecom

Perhaps they are sponsoring the event.

They are sponsoring the event

STC??? What the hell this Saudi telecom want

Hahah yes always they have mony to make ads an being sponsor

They are sponsoring the event.
They also cover & blog the event ... Check out their Twitter feed @STCLive

I would like to see a roundup of all those who had a invite trough the windows tech preview and let them tell there experiences

All 60,000 plus? Lol, sounds like you want to trip to MWC :p.

Hope the m9 Congress with windows phone * crossing fingers*

Even if they don't talk about the Windows version I hope they release it the same time as the Android version. Ideally I'd make that my first w10 handset.

Yea I'll get it if it comes with 8.1.1. I have an upgrade.... I reeeeaaalllly dont want to wait until september or later for a windows 10 device. I might cry....

My M8 came with Windows 8.1.1 so it would at least have that.

The flagship hunters are going to be extra whiny after MWC even though they already know we most likely won't see one. It'll get ugly next week. Book it.

Waiting for big reviews of Windows Phone 10.

STC?! Saudi Telecom Company is a major sponsor? Being a monopoly certainly helps with the moolah!

I hope you can bring us good news

I think windows may not have much in this mwc

Hi Everyone, This is the first time I am looking forward to MWC. In this event, new devices will be announced or software updates also?

I ​have Lumia 730 dual SIM. I just bought it and it's my 1st windows phone. Pls can u help me with the step by step internet settings. I can open google and facebook but I can't seem to be able to download whatsapp or anything. Like there's something am missing. Pls reply asap. Thanks

You added your microsoft account from Settings --> Email & accounts?

My facebook contacts list keeps appearing on my phone contact list, changing the names to the facebook names. I don't know why. I don't want that. How do I change it ​ ​
Windows Central Newsletter
Get the best of Windows Central in in your inbox, every day!
Thank you for signing up to Windows Central. You will receive a verification email shortly.
There was a problem. Please refresh the page and try again.