THE Football App adds another high quality sport experience to Windows Phone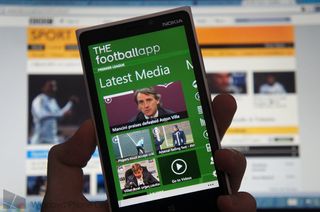 There are a number of football apps available for our Windows Phone, enabling consumers to keep up-to-date with what's currently happening in the world of sport. We previously looked at a handful of such apps, but missed THE Football App, which was released soon after our app round-up.
We've decided to take a quick look at the app and see what it's all about. So grab a beer, throw on your team's shirt and join us on this wondrous adventure.
Launched back in November, THE Football App is a unique sport offering and focuses on the world of football. Boasting support for 62 competitions in 5 different languages (English, German, French, Italian and Spanish), it's a feature-rich experience for consumers who reside in said markets where the sport is a dominant form entertainment.
So what can consumers do with THE Football App (it's the name, honest)? The app allows users to view results, upcoming fixtures, league standings, as well as news and videos, live commentaries, statistics, team profiles and more. It's a rich app with all the required (and desired) functionality that any football fan would need while on the go.
When launching the app, the first view is latest media for the chosen league (this can be configured easily), which lists several videos. Swiping to the left reveals the main menu where the user can access more leagues, fixtures of the selected competition, table, statistics, news, teams and of course settings.
Setting up which leagues the app tracks is straightforward and can be accomplished in the settings area of the app. Competitions from multiple countries can either be filtered out or included in the league selector. Users can then easily hop between competitions using the "change league" menu option. It's a neat concept.
Selecting a team within a competition will open up the squad and recent fixture results. Each squad member has his own profile page with some personal information. As for teams, as noted above, each fixture can be viewed (even if the match has yet to be played), which will reveal the live commentary, match details (substitutes, attendance, etc.), statistics and news from the media.
Live Tile functionality is presently available when pinned to the home screen (with the large size tile supported). When the tile flips over, more details are displayed. Overall, THE Football App is a well-designed product and we particularly like the style of the Live Tile. It's definitely well worth checking out if you're into football.
The developer notes that they've witnessed more than 150,000 downloads since launch, which is a sure sign of quality (especially when the app has a high rating). As well as this, they originally started with both iOS and Android, but have since revealed that Windows Phone has become an important platform to focus on with a dedicated team within the company.
What's in store for users with future updates? The team will be working on THE Football App to extend the catalogue of competitions to 400 in 40 different languages, which is quite the expansion. There's also a Windows 8 app currently in development, but more on that at a later date.
You can download THE Football App from the Windows Phone Store.
Windows Central Newsletter
Get the best of Windows Central in in your inbox, every day!
Rich Edmonds was formerly a Senior Editor of PC hardware at Windows Central, covering everything related to PC components and NAS. He's been involved in technology for more than a decade and knows a thing or two about the magic inside a PC chassis. You can follow him on Twitter at @RichEdmonds.
Aww, I thought American football

Yea I thought it was American Football too. Oh well.

Come on guys... American football is really unwide-spread;)

Maybe, but I'd like to know what the breadown for readership of this site is. I'm under the impression it's mostly US, but I could be wrong. ??

I for one ain't:) I have played varsity football in high school when I was an exchange student in Wyoming. Norwegian!

If you're looking for an app for the Australian A-League (with del piero and heskey) with Live scores, check out A-League Ultras :)

Its a decent enough app but should focus on countries or teams not competitions. So you can choose Barclays Premier League, which is fine, but you then don't get FA Cup or League cup scores etc for your team.

Indeed, but we've been informed that a massive update is on the way, which will bring many more competitions. So stay tuned for that :-)

Yes you do, you can select more than one league at a time in settings.

Where? I can't see Fa Cup or league cup

Go into settings and then into league filter, then select England. You should see tick boxes for which leagues you want to include.

Sweet i was looking for a decent app for football.

But Manchester United lost to Referee Madrid. :(

The red card was correct... VanPersie is offside in Ramos autogoal. Rafael hits the ball with his hand in the line of Goal m.62. First game: penalty to DiMaria in the Bernabeu. The corner kick of ManU goal in the Bernabeu was not even corner kick. Stop crying.

If you mean that was a correct red card, then you really don't have any use for this app... Download an NFL-app... I really feel like naming you something

Premier Leagues+ is still my number one football app. Don't know why WPC chose to ignore it, maybe some beef with the developer but it's a great app.

Yes, I second that. Premiere Leagues+ has everything & the dev is supportive. Live tile & toasts for favourite team(s) work great. All in all, a well laid out app.

That is true, however it doesn't support fa cup and fixture link you to a website. I haven't tried it yet but this app looks nicer

No beef at all :-) we were just in contact with the developers of THE Football App and here's an article covering their app. I'll check out Premier League+ :-)

I remember when wpc had the football apps roundup and PL+ didn't get a mention, Daniel stating in comments that it wasn't included by choice. That is very odd with such an app as it is better than all the ones that were covered, hence my beef suspicions :)

Yeah. Premier Leagues+ is the number one fotboll app for me. Tried a few and nothing is close to it. Excelent live tile live results and the possibility to cover more then one team...


Is that the grey Lumia 920????? God it's gorgeous! I thought it's only available in Germany

Looks as boring as soccer itself.

Luckily, this is an app for football and not soccer.

You know America, we like to be different. We call "eggball" football and we use the imperial system while everyone else uses metric :-)

Another great sports app, Hoping someone is developing a good F1 app as well, I have no problems paying $5 for it

This is a fantastic app. I get updates on my favourite team's score as it happens instantly! So even when I can't watch the game, I know whats going on, when HT is over, what the score is, etc and it all gets sent as a pop up. Love this app. Forza Milan ;)

Been using it for a while now and I have to say that I like it a lot !!

Its a great football app. For you American maybe you should rename ur football to handball in a big body suit.

If it isn't US Football at least it's Rugby. ANYTHNG is better than soccer!!!!

I want a Dutch translation please

Crashed upon after selecting leagues

well this may be crazy the main reason that i bought a lumia beacuse of football appications and they cut down nokia goal from s60...
and for those who thought it was amercan football that name itself is wrong wen u play with hand and run with an egg!!
there is only one football

I've used this app for a long time and love it. Things keep changing though and now I have no idea on how to set multiple favorite teams. I have to drill down to each competition but it only allows me to set one favorite team. For example, in premier league I want to favorite Man U and Arsenal. Are there instructions online? I was able to set calendar notifications for several teams but that's it...
Windows Central Newsletter
Thank you for signing up to Windows Central. You will receive a verification email shortly.
There was a problem. Please refresh the page and try again.