Windows Phone Central App Roundup - Football (Soccer) Apps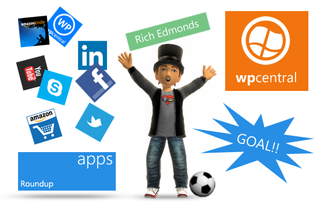 Windows Phone Central's roundup of Football apps
We've already covered a roundup of apps for your Windows Phone should you desire to follow American Football, but what about 'football' for the rest of the world (also known as soccer)? We've got you covered with this roundup of the football apps available for Windows Phone. Prepare yourself for an eventful 2012/13 season with Windows Phone Central.
A number of apps are available for Windows Phone that enable consumers to keep up-to-date with the latest football news and results. From official solutions to third-party apps, there's a choice to suit everyone's individual needs and tastes. To kick us off we'll be taking a look at the sports news app from the British broadcasting corporation, Sky.
Sky Sports News (free): The Sky Sports News app is a gateway to top news content covering the sport, with full articles being pulled featuring rich media content (photos and videos). The interface sticks to the theme present throughout the arsenal of Sky products and services. This provides the user a familiar look and feel.
Sky Sports News for Windows Phone sports a unique feature – Sky Sports News Radio. This functionality allows users to tune into radio while on the go (runs in the background when leaving the app – nice touch). The radio joins the article listing on the main screen panorama, which leads us onto sports themselves.
The app itself not only supports football, but cricket, rugby, golf, tennis, and more. These portals can each be pinned to the home screen for more convenient access. Selecting football will take the user into the football portal. A number of features are available in this panorama, including a filtered news stories listing, live match results, fixtures, results and –of course- league tables.
A surprising observation in the Sky Sports News app is one would expect a level of social sharing to be present but that doesn't appear to be the case with no option available in each article. Overall it's a nice sports app, and the fact it's available for free on the Marketplace makes the offering that much sweeter.
You can download Sky Sports News from the Marketplace.
ESPN Goals (free): Next up is an ESPN app, which is arguably one of the more attractive and well designed apps available for Windows Phone football fans. It's freely available, but is also ad-supported (non-obstructive).
As soon as the app is launched the user is presented with latest match fixtures. Next to the fixture listing are latest available highlights, which launch directly on the Windows Phone (with adverts being played). The app is fairly light and is focused on football results more than anything, so users should not expect to find the latest headlines being displayed.
Under the "more" panorama pane, we have a number of options available: videos, scores and fixtures, tables and stats, and ESPN on Air. The tables and statistics is an interesting feature, which provides the user with an insight into key points of the current season. Selecting any game from the scores and fixtures section of the app will present a full commentary, available videos, and more.
Finally, ESPN on Air is a portal to the ESPN service, with TV schedules, fixtures, competitions and more. Overall, ESPN Goals is a simple app, but the focus on football alone will be more than enough for the avid fan who enjoys staying up-to-date with results and team positions.
You can download ESPN Goals from the Marketplace.
Soccer Livescores (free): This is a nice little app that is truly Metro influenced. Instead of focusing on more than one sport, or offering headlines, tweets and other information, Soccer Livescores focuses only on the scores from past and upcoming football fixtures.
A number of leagues are supported, which can filtered through should you only desire a handful from a desired country. Viewing results is super easy, and only important events are displayed (cards and goals) keeping the interface clear of potential clutter.
Sliding along from the "details" pane when viewing a match result will take you to previous matches of both teams that played – displaying results. A very simple app but with all the functionality a quick glance user will require to stay in the loop with all the footy action.
You can download Soccer Livescores from the Marketplace.
ESPN (Nokia exclusive - free): This app is exclusively available to Lumia Windows Phones, which will please many but enrage others. Like the Sky Sports News app, ESPN displays the latest headlines but it goes one step further with ESPN videos, tweets from the official Twitter account and sport categories (cricket, rugby, F1, and more).
These hubs then filter and display only relevant news, tweets, results and other information for the user in a clean and crisp UI. When browsing individual sports, you'll be taken to the ESPN site to view in-depth information from matches, etc. The videos and news are a nice touch, as well as the possibility to check other sports out without a limitation to just football.
Each sport can be pinned to the home screen for quick access to the latest news and results. Overall, it's a fairly basic app, and we'd choose ESPN Goals over this Nokia exclusive offering should you just be interested in the latest league action.
You can download ESPN from the Nokia Collection on the Marketplace.
Goal.com (free): This is yet another good looking app from the collection we've walked you through today. Goal.com is absolutely stunning on Windows Phone. Launching the app for the first time will greet the user with a selector to choose desired leagues.
Once everything is setup and ready to go, league tables can be selected, and each individual match viewed in a beautiful interface. Play-by-play commentary is available, as well as information on each team (substitutions, bookings and goals). Statistics are available in the match view for the match itself as well as previous fixtures where both teams have played one another.
Individual teams can be selected in Goal.com's Windows Phone app, straight from the league table. This opens up a nice panorama screen that details fixtures, current squad, and latest news. It's definitely the most useful app for the dire hard football fans. Sections of the app can be pinned to the home screen for more convenient access.
You can download Goal.com from the Marketplace.
ESPN FC (free) AKA ESPN Soccernet: To close this up, we end with yet another ESPN app. This football solution is a feature rich experience for anyone who follows a team with action from major UK, European and Latin American leagues, tournaments and football matches. Displaying the latest football headlines, the app not only shows the articles in full, but there are sharing options that make use of integrated social profiles and accounts.
ESPN FC Press Pass videos are available to view within the app, but unfortunately it seems as though live action from each match (as well as summary and statistics) is shown through a frame. Visiting the mobile version of the ESPN FC website yields a similar interface - though in the app you have the beauty of the back button and home icon to navigate back through previous screens.
It's another basic solution, but if you're looking for a more complete experience, we'd recommend taking a look at Goal.com.
You can download ESPN FC from the Marketplace.
While each and every football app we've looked at today is worth the download (especially since all are free), we'd have to recommend Goal.com above all simply down to the way it presents the data through the well designed interface.
Each to their own so it's a good idea to try each one to see which suits your requirements. Remember that the Windows Phone Marketplace is continuously expanding, so be sure to check out other football apps, including ScoreMobile FC.
As always, if we didn't mention your personal favorite it should reflect poorly on things. If you have a football app that you'de like to recommend, chime in below in the comments.
Rich Edmonds is Senior Editor of PC hardware at Windows Central, covering everything related to PC components and NAS. He's been involved in technology for more than a decade and knows a thing or two about the magic inside a PC chassis. You can follow him over on Twitter at @RichEdmonds.
My Football: http://www.windowsphone.com/pt-PT/apps/b3a1fdd5-b202-e011-9264-00237de2db9e

Shame on you WPCentral! What about Premier Leagues +? Gives you live results via push for any game or team you wish to follow. That article needs editing :)

http://windowsphone.com/s?appid=ced57bae-4755-e011-854c-00237de2db9e

Thanks for sharing as we asked at the end of the article. We didn't include it for various reasons, which is why we're the editors and you're the reader ;-)

No offense Daniel, but u are kind of mean to people. I've seen it a lot in the comments.

Tahit Bob and we go back along time. He was jesting and we were jesting, no need to be so literal.

Jesting indeed I confirm, no offence taken :)

ESPN goals not available in the US? I would pay good money for that!

ESPN FC works for me in Canada (and was just updated today from ESPN Soccernet)

Why didn't you include Premier Leagues? Apart from Editorial?

I'd like to know that too. I try all the listed ones and this is the best one when it comes to live games. Goal by goal notification, come on :)

Thanks guys (Fred Bloggs 007 / Tahiti Bob) - really appreciate your support in these comments. Great to hear you like my app :)
All the best,
Ian (developer of Premier Leagues +)


ESPN just updated their Soccernet app and format to ESPN FC. Simple app with lots of good crap! Just as you see on ESPN 3 and the ESPN Website - a good mix of stories and scores from both tournaments and leagues all around the world. No jamming the MLS down your throat! The FC app lets you pick your leagues and favorite tournaments. Even includes World Cup Qualifying and Friendly Matches. ESPN FC has now earned a place on my 7.5 phone desktop. Of course, others may work thier way on to my roster when I move to 8 and have more tiles to populate! Thank you WP Central for covering this as the "real football" seasons start!

The best football app is now available for Windows phone 7 and 8 - THE Football app link: https://t.co/FGeNu6Q9
Bundesliga, Premier League, Serie A, La Liga, Ligue 1, Champions League, World Cup Qualifiers ... and many more! The Football App covers more than 60 international football leagues and competitions live and in incomparable detail. We deliver live text commentaries, breaking news, videos, tables, squad lists with detailed player infos, statistics and background information around the greatest game in the world.

Just looking back at this article today and noticed you showed a screenshot of Everton losing 1-0 to Blackburn :( I no longer like this review ;)

ESPN Goals is not available in WP Marketplace anymore. It says 'This app is no longer published'.
Windows Central Newsletter
Thank you for signing up to Windows Central. You will receive a verification email shortly.
There was a problem. Please refresh the page and try again.