From the Forums: CrackBerry's Kevin attempts Windows Phone 8, show off your start screen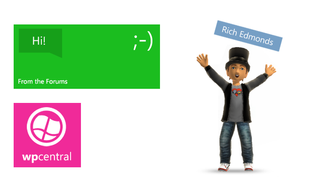 Now the weekend is (or has, depending on your location) drawing to an end, it's surely time for our Sunday wrap-up of the latest and greatest discussions in the Windows Phone Central community. So what's been happening the past couple of days in our forum?
You may have noticed a rare face wandering around our forum these past number of days - Kevin Michaluk from our sister website CrackBerry (as well as being the Chief Media Officer for Mobile Nations) has finally got his hands on a Lumia 920. So what does he think of the competing handset?
Overall it's an extremely positive experience, but it helps that Kevin isn't one to simply write a competitor platform off. He has been experiencing some issues though, which is why we've seen such a sharp increase in posts accumulated on his account. First up is the spotted Skype app issue in Windows Phone 8 where a log out option isn't available.
This is an issue we can both confirm and admit we're also baffled as to how Microsoft has missed out this functionality. The second highlighted issue was down to user error (so you know it's going to be great, right?) as Kevin started using the Lumia 920 with the protective plastic wrapping still on the device. This led to issues with the proximity sensor turning the screen off as soon as a call was initiated as well as the keyboard flying off-screen.
If you'd like to join in the conversation surrounding Kevin's Windows Phone 8 experience thus far, be sure to head on over to the "Dear Skype, PLEASE let me log out of Skype on Windows Phone 8!" and "Learn from my Lumia 920 Newbie Mistake... Take the phone out of the plastic!!" threads for more information.
Miscellaneous: Show off your Windows Phone 8 start screen
Windows Phone 8 enables one to further customise the start screen experience, which can lead to some unique results. So what does your start screen look like? We've begun collecting screenshots (now that you can easily take them in Windows Phone 8) from Windows Phone Central members in the "Post your Home Screen and Color Theme" thread. Care to add yours?
For the record, here's mine:
Did you know that it's completely free and only takes a matter of minutes to create a Mobile Nations account? No, well now you do! Be sure to head on over to the registration page to get started and to then join in the Windows Phone discussion.
Rich Edmonds is Senior Editor of PC hardware at Windows Central, covering everything related to PC components and NAS. He's been involved in technology for more than a decade and knows a thing or two about the magic inside a PC chassis. You can follow him over on Twitter at @RichEdmonds.
Oh man... I'm going to get ripped apart in the comments for that "leaving the plastic wrapper on the phone" thing... I can feel it. :) But seriously.. need to be able to log out of Skype! Will do some more posts in the forums this week... really interesting time emmersing myself into the land of Windows Phone 8. Great community you have here!

Nah, I've done that before. Totally agree on the Skype thing though...hopefully that'll be sorted out soon. On the upside, at least WP8 includes the month of December;)

If you are talking about the calendars, mine says December, and I have a 900.

Lol I was referring to the Android 4.2 update

Is there a week number in WP8 now? You know like v 47. I miss this a lot, preferred on the tile corner.

Wait, i am lost... Did they change something on WP8 Skype?? I haven't upgraded just yet but I am able to sign-out of Skype by pressing "..."

Interesting about the skype not signing you out on the handset.
I do wonder if this is because of how Windows is integrating Skype into the system and are doing aways with Messenger. This I "believe" is no different than iOS' Messages, where you start using Messages and each of your iDevice gets the same message w/no way of turning it off. I will admit, I didn't use iPhone much after Messages was released, so I could be way off on that. But I don't recall being able to shut off the Messages on an iDevice and then have the Message route only to the machine I was working on. I have to agree I am not too friendly w/that idea either.
Just a thought. As for the wrap, when I had my iPhone I had to remove the Zagg screen protector because it also caused the same issue. It was the only phone I've ever had that issue with. What I found even more interesting other friends had the same thing w/o issue.

Skype -> Settings -> Change Password

no comment on the plastic :)
as in interim measure.. Yes we need to be able to stop Skype messaging all the time (I don't have my WP8 phone yet)
can you turn off notifications (background process) under settings/Applications?


Under the settings background tasks.

The only problem is we wanted to be active in the background since 2010. Now it is. And now we gonna switch if off. So basicly you have an windows phone 7 instead of an 8 :) thats not the sollution just to turn background agents off. The solution for me would be coding so the app knows which app is used at this time, if the pc/surface skype app is used notification would be off on the wp8 and vice versa.

"The only problem is we wanted to be active in the background since 2010. Now it is. And now we gonna switch if off. So basicly you have an windows phone 7 instead of an 8 :) " LOL funny but true!

I agree. Being signed in all the time would be fine, so long as the system was smart enough to know where your active session is. When I'm typing via desktop client, kill the notifications on the phone client and let it just seamlessly stay up to date with the session. And vice versa. Even among multiple computers, logging in and out of skype is annoying... when you login via a different machine, it plays a bunch of catch up. But until that happens, at least let me sign out.

Well, no other platform does this, but no other platform has the same Skype integration. I'm surprised you can't manage notifications for each applications as you can on other platforms?

Wp8 is a whole new operating system,its kinda like WP when it was first release the scary part is wp8 will only get better and better competitions are scratching there heads right now on how to compete with wp8..

Why di people keep the plastic on, I will never ever understand. Kevin, are the couches in your house covered in plastic grandma style and saran wrapped all of your remotes? The no log out Skype is madness.

All im saying is when all the complaints about wp8 are addressed then that's the time im jumping ship... I have been WP uses since 2010 I have seen how WP evolved to what it is right now,for me to jump on wp8 is immature since the new is is the same immature for now..

I can kind of relate to the plastic part. Everytime I get something new, I resent taking it out of the packaging (even hold on to it after...for longer than necessary). It's just a thing. But glad you took it out. I really like the new start screen. It's just the right balance between functionality and aesthetics. I'll post mine up later.

Hey how do I upload pics?

Got my 920 on Saturday love it.....if I can figure out how to post pics I will shortly

Is there a way to attach a pic to a comment?

Not from the app that I can find. I am gonna have to actually log in from a PC hahaha

Upgrade needed to attach pics from phone :D

On Skype:
You can't log out of the Windows 8 metro styled version either :(
The premise is easy enough to guess though. Signing in with Skype on Windows 8 or Windows Phone 8 and you essentially link your Skype account to your Windows Account, (Something you can do optionally elsewhere, this is a sneaky forced way). So being signed in with your microsoft account signs you in to you Skype account. Being able to log out or sign in a different Skype account when viewed with this warped idea does make sense now.
iMessages on Apple's systems are the same, you can't log out of them out. (Although you can turn it off)
Skype is the new iMessage for all :D
I totally agree there needs to be a way to silence the messages coming through or switch it off. On the phone surely you can kill the background task? Or change your status to one that doesn't alert?

yup, just diable notifications as well as turn skype off on background apps, heck its still an app :)

How do you take a picture of your start screen?

Its a new feature in Windows Phone 8. You have to press the start button (Windows Logo) and power at the same time.

I was wondering the same thing as I don't recall that being mentioned anywhere in the manual. Thanks wsantigo.

Thats not the only problem with skype. After that combination with Windows Live messenger if i get an message on my win8 on the messages hub, i get the same one i skype too. And if i had an windows phone 8 the same message woul pop up there too. Thats a mess if you ask me. They never had to combine skype with windows live messages, so many people use windows live messenger while it has great functions Skype messenger has not!

I have a proper solution for that issue, microsoft must implement something like the active window in windows 7, so if my skype is active on windows 8, and my wp8 is locked i get only on one device the messages... So easy. I have a question to that issue, what happens if you get an picture via skype, do you get it now on your win8 and wp8, so i have two same pictures...

Here's mine Nokia Lumia 920 'White'

this only confirms that people still using blackberrys are "special"

LOL! I did something similar with my Focus and my 920. I coudn't understand the ugly ghost like blurry pictures... it was because I didnt' remove the plastic off the back of the phone!! haha, once I figured that out - all was well.
Windows Central Newsletter
Get the best of Windows Central in in your inbox, every day!
Thank you for signing up to Windows Central. You will receive a verification email shortly.
There was a problem. Please refresh the page and try again.