From the Forums: Mobile World Congress 2012 Roundup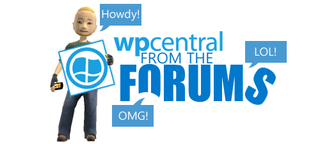 Mobile World Congress 2012 has ended and we got a lot of news out of the event but not necessarily what you were hoping. We have some threads from Forums Members that are skeptical about the future of Windows Phone. For instance, in "Ride the boat till it sinks, or jump ship?" forums member DizztMaker predicts the end of Windows Phone.
We also have a discussion about Microsoft, Nokia and what they would do (or more importantly wouldn't do) at MWC 2012 in: Prediction: Microsoft/Nokia will disappoint at MWC Without the announcement of a new high end windows phone and without news about Windows Phone 8 (aka "Apollo") was MWC 2012 a success? We think Microsoft has done enough to silence some of the critics. For example, we have a new device from Nokia, the Lumia 610, we also have a new device from ZTE, the Orbit, both of which are low-end/emerging market devices more suited to the upcoming release of "Tango".
We also learned this week that Microsoft is opening up in 23 new markets. All that combined has the future of Windows Phone looking up, telling us that Microsoft is in it for the (very) long haul. We don't yet have a clear picture of the future so we are discussing that as well in threads like this one: Windows Phone 7's Upgrade to WP8 Apollo Now Unclear, which is sure to elicit some heated discussion.
What Mobile World Congress 2012 roundup would be complete without mentioning the Nokia PureView announced this week with its 41MP camera? We can't wait till Nokia brings this technology to Windows Phone. Join the Nokia PureView device discussion in this thread: Hands On Nokia Pure View 41MP Camera Phone.
We do have a bit of sad news though as we are losing one of our favorite forums contributors: TheWeeBear. He is retiring his Moderator spot and leaving the forums, come help us say goodbye in this thread: Bye Bye From The Wee Bear.
With all this great Windows phone news going around we can't help but be excited about the future. Where better to start the future than with a few great apps? Our developers have been showing off a little this week with some over the top apps and games. Here is a small sample of what has been added this week:
Applications Spotlight:
Games Spotlight:
Remember, the forums are more fun when you register, so sign up today.
Get the Windows Central Newsletter
All the latest news, reviews, and guides for Windows and Xbox diehards.