Foundbite launches exclusively on Windows Phone, allows you to share the world you hear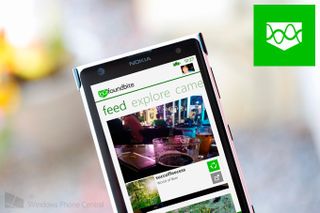 Quality apps that are exclusive to Windows Phone make us very happy. Foundbite is one that we've covered in the past in beta form and it's now available for you to download. This is an app we've been looking forward to hitting the Store for a long time. Now that it's here we'll check it out and hopefully help convince you to get on board with one of the coolest apps to come out of AppCampus.
Foundbite comes from James Mundy and Alfie Woodland, who together make up Mendzapp. James had the idea for Foundbite as a student at Sheffield University and took time off to pursue the app through AppCampus. As you'll recall, AppCampus is the mobile app accelerator program that's jointly funded by Microsoft and Nokia through Aalto University. It helps ideas like Foundbite get up and running. We're incredibly happy to have programs like AppCampus available for developers like James to take advantage of. Now we have Foundbite.
This is a Foundbite. And it's awesome.
Foundbite is a new social network that helps users capture and share images with sound. It might appear like we're describing video, but we're not. Foundbite lets you capture images and build out the atmosphere with sound. Take a picture of a sport match, but add the ambient noise of the stadium to help relive the moment. Enjoying a sunset in Waikiki? Your Foundbite will not only have pictures of the sunset, but you'll hear the ocean gently crashing onto shore.
Launch the app and create an account. From there you'll see your feed. The feed is where you'll see the latest Foundbites from users you follow or other content curated by the Foundbite team. The feed is a great place to discover the latest and most interesting Foundbites.
As you scroll through the feed you have a few different ways to interact with all the Foundbites you see. You can either share them through the built-in social networks on Windows Phone, email, or SMS. The team plans to add future avenues for sharing – like Tumblr, Pinterest, Reddit, etc.
While on the feed, you can also tap on the user's image to check out their profile which has all their Foundbites and the ability to follow them.
Another cool feature is jumping into the Foundbite itself. Do that by tapping the little arrow. This is interesting because you'll see additional info about the Foundbite, like when it was taken and where it was taken superimposed over a map.
You can also explore nearby images by going to the menu section and choosing either nearby or world view. Nearby uses your location to show you any Foundbites taken in the vicinity near you. The Foundbite platform is relatively new, so if you don't see any cool Foundbites in your area you can be one of the first to add some. World view lets you explore Foundbites around the world. Navigate the map and you can see plenty of Foundbites on our little blue planet.
What's next for Foundbite? This is just the first version, James and his team have plenty of cool features coming soon. Here's what you can look forward in future updates:
Invite friends who are using Windows Phone
See who is following you
Notifications
Comments
Some kind of up voting system
What features do you want to see with Foundbite? Be sure to let James (@MendzappJames) and the Foundbite team know. Don't forget to share your first impressions of Foundbite below in the comments.
Foundbite is free and available for Windows Phone 8 users (yes, even 512MB devices). You can grab it in the Windows Phone Store, use the QR code below, or swipe to the right in our app.
Scavenger hunt. See if you can find the Foundbite I took new in Seattle.

must suck it lasted a whole 22 mins :)

Try it folks. Not often we have good exclusives.

Interesting. I try to limit myself with social networking. Only use FB. Is these clip interactive with FB?
Edit Nevermind missed the update for FB.

Lol. This is like saying. I try to conserve on gas mileage, I only use one V8.

You can share to Facebook yea!

Way to go dude, lots and lots of app, make this windows store topmost killing that isherp........bwaaaaaaaah

So, the app does the same thing the GS4 does natively.?
Or am I missing something colossal here.?

Yea, that its a social app, not just a feature. Basically like Instagram, you can take and add filters already.

That helps.
Just realized that it lets you take multiple shots. Might work great with time lapses.

This app gives me hope for WP.

This is me taking a Foundbite picture while posting a comment. -Jason (Austin)

Now I'm feeling my phone heat up using this app.

Thanks :) Glad you like it

Nice app and only available for Windows Phone users! :)

Thanks, Android coming in 3 months :)

Nice, my wife was very intrigued when I explained what the app was. Cool stuff!

Excited to give this a try at a few events I will be attending over the next week.

Hope to see your work in the curated section on the main feed!

Awesome, look forward to seeing what you take!

Me too! Can't wait to snap a few at a show on Sunday!

I can say this is a wonderful app and the developer responds and is very attentive. Been using it for awhile now and all I can say is good job and thanks. Peace WP users have a great weekend..

Fun app! Really enjoyed the beta and work the developers put into it!

I think this is awesome! Downloaded and ready to go...now if I can find something to take a picture of in this desert wasteland....

Its a awesome app and the developer is very open to suggestions

"Quality apps that are exclusive to Windows Phone make us very happy" Oh? Why? Do you feel the same when Android or iOS get's an exclusive app that windows phone can't get? I hate exclusives. It makes it harder for me to travel between my devices. And it's funny how people's tones change so quickly.

Its a war man. You choose a side and you DIE for it!

Obviously an app like Foundbite will take off if its available on all platforms. But until then, we're stoked to see that a developer chose to build for Windows Phone first.

I can see your point here. However, I think there is a big difference. Devs of exclusive apps on the other side ignore our beloved WP because of popularity contest whereas Mendzapp developed this app exclusively for WP because they believe in it despite the popularity contest.

Think it was because MS and Nokia funded it, is why it is exclusively on WP now

I thought about this too after I hit submit :) Anyway, if there is any other WP exclusive out there not funded by Nokia or Msft, then my theory applies to those devs. If none, then the theory applies to my future self Lol!

this is a cool concept. wanna bet Vine is going to copy this concept and utilize its 6 second video

grab your favorite username because this is going to blow up. i just a one letter character. I win.

Got my first name, Chris :) I thought the same thing you did.

Shoot a short video with no sound without people knowing: legal pretty much everywhere Shoot a photo with a short bit of sound without people knowing: illegal in a surprisingly large number of places. (Archaic old laws preventing recording of conversations without all involved parties knowing makes it a felony in some parts of the US, a misdemeanor in others.)

Thanks - this is clearly something we need to look into. James (the Developer)

Wow. Thoughtfully designed and lots of features out of the gates. Just need more content...but I suspect that will change in the coming weeks. Guess I need to get out of the house and do something more interesting to capture :)

Thanks, looking forward to seeing what you take!

I love WPcentral but I already have this app from another site who posted days ago..
Come on guys, what's happening?

Did the other site tell you what features would be coming in future updates?

Yeah they do!, i just don't wanna mention names here!

This post is useless without sources.

Told you! Love Wpcentral! Sometimes they post days later some info but they give more details. I can give you the source if you want, but private!

W.O.W! This is amazing! The potential of this app is beyond imagination. PLEASE leave this a WP exclusive till others spam all news articles on our sister sites, the way we had for Instagram on WP! Hallelujah!

This sounds like HTC Zoe, how is this idea differnt to that?

Yeah. Better not use this app since a phone we don't have already takes pictures like this. Also ignore the social network aspect of it. Lets just complain that no idea is 100% original.

I wasn't complaining, I was quering how it differed from HTC Zoe; it sounds simmular but I've never actually owned an Android phone so I don't atually know if there are any social networking eliments to their service or if it is rendered differntly or if this is better than HTC Zoe? - i.e. using their idea then improving on it. Like I've said I havn't used HTC Zoe or this application (yet); but I am just intregued to know the comparison; Even if it is idential I think it is great that somthing I have previously only ever linked to HTC Zoe is avalible on Windows Phone.

Wow wish I had this when I was in Waikiki - my pictures would have even been more awesome

Damn! I wish i would have had this a few weeks ago in Disneyland!

İt says "thats ood" "there's been a problem reaching foundbite please try agin" when im trying to refister

Are you still having problems?

Maybe you didn't fister correct the first time before you refistered?

Awesome idea!! I actually downloaded it yesterday while just browsing the store before seeing this article. Everything works great but scrolling is a little choppy. I think it's a cool concept and I can definitely see myself using it. Love the 3D Nokia maps integration!!

I noticed I sometimes see my menu flash behind the feed. Its kinda weird. Otherwise its a solid app I look forward to playing with the next few weeks.

That is odd, will investigate - thanks for bringing it up! James

Thanks :), will certainly get on improving the scrolling. James

Wow! I'm loving these app. and i usaly hate social apps.

I`ll definitly give it a try and will post my thoughts on it later. Thank you devs!

Great app, but if you try and take multiple pictures of a peaceful scene your found its picks up the 1020s shutter sounds. Kind of annoying, but cant be helped i guess!

Found its? Stupid autocorrect. "foundbite"

That is annoying, some regions they don't let you turn the shutter off unfortunately! However, you can still take a single photo then import it and add sound without any shutter noise - we should be adding the ability to import multiple shots in the future too :) James.

Oh its not sound played by the phone, the 1020 you can actually HEAR the shutter operating in the camera. Its quite loud. Haha. I know there is no way you can help that. Maybe in a future update you can allow an option for the pics and sound to be recorded separately and then combined (so i don't have to leave your app to take pics then go back in to add sound) ;)

This is freaking awesome! Follow me, my username is Chris :D

I would if you could search for users. You cant.

Sorry about that, it is coming! Just had to get it out there at some point. James

For a version 1 app, it is really polished. You rarely see that in version 1 releases! And you know a great use for this? festivals, street parades, fiestas... oh wow i can see myself using this very often!

Brilliant, thanks so much. Glad you like it!

My Sifu is better than yours

Im still getting that eror .s ı have lumia 920

sorry about this, would you be able to send an email to hello@foundbite.co detailing the error?

Great app just used it while at wurstfest. I love the idea especially from a data upload size perspective.

Thanks Eric, saw the Foundbite - nice!

For the rating/voting system! I'd think adding something catchy with volume up and down (since the app involves sounds) would be a good idea!

Thanks Zach, that sounds like an nice idea. Will bear in mind when designing this feature. James
Windows Central Newsletter
Get the best of Windows Central in in your inbox, every day!
Thank you for signing up to Windows Central. You will receive a verification email shortly.
There was a problem. Please refresh the page and try again.