Foundbite launches exclusively on Windows Phone, allows you to share the world you hear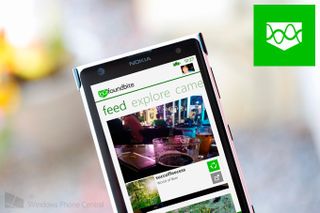 Quality apps that are exclusive to Windows Phone make us very happy. Foundbite is one that we've covered in the past in beta form and it's now available for you to download. This is an app we've been looking forward to hitting the Store for a long time. Now that it's here we'll check it out and hopefully help convince you to get on board with one of the coolest apps to come out of AppCampus.
Foundbite comes from James Mundy and Alfie Woodland, who together make up Mendzapp. James had the idea for Foundbite as a student at Sheffield University and took time off to pursue the app through AppCampus. As you'll recall, AppCampus is the mobile app accelerator program that's jointly funded by Microsoft and Nokia through Aalto University. It helps ideas like Foundbite get up and running. We're incredibly happy to have programs like AppCampus available for developers like James to take advantage of. Now we have Foundbite.
This is a Foundbite. And it's awesome.
Foundbite is a new social network that helps users capture and share images with sound. It might appear like we're describing video, but we're not. Foundbite lets you capture images and build out the atmosphere with sound. Take a picture of a sport match, but add the ambient noise of the stadium to help relive the moment. Enjoying a sunset in Waikiki? Your Foundbite will not only have pictures of the sunset, but you'll hear the ocean gently crashing onto shore.
Launch the app and create an account. From there you'll see your feed. The feed is where you'll see the latest Foundbites from users you follow or other content curated by the Foundbite team. The feed is a great place to discover the latest and most interesting Foundbites.
As you scroll through the feed you have a few different ways to interact with all the Foundbites you see. You can either share them through the built-in social networks on Windows Phone, email, or SMS. The team plans to add future avenues for sharing – like Tumblr, Pinterest, Reddit, etc.
While on the feed, you can also tap on the user's image to check out their profile which has all their Foundbites and the ability to follow them.
Another cool feature is jumping into the Foundbite itself. Do that by tapping the little arrow. This is interesting because you'll see additional info about the Foundbite, like when it was taken and where it was taken superimposed over a map.
You can also explore nearby images by going to the menu section and choosing either nearby or world view. Nearby uses your location to show you any Foundbites taken in the vicinity near you. The Foundbite platform is relatively new, so if you don't see any cool Foundbites in your area you can be one of the first to add some. World view lets you explore Foundbites around the world. Navigate the map and you can see plenty of Foundbites on our little blue planet.
What's next for Foundbite? This is just the first version, James and his team have plenty of cool features coming soon. Here's what you can look forward in future updates:
Invite friends who are using Windows Phone
See who is following you
Notifications
Comments
Some kind of up voting system
What features do you want to see with Foundbite? Be sure to let James (@MendzappJames) and the Foundbite team know. Don't forget to share your first impressions of Foundbite below in the comments.
Foundbite is free and available for Windows Phone 8 users (yes, even 512MB devices). You can grab it in the Windows Phone Store, use the QR code below, or swipe to the right in our app.
Get the Windows Central Newsletter
All the latest news, reviews, and guides for Windows and Xbox diehards.