New Foursquare app for Windows Phone 8 announced, now live in the Store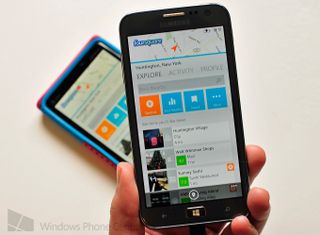 One day after Windows Phone 8 users received the new Hulu Plus app, they're being treated again to another major app: Foursquare. While Windows Phone has had an official Foursquare app for some time on the platform, the new version is a complete overhaul.
Co-developed with Microsoft and Nokia, the new app is a completely new UI, is much faster to use and is simply gorgeous.
From a blog post by Foursquare just posted:
Indeed the app is quite a joy to use. And good news for Windows Phone 7 users, as an update overhauling that version is expected in the coming weeks as well.
Pick up the new Foursquare app for Windows Phone 8 here in the Store. All Windows Phone 8 devices, though it has feature optimizations for Nokia Lumia phones.
It's version 3.0 and being so new, it may take a few hours before it propagates through the marketplace to your region (we got it on our end, so we know it's live).
Get the Windows Central Newsletter
All the latest news, reviews, and guides for Windows and Xbox diehards.
Daniel Rubino is the Editor-in-chief of Windows Central, head reviewer, podcast co-host, and analyst. He has been covering Microsoft since 2007 when this site was called WMExperts (and later Windows Phone Central). His interests include Windows, laptops, next-gen computing, and for some reason, watches. Before all this tech stuff, he worked on a Ph.D. in linguistics, watched people sleep (for medical purposes!), and ran the projectors at movie theaters because it was fun.
Youtube has been updated as well... A redesigned app.. The link is not live for me so i can't provide it..

http://blogs.windows.com/windows_phone/b/windowsphone/archive/2013/05/07...

Thanks for the link update it..

So true http://www.theverge.com/2013/5/7/4308662/youtube-windows-phone-app follow the link http://www.windowsphone.com/s?appid=dcbb1ac6-a89a-df11-a490-00237de2db9e

Youtube has been updated..

Yeah, I just downloaded it and it's awesome. Now I have no reason to go back to MetroTUBE.

Preloading and saving videos is a big reason to still use metrotube EDIT: Nvm I was wrong as hell.

You can download videos with this update.

Yeah, I'm still keeping it for preloaded videos. But as Microsoftjunkie pointed out, now you can save videos with the new app.

Save video in music n video hub?

Why announce this? The devs that filled the gaps...for FREE...shouldn't get publicly dissed because you've moved on. I give a LOT of respect to 4th & Mayor for giving us a top shelf app when FourSquare couldn't care less.

No one is publicly dissing anyone. 4th and mayor is a great app and it filled the gap well. The dev has my respect.

You cannot say that foursquare couldn't care lass. What you people seem to forget is that the SDK came out veyr late. It takes about 6-8 months to get a proper app working. Surely foursquare did not start working on this app last month. It has been under the works for some while.

This is why we are seeing an influx of apps around this time. (6-8 months after the sdk was released)

Still prefer 4th for pinning quick check-ins.

The app tile isn't the same as my accent colour of choice and there's no dark mode.
Keeps 4th & Mayor. Uses Foursquare official only as a back up app.

This link is taking me to an old version, last updated in October...I'll check back later.

I wonder why the store has been slow lately.

No love for Windows Phone 7.x users...

Foursquare Labs said a new similar version is coming soon for them too.

Mentioned in the story that its coming to WP7 later. Do people not read the articles at all?

You didn't even bother to read past the headline, did you.

it is coming in few weeks..

The new app is still to go up on Mexico, but I'm eagerly awaiting it. In the meantime you can download the new YouTube app, which is awesome too.

Gracias por la info amigo, la bajaré de inmediato :D

It's already live on the store. I just installed it.

Ya está disponible en la tienda. Acabo de instalarla.

There is an update for the MS Youtube App. Which was done today, also.

That's already been pointed out...

Is it an update or a new app?

Well when I installed it, I had two Foursquare apps and had to uninstall the old one.

Ok, I have to ask. What's the attraction of Foursquare?

I guess it's the appeal of getting deals and being able to tell people where you're at...

I've met 3 people (strangers) who checked in at same place as me on different occasions and now we are friends who go camping and gigs together.

Awesome feedback! Good stuff

Not much, since everyone is talking about YouTube.

I'm curious, is this new app missing the ability to automatically share your check in with Facebook and Twitter? I see that you can manually share it by hitting the share button, but the auto feature seems to be gone?

I noticed that too. May be something they'll add in the future.

Nice overhaul. Now I feel like using it. The old one was just horrible.

I can't say it was horrible, but the one feature I didn't quite understand was that I wasn't able to read or comment back on likes and comments my friends made. I would have to go directly to.the webpage to read and reply for any comments.

Would it have been that hard to make a Facebook app tailored for the WP UI, as this one is, and still keep the identity. That's still a joke.

People bitched WAY too much about that though; started to attribute Metro to slow.

Not true! Metro is right when you unlock that screen. Its in the OS and no WP isn't slow at all! Put a quad core and you would cut your fingers with screen transitions!

The new Facebook app is very slow on mu Lumia 920. When I open the other two apps, it works way faster.

The redesign is just gorgeous, simply amazing !!
We use to have two official Foursquare Apps in the Windows Store, one publish from Foursquare themselves and one published from Nokia. When they announced the exclusive Foursquare features for the Lumia devices back in January, along with the new App, I was more than sure that we will still have two separate Apps, one again publish by Nokia for Nokia devices.

It looks like this is not the case and we will now have only one App in the Store, publish by Foursquare only and will "unlock" extra capabilities when it gets install on a Nokia Lumia smartphones. At least this is what the situation currently looks like. Can we get a confirmation?

Confirmation--Liz @ Nokia. Foursquare published app will also soon post in Nokia Collection. (same app in both location) Cheers-


I hope that will come Youtube update for Window Phone 7.x too

The blog says it will be coming for WP7.5 soon.

You don't read so well, huh?

But is it better than 4th and Mayor?

Why don't you see for yourself...

I have 7.8 :( But I am a big fan of 4th and Mayor so it was a valid question I think.

I think so but its all up to your opinion

Yesss been waiting for this one for awhile. If really good it's replacing both the old official app and 4th&mayor..

There goes my 4th and the mayor! *uninstall*

Can someone explain to me why this didn't overwrite the old foursquare i have installed in my phone?

other than that well i love the new UI and i am still gonna explore this one. 4th and Mayor still stays however. until i get comfortable with the new foursquare

This is an update to the official one published by Foursquare, Inc. If you installed the one in the Nokia collection, it will not update that one as I believe Nokia removed it now with this official release.

Ok, that makes sense. I was wondering why it didn't override the existing one. Thanks for the heads up!

Wow, vast improvement in the performance of the app. Light years ahead of the old version. Things are looking up on the app front!

See, you can still deliver a consistent UX and NOT giving up on the Metro UI panamora and pivot features! Are you listening Microsoft?

It's interesting you link the pivot control with metro ui. There is no pivot control in Windows 8.

I'm talking about Windows Phone specifically. Modern UI has its own implementation for each device (Windows 8, Windows Phone, Xbox, web), at least that is how Microsoft has delivered it to us for the past years.

Didn't MS and Nokia as well as Foursquare tag along in developing this app??

Wow foursquare is very nice. Having issues uploading photos though

so are we ahead of iOS and android with foursquare?

Beauty wise? Oh yeah, always ahead ;)

Can't wait to see how this compares with 4th and Mayor.

I'm going to hold out for fivesquare

Nice update. High quality design!!!

The app is amazing. However, I found a very annoying bug where it's not possible to upload pictures at the moment. Other than that, it's one of the most beautiful WP apps out there. In terms of app quality, the iOS and Android version simply fail to keep up. And not only with Foursquare I might add.

all these new apps and updates sets us up for the main event!
instagram!!!!!

Have you noticed Ms. Alba is posting to instagram a lot where in the past she used twitter to post pics much more, I bet she's testing instagram for wp8

Anyone else having the issue with notifications not being marked as "read" or friends not being "accepted" until you restart the app? Same with liking and unliking venues; they dont show up as such unless you restart. I've tried uninstalling and reinstalling but no dice.

Is it better than 4th and mayor?

download for yourself try it out for an hour or so.
I actually just removed 4th an Mayor

I cant believe I actually uninstalled 4th & Mayor for the 1st time. Very well put together

Still not a patch on the 4th & Mayor app

Where is the option to send feedback?! live tiles don't work, toast notifications don't work. some people can't even sign in!
APP is beautiful though

Nvm. found it. hidden under "submit a request" -_-

Either I'm not seeing it or it doesn't exist, but is this update really lacking the event check-ins? That was the one thing I was mainly looking forward to; the ability to check into concerts and actual movies. Anyone else notice this missing option?

Other than that I absolutely love the look and feel of the app. My most-anticipated since they first leaked those initial videos.

Anyone else having problems with notifications?

I'm not receiving any :S

I can't figure out how to tag friends who are with me as you can do on the IOS version.

It is basically the same as before but with a new skin.

Was hoping for this feature too, same as Facebook app can't just type someone's name in status/conment to tag them, hope this feature gets added

Unable to sign in using my fb ID. Keeps asking for the day i was born.

Does anyone have a link to where you can download the previous version? I would greatly appreciate it. Can't stand this new version at all. And they got rid of the "x days until you are mayor" which I really liked.