FOX Sports app now available for Windows Phone, never miss a game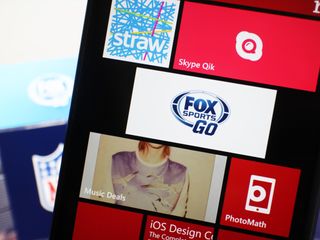 FOX Sports GO is now available for Windows Phone. The FOX Sports GO app for Windows Phone went under our radar when it quietly appeared in the Windows Phone Store last week. It's been available on Windows 8.1 since earlier this year, although that version suffers from horrible user reviews. Let's see how the Windows Phone version stacks up.
The FOX Sports GO app in the Windows Phone Store is the initial version and so far has solid reviews. The app gives you access to numerous sports and sporting events available on the FOX Sports networks. Here's a list of some of the sports you can look forward to watching with this app:
MLB on FOX
NBA
NASCAR
UFC
College Football
College Hoops
UEFA Champions League Soccer
Look forward to the ability to also stream FOX Sports Live, The Ultimate Fighter, NASCAR Race Hub and Crowd Goes Wild. You'll need to sign in with your cable provider login info. And depending on your cable provider, you may have access to FOX Sports, FOX Sports 1, FOX Sports 2, your regional FOX Sports network, FOX College Sports and FOX Deportes.
NFL games can't be streamed through the Windows Phone app, but can be streamed through the Windows 8.1 version. This is due to licensing agreements with the NFL.
Anyone looking forward to FOX Sports on their Windows Phone?
Eufa champions league? Really? Is it free?

Awesome! Now bring on WatchESPN!

Anything ESPN would be nice. Unfortunately it looks like they abandoned windows phone. The scorecenter and fantasy football apps both had major updates on IOS and android but windows was left out

Nope, depends on your cable subscription

You mean UEFA Champions League :)

Thank you for pointing that out. What's your favourite club?

I'm a, ahem LIVERPOOL, ahem fan. How you doing! (a la Joey Turbioni), lol.

It's good to see more official apps coming to WP, but wait we have alot of I unupdated apps!!!

No NFL? Aww man... But either way...WatchESPN please.

So we've Sky Go in Italy and Fox Sports Go in the US now. Come on UK Sky pull your finger out and sort Sky Go here please!!

Does it have a working live tile with scores? I've been waiting 5 years for a WP sports app to have a consistenly working live tile that displays live game scores.

Looks like i'm waiting a little bit longer. After downloading the app it seems to be only for watching live sports. Why not make a full-featured app that includes the ability to watch live sports and scores...?

+1020 !!! Seriously! Live Tiles were seemingly invented specifically for sports apps...and none of them seem to work well; especially none of the big ones: MSN, MLB At Bat, ESPN, etc...! FWIW I've had a decent experience with Baseball Pro '13 and '14, and their Live Tile score experience. Can any of the developers on here explain if there is a technical reason why we don't have better sports score Live Tiles? Is it even possible to have a real-time in game score on a Live Tile?

Another day, another new app, and another reason to regret my decision to buy Directv. Once again, DirecTV doesn't support this stuff. No soup for you.

+1520 I am beginning to think I'll just take whatever ETF DirecTV wants to give me and switch to Dish or something. DirecTV doesn't support any of these streaming apps. And don't even get me started on the PAC-12 network. F U DirecTV.

Getting a network error when running the app on my Icon. Already uninstalled and rebooted. Anybody else having this issue?

Like many other apps, have been waiting for this one to get to the Windows platform. In order to watch games on order to watch games using this app you must authenticate through your cable provider. For comparison, I tried streaming the same game on my Nokia Icon and on an HTC One M8 (Android) at the same time. The Windows Phone was able to process the images quicker (8-10 seconds faster) then the Android, but there was a noticeable difference in video quality. The Windows was more grainy while the HTC was very clear and crisp. Both cameras share the same 1920x1080 resolution, too...Slowly bridging that app gap.

No FIOS. So, I'll stick with my current setup: PlayOn.tv server running on desktop, wiht "VIPBox2" plugin PlayOn app on windows Phone

And it's an WP8.1 app. Since VZW can't pull their testers away from the next Droid version to finalize the Cyan/WP8.1 update, it looks like I'll get it when it stops raining in Oregon.

Brent, seriously, sign up for the Developer Preview program. You'll be amazed how much improved with 8.1 and its subsequent updates. Cortana, notification center and quick configuration, live folders... seriously, no regrets (except maybe you'll regret not jumping in 6 months ago once you see what you've been missing)

This is fantastic news, especially now that FOX will be carrying all of the soccer that ESPN has been carrying. This includes the FIFA Women's World Cup and other CONCACAF games. That said, I *personally* have almost no use for ESPN anymore. :-)

This is awesome! Now I just need to get the hd-10 for screen sharing to put this on my other TV. Does anyone know where I can buy that?

Trying to use it to watch the world series but it fails every time to load the video. So frustrating!

No foxtel support for us in Australia :(
Windows Central Newsletter
Get the best of Windows Central in in your inbox, every day!
Thank you for signing up to Windows Central. You will receive a verification email shortly.
There was a problem. Please refresh the page and try again.