Frankencircus, a bizarre Windows Phone endless runner game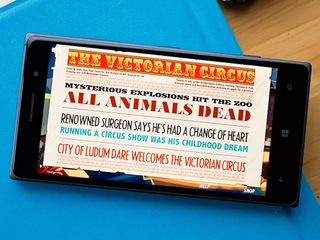 Frankencircus is a relatively new Windows Phone endless runner game that takes on the gaming genre in a slightly bizarre and unique manner. The back-story for the game is that an explosion rocks the local zoo and animal parts are at a market low. This opens the door for a local surgeon to fulfill his childhood dream of running a circus. The result is a bit of a freak show with different animals (and clowns) parts being combined for big tent shows.
Available for low-memory Windows Phones, Frankencircus has decent graphics, challenging game play, and thirty levels of play. Frankencircus has potential of being a nice time waster of a Windows Phone game but is held back slightly by an odd menu layout and confusing game play.
When you first launch Frankencircus, you are greeted with a Circus flyer or playbill that outlines the game's back-story. Tap this graphic and another playbill that outlines how to play Frankencircus will replace the opening playbill. One more tap and you finally reach the main menu for the game.
The main menu will have sound/music controls in the upper left corner of the screen and your animal creation station taking up the right half of the screen. If you need to refresh your memory on how to play the game, a help button is at the bottom of the main menu. You also have a Store button where you can pick up extra gaming coins through in-app purchase.
You have an assortment of front and back halves of animals to use in building your creature. You begin with a Zebra back end and a Rhinoceros front end. Tap on these halves and they will be highlighted on the creature creator. Tap the red lever on the right side of the creator and your creature is created.
Not only does Frankencircus offers unique endless runner characters, how they run is a bit unique for the gaming genre. Once created, your creature is not tasked with running down an endless path but instead is sent to a conveyor belt where they have to avoid a series of obstacles.
The game screen has your creature's health and coin count in the upper right corner with your movement controls in the bottom corners of the screen. A jump button is in the left and a dash button is in the right corners. As obstacles approach your creature on the conveyor belt, you will need to jump over them or bash through them. Coins will appear randomly that can be collected and used to buy additional animal parts.
You avoid obstacles and collected coins in Acts that last a few seconds. In between Acts you can spend your coins to buy new animal parts that can be used when your current creature is destroyed, essentially extending your game play.
Game play is a little confusing. The conveyor belt runs at a slight angle, which makes it a little difficult to time your jumps. Also, according to the Help Screen, "Walls and Stools can be destroyed or avoided". However, there were times I could bust through these walls without losing any health and times when the slightest contact with a wall sucked the health out of my creature. It felt as though there was a lack of consistency in applying the game rules.
When your creature meet its fate on the conveyor belt, you will be given the opportunity to re-create your creature with any animal parts purchased in between Acts. Any animal parts lost in the game (except the zebra back and rhino head) will have to be re-purchased. Any parts not used to continue game play will be available at the start of a new game. There is no scoring with Frankencircus.
Overall Impression
Frankencircus isn't a terrible Windows Phone game but needs a little fine-tuning and clarification on game play. Mainly deciding if your creature can bash through the walls without injury or should jump over them to avoid harm. I also wouldn't mind seeing the various body parts you purchase available throughout the game when purchased and the game's graphics enlarged. Graphics are nice but because everything is drawn up so tiny, you lose a lot of the detail these unique creatures possess. Maybe cut out the creature creator machine from the game screen to give the conveyor belt room to grow.
Again, overall Frankencircus is a Windows Phone game with potential but as is, the game is a bit of a head scratcher. I liked the concept but the execution needs a little work. Early on Frankencircus has a 5 Star rating, but with only one review, in the Windows Phone Store. As is, we would put the game in the 3-3.5 Star range and with that fine-tuning, Frankencircus could be a solid 4-4.5 Star type game.
Windows Central Newsletter
Get the best of Windows Central in in your inbox, every day!
George is the Reviews Editor at Windows Central, concentrating on Windows 10 PC and Mobile apps. He's been a supporter of the platform since the days of Windows CE and uses his current Windows 10 Mobile phone daily to keep up with life and enjoy a game during down time.
The game is terrible... Yak...

Endless list of Endless runner games with ever expanding endless sameness :-(

No joke. It's like these people have skill enough to make a game but can't do anything but make runners. I'm a .NET programmer, but not of game development caliber. Sometimes I wish I could make a game just so I could add something different to the store. I have ideas but no way to implement them.

Write your idea to some game dev company... The will appreciate it....

Idk what is the logic behind reviewing a 3 star rated game?

HOLY SHIT I HAVEN'T SEEN AN ENDLESSSSSSSSSSSSSSSSSSSS RUNNER IN FORRRREEEVVVEEERRR

It is opening Victorian circus?

Does anyone want to know the real truth about why marijuana is illegal just watch this YouTube video and please share it with everyone http://m.youtube.com/watch?v=E96vow07OJc

Off topic, all wallpapers of start screen 8.1 app ( reviewed few days ago) are now free to download,earlier each wallpaper used to cost 1 dollar! Enjoy! Am sick of endless runners

If it wasn't for endless runners and weather apps WP store would have less than a 1000 apps and half of them would be in beta! Whilst most of the others would not have been updated since 2012

Like in the Google play store ... Millions of calculators, billions of adware apps , trillions of endless running apps ... And so on...

Reminds me of Charlie Hebdo.

Are there people running from pigs and their sweet decadence? Mmmmmm.....bacon.

Is bacon really that worth it?
Or is it just over rated like oreos?
Plz I need to know

Bacon is amazing :) But not healthy, if you eat a lot of it ;)

so this game was made for Ludum dare... very creative tough...

There's some problem..the link goes to an app named Victoria Circus,with a unity thumbnail and shows "Development Build" ath the right bottom.Oh,the game isn't playable too,as it is in a zoomed in state and nothing works
Edit:- Now the app updated and the name is now correct,Frankencircus... But it still isn't playable

So much madness in here. Happy Friday everyone!

These games make me run endlessly away from the wp store
Windows Central Newsletter
Thank you for signing up to Windows Central. You will receive a verification email shortly.
There was a problem. Please refresh the page and try again.