Freda+ eBook Reader comes in as this week's myAppFree Deal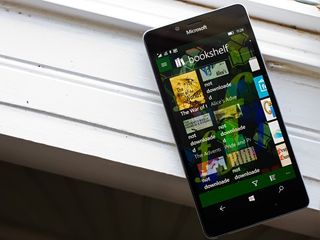 Freda+ eBook Reader is an electronic book reader that is available for both Windows PC and Phones. The app is customizable and supports a broad range of file formats, font and color choices and has integration with OneDrive, Dropbox or Calibre.
The ebook reader normally runs $0.99 in the Stores, but over the next twenty-four hours through the myAppFree campaign, you can pick up Freda+ eBook Reader free. If you have been searching for an ebook reader for your Windows 10 PC, tablet or phone now is a good opportunity to give Freda+ a try and save a little along the way.
Freda+ eBook Reader is laid out in simple fashion with main pages highlighting your bookshelf, a listing of ebook sources and the book you are currently reading. A menu rests in the upper left corner of the screen with navigational options to jump to the main pages, email the developer for support or feedback, access the app's settings, back-up or restore your library and view hints on using the app.
Key features of Freda+ eBook Reader include:
Support for EPUB (DRM-free), FB2, HTML and TXT formatted publications
Customizable fonts, colors, line spacing, word spacing, columns, margins and more.
Customizable controls
Password protection
Text-to-Speech reading
Freda+ eBook Reader can pull books from online catalogs such as Feedbooks, Smashwords, the Gutenberg Project and more. You also have the option to pull books from an existing book collections stored on your OneDrive, Dropbox or Calibre accounts. There is also support for downloads from any website or email attachments.
Freda+ eBook Reader is normally priced at $0.99 and is available for both Windows PC and Phones. Through the myAppFree promotion, you can pick up Freda+ eBook Reader free over the next twenty-four hours. The app comes across as a simple, straightforward, nicely featured ebook reader.
Please note that it may take some time for the deal to appear in all the global markets and the myAppFree app due to time zone differences. At posting, the deal is live in the U.S. market.
Download Freda+ eBook Reader for Windows PC and Phones (opens in new tab)
myAppFree
Windows Central is proud to be partnering up with myAppFree to bring you savings on Windows Phone apps and games. myAppFree is a free Windows Phone app and service that highlights special deals for software in the Windows Phone and Windows Stores. Make sure you download their app to keep track of all the specials they run weekly, as you'll never know what you may find.
Windows Central will continue to highlight select Windows Phone and Windows 8 titles from myAppFree on a regular basis as a benefit to the Windows Central community. Many of these deals will be for universal apps so you'll double your savings.
George is the Reviews Editor at Windows Central, concentrating on Windows 10 PC and Mobile apps. He's been a supporter of the platform since the days of Windows CE and uses his current Windows 10 Mobile phone daily to keep up with life and enjoy a game during down time.
Didn't know they updated it for W10. Neat!

I prefer BookViser Premium.

I like Google Play Books but that isn't available Posted via the Windows Central Beta App for my Lumia 950 XL

I suppose you like Apple iTunes and that isn't available either.

Freda+ is cheaper (particularly for the next 24 hours!) and doesn't require sign-up to a special account. Also, it is a Universal app. (disclaimer: I am the app developer, so maybe I'm not an unbiassed witness). - Jim

Glad to see you popping in. I've been using Freda since WP7 and it's still one of the best readers available on the phone. Thanks for all the years of hard work and the awesome customizability of your reader.

Thank you for doing this promotion. I hope this means more attention to your future apps.

The App functionality is fine, my recommendation will be to work in the UI. Hope you will accept some honest feedback ;) PM if you would like to discuss further

I haven't used the app on W10m yet, but the UI on WP8 is quite nice. I think people maybe get turned off a bit by the busy background, and focus on that instead of the actual UI. Luckily, that can be turned off. Aside from that, Freda has a ridiculous number of configuration options. This is not a simple Kindle or Nook reader, where you get to choose from four fonts, six sizes, and "light" or "dark". You can have text or background any color of the rainbow, tens of fonts (every font available on your phone, pretty much), can adjust line sizes, word space, spacing between characters, etc. It can be overwhelming, and the defaults are not great IMHO (but that's coming from someone who is very particular about his ereader setup, and so my ideal configuration is probably not a good default for anybody but me), and the images in the store don't show off the app in its best light. But if you can dig in and wrap your head around it, I think you'll find the app is very powerful.

Thanks Jim. I'll give it a whirl.

Freda+ is best. by the way any news about dictionary integration? :)

I've made some progress in dictionary integration for the Universal app (i.e. for Windows 10 and Windows 10 mobile). With that version of the app, you can set it up so that it will launch PerfectDictionary to do lookup. I've got a bit more work to do to make this really smooth, but it does basically work. -Jim

Freda is simply the best. If only I could put it on the start screen. A transparent tile is missing, with a nicer symbol.

It's on the TO DO list, now I have figured out how app tiles work in Windows 10/Universal. And if you have a particular opinion about what the transparent tile should look like, do contact me with your ideas (jim@turnipsoft.co.uk) - Jim

Freda's been around longer, doesn't have the shady past of BookViser, and has much better book rendering even if the main app UI isn't quite as slick. And since the whole point of an ebook reader is to read books, page rendering trumps everything. Also, important to at least me, Freda supports digest auth-protected OPDS servers while Bookviser doesn't (unless they've changed that in the past year or so). I run an instance of COPS to expose my calibre library to the internet, but since I want it available only to me I protect it with digest auth. Any ebook reader needs to support at least that minimum functionality in order to be useful, and as far as I've found only Freda does that on WP8/W10m.

Can you elaborate on Bookviser's "shady past"? I'm currently using Bookviser Premium for reading e-books. So I'd like to know more.

When BookViser first launched they had exactly one way of getting books into the app, which was to upload them through the "BookViser Server". That was some random, unknown service sitting in Russia, not exactly something that inspires confidence. There was no Onedrive or Dropbox integration, no OPDS or direct HTTP download, no file extension registration (I won't hold this one against them, because I can't remember if they launched on WP7 where there were no file extension hooks, or WP8 where there was). Just that one sketchy service. I don't know that their server was doing anything illegal, and it probably wasn't, but it was also a little suspect that they wanted you to send all of your DRM-free books through their central server (so they could harvest them and then distribute or even sell them elsewhere). Freda from day one has supported OPDS functionality, and has never required you to create a Freda account or upload to a Freda server (in fact, there is no such thing as either of those).

I did until I tried Freda. Freda is honestly much nicer and a lot cheaper.

Try "Fiction Book Reader" also, it's a great app.

Offtopic i cannot buy apps from store everytime i get an error from theere side anyone know how to solve this ???

Did you try using wsreset.exe? (search for it on Google, or indeed Bing)

I can do that om mobile to ?

Ah - you didn't mention that you were on Mobile. I don't think wsreset is available on mobile. Sorry.

So il have to wait tillnit get fix dunno wath to do Posted via the Windows Central App for Android

Holly cow!!! I purchased it two years ago...I should have waited!!!! I own bunch of ebook reader... including bookviser and coffee cup (or something) keep switching as required...best companion while travelling and reading on my 1520

Or if you're prepared to see advertising on the initial screen, it's even cheaper than that (the Freda version of the app, without the +, is entirely free, and always will be) - Jim

Getting tired of this platform cant even download payd apps omg

What in the world are you talking about?

On the store its giving an error when i wat to buy an app

Bought it years ago. Like it a lot.

Does it sync your progress across multiple devices?

It can sync progress across instances of Freda on multiple devices via OneDrive syncing, yes. Unfortunately there's no standardized progress tracking that can sync across non-Freda apps or devices. That's a problem with the ebook ecosystem (it's something that should be in the epub spec), not with Freda.

The best one I've used for W10m so far.

This might be a foolish question but can this access online comic books? I have quite a few through Marvel.com

Some comic books are delivered as EPUB files. Freda can read those - though it might not be the best option, because it's not really designed for working with books that consist mainly of images. You might do better to use an app (like Manga7) that is specifically designed for reading comics. But if you do decide to give Freda a try, please send me some feedback (jim@turnipsoft.co.uk) about how well it works for you. Thanks, Jim.

Its not. You can customize the theme to your liking.

I thought this app would support .mobi files but it does not. Is it any app that support those files in Windows 10 mobile?

Get calibre and convert to epub. Mobi is a less-featured format (HTML3.2 vs. HTML4), and thus easily converts to epub with high quality.

Great! Thank you for the tip! I'm downloading it right now.

Thanks for the promotion, Jim. Great app. Been using Bookviser Premium and Fiction Book Reader of late but when it comes to customization, nothing beats Freda. I will keep using all three to support em devs :)

Hey, when are you guys going to upgrade your app to a Windows 10 Universal app and enable text scaling for high DPI displays? I'm using this on a 4K 55" screen and the text is ridiculously small. I can read it, but just barely. And I'm only about 7 feet away.

Been using this app since i got my lumia 920, a bit over 3 years now. Best ebook reader on WP

You could be interested to see "eBooks Reader" a great reader for Windows 10 Mobile in the style of Windows 10 Mobile !!!. Fantástico en 950XL click

I might be interested indeed - but what is your app's unique selling proposition? Why would I pay $2.99 for it, when Freda is free, and Bookviser supports a 'free trial' mode so that I can try it before paying? Honestly, I'm not trying to be obnoxious here, but have you decided what it is that makes your app special, and better than the competition? [BTW for Freda, my answer is "(1) it's customisable (2) it uses funky high-performance graphics for rendering books"]

Hlw myappfree deal give us moli player free for just one day

Is there any ereader app that works with onedrive? I have some of my books as epub files on onedrive, and was wondering if any app works with onedrive, so I dont have download them or lose my place.

Absolutely yes. Freda (and other apps such as Bookviser) do provide a file-browser screen to let you explore your OneDrive folders and find books to read. But these apps will always download the book onto your device (because otherwise the book would be unavailable any time you were disconnected from OneDrive).

Hopefully we get windows 10 version

It is a Windows 10 version already; it is there in the Store.

Freda is probably the best ebook reader app functionality-wise, but the UI is such an awful mess that I just can't bear to use it. I hope that's next on the dev's list of things to fix. Until then I think quite a few people will be turned off by it.

Honestly, I am not sure what you mean by 'awful mess'. The UI is customisable, to the extent that you can replace the background image with another image (or no image), and you can change the colour scheme to suit your personal preferences. And if you don't like the size of images or text, you can change them by changing the system text-size setting. So as the dev, I am not sure what more you need me to do (I could change the default appearance, but some people like it, and now they would be unhappy - better, I think, to make it customisable, which is what I have done).
But maybe you're more concerned about the UX than the UI? Perhaps some interactions are more cumbersome or confusing than you would like? (downloading a bunch of books, viewing and editing book metadata, changing program settings, opening and using the book-navigation controls ... ) . I am doing work on the UX at the moment, but the main challenge is that - Freda being a Universal app - it's tough to come up with designs that work acceptably on all platforms (mobile, tablet, desktop, ... ).
Please do feel free to come back to me with some specifics on what you'd like me to fix, and I will certainly add it to the list (contact me at jim@turnipsoft.co.uk) - Thanks, Jim

good You can open all styles of brand-new skills Kodi APK Download yourself why you 'd have to place in Kodi best.
Windows Central Newsletter
Thank you for signing up to Windows Central. You will receive a verification email shortly.
There was a problem. Please refresh the page and try again.