The full tour of the new Razer Blade Stealth 12.5-inch ultimate gaming Ultrabook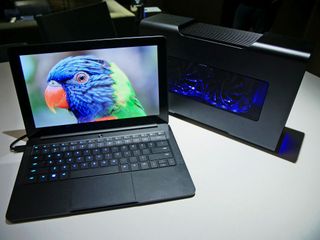 Here at CES 2016 there have been plenty of announcements for premium Ultrabooks. However, what has been neat is how every OEM has managed to not only create high-end hardware but devices that have unique traits and selling points as differentiators.
Razer just announced their new Blade Stealth Ultrabook, which features a 12.5-inch QHD or 4K display panel. I think Razer not only created an exciting laptop, but something that is just different than what HP, Dell, Acer, or others are doing. That variety is important, and I dare you to look at this laptop and not think it has a certain cool factor (even if it's not for you).
We spent some time with Kevin Sather, global director of marketing at Razer, who walks us through what makes the Blade Stealth unique.
Razer Blade Stealth
QHD (2560 x 1440) or 4K (3840 x 2160) resolution 12.5-inch IGZO touch display
128GB / 256GB / 512GB PCIe SSD options
Intel® Core™ i7-6500U Dual-Core Processor (2.5GHz / 3.1GHz)
Intel® HD Graphics 520
8GB Dual-Channel System Memory (LPDDR3-1866MHz)
Windows® 10 (64-bit)
Wireless-AC (802.11a/b/g/n/ac + Bluetooth® 4.1)
Thunderbolt™ 3 (USB-C)
USB 3.0 port x 2 (SuperSpeed)
Built-in webcam (2.0MP)
Chroma anti-ghosting keyboard with individually backlit keys
HDMI 1.4b audio and video output
Built-in stereo speakers
3.5mm headphone/microphone combo port
Built-in array microphone
Trusted Platform Module (TPM 2.0) security chip embedded
Compact 45W USB-C power adapter
45Wh rechargeable lithium-ion polymer battery
0.52 in. / 13.1 mm (Height) x 12.6 in. / 321 mm (Width) x 8.1 in. / 206 mm (Depth)
2.75 lbs. / 1.25 kg
The specs of the Blade Stealth fall in line with many Ultrabooks, but there are a few differences two:
Chroma anti-ghosting keyboard with individually backlit keys, which look fabulous
Low $999 starting price, which still features a Core i7 processor and QHD display
Razer is being aggressive in pricing with this laptop and offering many different skews. Even the "base" model still features a WQHD display and Core i7 processor. For a 12.5-inch device, those are impressive features to have in what is already a fantastic, metal laptop.
Of course, the Blade Stealth has a secret weapon up its sleeve in the form of Razer Core. The Blade Stealth is too thin and light to feature a dedicated GPU, so Razer is letting users add it via a separate station. The Razer Core allows you to swap in and out a single double-wide, full-length, PCI-Express x16 graphics card with just no tools. You connect the unit to the Blade Stealth via one cable through USB Type-C, which not only handles all the graphics but also powers the laptop.
Yes, folks, that Thunderbolt 3 40Gbps cable is one powerful tool.
This configuration to me was revealing: you can now have a laptop when out at work that transforms into a gaming rig when you return. Think of this as Continuum but with a laptop. On your desk, you could have some premium monitors, mouse and keyboard setup and your Blade Stealth as the rest. (Before you ask, the Razer Core only works with the Blade Stealth at this time because you need some fancy BIOS settings to be able to connect and hand-off the dGPU during this process; it's similar to how a Surface Book operates).
The downside is Razer Core is still a few months out. The reason is very likely due to Razer having to work with Nvidia and AMD on driver compatibility along with their own BIOS settings. Keep in mind that a lot of what is being done is still on the fringes of modern computing.
Putting aside the gaming value the Blade Stealth is just a fantastic looking machine with the chops. And that is what is cool about it as it's not only for gamers but for people who just want something a little different and with style. Toss in the Razer Core, however, and you just transformed the Blade Stealth into something else.
Razer will be selling the Blade Stealth through their website starting today as well as Microsoft Stores in the coming weeks. For those who like Microsoft's Signature Series, you'll be happy to learn to that Razer ships with such a barebones image of the OS Microsoft has to add some software before they sell it as a Signature device.
I think with the aggressive pricing, stylized design and unique positioning Razer has brought a compelling device to market. Frankly, I want one and I'm not even a hardcore gamer. The laptop is light, the build quality is excellent and let's face it,that glowing keyboard is whimsically cool.
Let us know what you think in the comments and whether you would want such a laptop.
Windows Central Newsletter
Get the best of Windows Central in in your inbox, every day!
Daniel Rubino is the Editor-in-chief of Windows Central, head reviewer, podcast co-host, and analyst. He has been covering Microsoft since 2007 when this site was called WMExperts (and later Windows Phone Central). His interests include Windows, laptops, next-gen computing, and for some reason, watches. Before all this tech stuff, he worked on a Ph.D. in linguistics, watched people sleep (for medical purposes!), and ran the projectors at movie theaters because it was fun.
Does it have precision touchpad? I am just a casual gamer (SC2, Diablo 3 and some other small games) but this ultrabook looks like a fine ultrabook for regular people as well. I just want to know if it has precision touchpad.

I wonder how they achieved 100% Adobe RGB, even Macbook Pros have about %65 Adobe RGB and iMacs have about %75 Adobe RGB. Is it marketing blather?

Dell's 4Ks also have 100% Adobe RGB.

Just because Apple uses words like incredible, extraordinary, breath taking, doesn't mean it's actually true. At work we have only Macs :( and I have to say the displays are not that good. They do not set the benchmark for anything...

Yeah right. Ain't no Apple fanboy but credit needs to be given where it's due. Apple's iMac displays definitely set the benchmark for the price it is being offered for. Don't hate just because you have to.

Apple is marketing blather, even xps 15 is 100% adobe RGB, stop drinking the apple kool aid and see the light.

Completely off topic: That snake freaks me the hell out! O.o

Totally agree. Looks menacing.

I like it. It's green and nicely coiled.

Looks like my dream laptop.

Daniel, any idea if the Razer logo on front is also RGB? The thing holding me back from previous Razer Blades is the green styling...the RGB keyboard is a great step but if you're stuck with the bright green logo it might make it moot for me.

Why aren't Dell coming to the party this time around?

And back goes my Surface Pro 4 -i7, unless Microsoft partners with Razor to release the Core Dock for the latest Surfaces; rumor has it the Surface Pro 4 and Surface Book's proprietary port is really Thunderbolt 3 in disguise, plus the Surface Book already does this trick, kinda.

I thought Paul Thurrott revealed the Surface port was in fact only USB3 in disguise, being rather disappointing. I'd buy a SP4 right now if it had USB-C and TB3 for future. No sense spending £1200 on a 3-5 year device if I'm only going to want a new one next year.

I recall the mention of PCI Express hence why the Surface Book pulls off having the dGPU in the base. Can you recall the link? I'm literally holding on to this POS till Patch Tuesday and any inkling that they plan do do more with the surface port.

If it's supposed to be a gaming laptop, shouldn't it at least have a quad core CPU. I mean quad core was a requirement for Far Cry 4.

It is a quad core cpu. It has multi threating ;)

That's what I was thinking. Processor is going to be the bottleneck of this laptop

No not really. That processor is freaking powerful. Only because its not a quad core, doesn't mean it can't handle ****. You can play witcher 3 in 1080p easily on high setting with a i3 ;) also once again that cpu jas multi threating meaning it has 2 physical cores and 4 virtual, meaning technically that is a quadcore processor

If you look at the full picture though. While you can do great gaming on a core i3. Say if you have a gtx 980ti a core i3 aint gonna get you 80 fps on crysis 3 at 4k. Just admit it there are benchmarks on youtube with a 980ti with GREAT performance but using a 5960x

This is an ultrabook. It has options for the best available ultrabook processors. There are no high-end ultrabook processors AFAIK, and if you own a 980TI or Titan or something ridiculous like this, you're probably not interested in plugging it in to your notebook. This is a compromise device, and it's probably mainly aimed at folks willing to compromise.

I mean, AMD is getting better now sooooo yea

This is an amazing offering from Razer. Doubt if this will come to India and even if it does, would be quite expensive.

Now I have a tough decision. I want a Surface Pro but I can't get these specs at this price with MS. And the new Fitbit looks great too.

I'm confused, I thought thunderbolt 3 was it's own connection, I didn't realise it could utilise the usb type-c configuration. Although I guess in the end everything is just pins and wires so it makes sense.

Thunderbolt 3 is it's own thing, but they made it use the shape of USB-C In the same way that it was previously a mini Displayport port Posted via the Windows Central App for Android

No, it's not just in the shape. It's fully USB-C 3.1 compatible AND Display Port. Intel was able to merge the 3 into a single port so any of the 3 will work in this port. Intel announced this with the press release of Thunderbolt 3 a few months back that this was the direction they were going with Thunderbolt to help adoption. Basically, when on the road, you can plug in a USB-C device or AC adaptor to charge your laptop, but when you get home you can plug in a Thunderbolt Dock like Razer Core, to get max benefit. This greatly minimizes the amount of space required for ports on devices with precious little space to work with from the start. 4 in 1 (TB3, USB-C, Display port, Charging port) ports like this are definitely the direction we're going.

It's amazing how nature do that.

I wish it was bigger (15 inches is my sweetspot) but it's interesting.

Doesn't Alienware offer an external GPU box (eGPU) to use with it's gaming laptops? I'm glad someone else jumped on board with the idea.

Yes they do. The differentiator is that this is thin. I'd imagine alienware will be getting a make over...

Alienware and MSI both do. Alienware's laptop is still a thick heavy gaming laptop. MSI'S is a thinner but larger screened one and the docking solution isn't as fluid or compact. Posted via the Windows Central App for Android

(MSI Shadow) http://goo.gl/zRjZ27 (Alienware Graphics Amplifier, the page lists the laptops it works with) http://goo.gl/tZB8pq Posted via the Windows Central App for Android

Atleast both the Alienware and MSI solutions actually have discret GPUs so that they can actually be used for gaming without the add on. This thing isn't a gaming laptop at all. Just an ultrabook that can be upgraded to one for a cost.

Also the aforementioned laptops have full bore quad core cpus, not ultra book dual core- quad hyper threading. Those will be better all round for gaming and have ddr4 ram - the razor isn't in the same league, but then it's not trying to be. It's an ultra book first and foremost, better battery life and mobility etc. Hopefully these don't heat up like the razer blades do.

The laptop alone on the MSI Shadow only has Intel integrated graphics. Posted via the Windows Central App for Android

This notebook is an ultrabook, it's meant to be thin, light, and have long battery life. If it was an inch thick, weighed four pounds, and did three hours on battery due to a dGPU, then it wouldn't really be an ultrabook, right? So yeah, if you don't want an ultrabook, then this probably isn't the ultrabook you should buy. However, for folks who want an ultrabook, this is one so it could be just the thing.

So without the Razer core this isn't a gaming laptop at all. smdh

They never called it a gaming laptop, just an ultimate ultrabook.

Hey, is it possible to run DDR4 rams?

Doesn't look like it. Which is odd.

Will this be able to power 2 4K external displays just like the Surface Pro 4? That makes so much sense with the Razer Core.

I have the Razer Blade 14" 2014 edition, and it absolutelt the worst high end piece of tech I've ever spent money on. They all have a major flow in design as the body literally becomes a frying pan and then shuts down. I swear you can get a slight burn if you keep touching the hot parts. Since then I've sent it twice to the manufacturer, and everytime they claim to have fixed it. Only to find myself frustrated again from it rebooting everytime I play a not so demanding game (Dota 2). Worst $2500 I ever spent for a device that can't do the bare minimum of what it claims it can (i.e.play video games). I'd think 500 time if I were you before commiting to spending this amount of money on a Razer Blade, because although as good as Razer's Peripherals are, their core machines are known to be full of design flaw.

I like this idea, although I'm really hoping for a high end mobile GPU solution that hooks up via Thunderbolt. I'd love extra HP without the massive desk space needed to host a full size GPU card. It will be interesting to see if this solution really takes off though. I have to ask myself, why would I spend another (likely) 500-600 bucks for a Razer "Core" + GPU when I could get both a PS4 and Xbox One for that price? I realize a 970 or higher is significantly more power - that's not the point though. Not too many games are pressing this hardware without simply playing resolution games (4k!). If they can be aggressive and hit a 300-400 price point including a GPU (960 4GB or better) perhaps I'll pick it up! Well that and if it can work with other TB3 devices like my XPS15.

I love this idea personally. I have an alternate with the dock peripheral and an msi titan and love the flexibility of a lighter device that can effectively get powered up.

Its litterally a slot, power supply and usb/ethernet hub...any more than $150 and theyre idiots. How are they even accepting pre-orders without the make-or-break peripheral's price!? Please Microsoft, if youre reading this, cut the price on the Surface Dock to $99 and build a new one like this...heck, throw 2 soldered Mobile 980 in a box the size (and weight, thingz a brick) of the current Surface dock and sell it for 200!

I love my Razer 17" getting on four year old now and still turns heads and beats anything that isnt built like a paving slab or looks like a spaceship. None the less it is not really a hump about with you laptop and i never fancied the 14" thought it was a bridge to far with heat dissipation. Now this looks like the answer for all men, my gaming rigs mobo is on its last legs and i,m looking at a $1200 bill for mobo memory processor combo. Hoping that I can use my old GFX card in the core, recycle its ssd into an enclosure and thats my large gaming tower gone with the benefit of also having a very usable day to day lappy. Hope they are going to have the UK keyboard like the recent 14" addition. The Home Hot Desk is the future...

Anyone know whether the Blade Stealth camera supports Windows Hello?

I've been trying to find out too. I can't find any information that show it has Windows Hello support.

No windows hello support unfortunately. I wanna return mine and get a SP4.... i dont trust razer as a brand, exchanged mine 5 or 6 times for defects. annoying as hell.

If I get this and shove either a GTX 1080 or 1070 can I run 3 external monitors plus the laptop?
Windows Central Newsletter
Thank you for signing up to Windows Central. You will receive a verification email shortly.
There was a problem. Please refresh the page and try again.