The new Razer Blade Stealth makes a claim to the 'ultimate Ultrabook' throne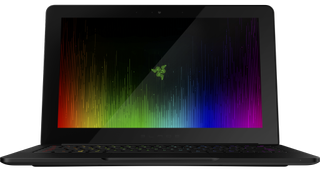 The Razer Blade Stealth ultrabook isn't messing around. The original model was already one of the best laptops money could buy and that's not changing a lot with the launch of the new one at CES 2016. The Razer Blade Stealth is slim, light, packs the latest Intel Core i7 CPU and an optional 4K 3840x2160 resolution 12.5-inch touch display.
On paper at least, it sure does sound like it could well be the "ultimate Ultrabook."
Razer is also launching the Stealth with what they're billing as an innovative direct-to-consumer business model, which it says allows it to sell the laptop with premium configurations at a lower price compared to other, competing brands.
So, what exactly do you get in the ultimate Ultrabook? Here's a quick run down of the major hardware specs:
QHD (2560 x 1440) or 4K (3840 x 2160) resolution 12.5-inch IGZO touch display
128GB / 256GB / 512GB PCIe SSD options
Intel® Core™ i7-6500U Dual-Core Processor (2.5GHz / 3.1GHz)
Intel® HD Graphics 520
8GB Dual-Channel System Memory (LPDDR3-1866MHz)
Windows® 10 (64-bit)
Wireless-AC (802.11a/b/g/n/ac + Bluetooth® 4.1)
Thunderbolt™ 3 (USB-C)
USB 3.0 port x 2 (SuperSpeed)
Built-in webcam (2.0MP)
Chroma anti-ghosting keyboard with individually backlit keys
HDMI 1.4b audio and video output
Built-in stereo speakers
3.5mm headphone/microphone combo port
Built-in array microphone
Trusted Platform Module (TPM 2.0) security chip embedded
Compact 45W USB-C power adapter
45Wh rechargeable lithium-ion polymer battery
0.52 in. / 13.1 mm (Height) x 12.6 in. / 321 mm (Width) x 8.1 in. / 206 mm (Depth)
2.75 lbs. / 1.25 kg
One thing that seems to be missing, especially given Razer's gaming history, is a dedicated GPU, with the specs sheet so far limiting to just the on-board Intel HD 520 graphics. The Stealth launches alongside the Razer Core, an optional accessory that allows you to connect desktop graphics cards to your Razer Blade Stealth using that Thunderbolt 3 port for maximum graphics performance. Check out our roundup of the best graphics cards for hardware that works with the Razer Core.
Bring desktop graphics power to your laptop over Thunderbolt with the Razer Core
So, then, you're interested. But what about pricing and availability? The Razer Blade Stealth can be pre-ordered today directly from Razer with prices starting at $999. The highest-end model will set you back $1,599 and it'll be shipping in January. From February the Stealth will be making its way to the Microsoft Store.
Press Release:
Razer launches the ultimate ultrabook: ultra-portability, maximum performance and unbeatable value
Razer plans to disrupt the PC industry by offering a new direct-to-consumer laptop model where the Razer Blade Stealth will be sold with premium configurations at a lower price points than competitors
LAS VEGAS (International CES 2016) – Razer™, a world leader in connected devices and software for gamers, today announced the ultimate Ultrabook™, the Razer Blade Stealth. Featuring an incredibly sleek form factor, the latest Intel Core i7 processor and a stunning 4K display, the ultra-thin notebook also gives gamers the option of unprecedented desktop-level gaming performance with the help of the Razer Core.
Razer is also planning on disrupting the entire PC industry with an innovative new direct-to-consumer model that allows the new Razer Blade Stealth to be sold with premium configurations, but at a lower price point relative to the competition.
The Razer Blade Stealth measures 0.52 inches thin and weighs just 2.75 pounds. Razer's latest chassis is CNC-milled out of aircraft grade aluminum, providing a sleek yet solid design. Its 12.5-in. touch display comes in two resolutions: an Ultra HD variant with an eye-dazzling 4K (3840 x 2160) resolution and 100% coverage of the Adobe RGB color space, and a Quad HD (2560 x 1440) resolution version. Both displays are touch-enabled and feature wide viewing angles and high-color saturation to display content with stunning clarity and accuracy.
To power both models, Razer's award-winning design team equipped the Razer Blade Stealth with the latest 6th generation Intel® Core™ i7 processor. PCIe SSD technology offers up to three times faster speeds than traditional solid state drives. All models will feature 8GB of dual-channel system memory, providing a combination of components that offer high performance in an extremely portable form factor.
Razer will be pioneering a new disruptive direct to consumer model that will ship the Razer Blade Stealth with premium configurations but at a lower price to the competition. The base model of the Razer Blade Stealth will start at $999, while the highest-end version will sell for $1,599. With the new direct-to-consumer model, the Razer Blade Stealth is priced significantly less than comparable systems offered from other manufacturers. Available through Razer's physical and online stores, pre-orders are open now and units will ship in January. In February, the Razer Blade Stealth availability will be expanded to Microsoft Stores.
The Razer Blade Stealth's hardcore gaming chops are unlocked via the plug-and-play external desktop graphics enclosure, the Razer Core. A single Thunderbolt™ 3 (USB-C) cable supplies both data and power and is all it takes to connect Razer's Ultrabook with the Razer Core. The device can accommodate virtually every popular desktop graphics card from both AMD® and NVIDIA®. Physical installation of GPUs takes seconds with the Razer Core—its durable aluminum housing slides open effortlessly and a single screw can secure the graphics card in place. Razer's solution helps future-proof systems, as graphics cards are easily swappable as new components become available.
Bringing desktop-level graphics and 4K external display output to an Ultrabook is only part of the latest systems solution from Razer. The Razer Core contains four additional USB 3.0 ports and Ethernet connectivity. Plug-and-play support with validated graphics cards allows for quick connections without the need to reboot the PC. It is now easier than ever to transform a thin and light notebook into a desktop experience.
"Before today, gamers needed a portable system for everyday work and a separate desktop computer to power their PC games at the highest level possible," says Min-Liang Tan, Razer co-founder and CEO. "For the first time ever, there is no need for two separate systems. The Razer Blade Stealth offers the portability of an Ultrabook with the scalability to play hardcore games with desktop graphics performance thanks to the Razer Core. Furthermore, the Razer Blade Stealth starts at just $999 –which is significantly lower than any other comparable laptop in its class."
In addition, the Razer Blade Stealth will be the first laptop in the world equipped with individually backlit RGB keys. Millions of color options for the keyboard are available thanks to Razer's Chroma technology. All Razer Chroma products – which include mice, keyboards, headsets and a mouse mat – feature 16.8 million customizable colors and a range of effects such as spectrum cycling, breathing, reactive and more, enabled through Razer's Synapse software. Synapse allows synchronizing lighting colors and patterns between Chroma devices with the click of a button. An SDK is available for developers to integrate effects in-game, and it is already supported by AAA game titles including Call of Duty® and Overwatch™.
The Razer Blade Stealth joins the Company's storied line of systems products. The 14-inch Razer Blade and 17-inch Razer Blade Pro set the industry benchmark for power and portability, redefining what a gaming laptop could be. At past Consumer Electronics shows, Razer won official "Best of CES" awards with the Razer Switchblade, Project Fiona and Project Christine concepts. The Razer Edge tablet won the CES "Best of Show" in 2013, besting a field of more than 20,000 electronic devices at the world's most prestigious tech tradeshow.
To find out more about the Razer Blade Stealth and the Razer Core, visit http://rzr.to/blade-stealth.
Availability:
Razer Store and Razerstore.com: Razer Blade Stealth on-sale now, shipping January 2016; Razer Core shipping first half 2016 Microsoft Stores: Razer Blade Stealth in February 2016; Razer Core in first half 2016
Price:
Razer Blade Stealth: Starts at $999 Razer Core: Price not yet available
Richard Devine is an Editor at Windows Central. A former Project Manager and long-term tech addict, he joined Mobile Nations in 2011 and has been found on Android Central and iMore as well as Windows Central. Currently you'll find him covering all manner of PC hardware and gaming, and you can follow him on Twitter and Instagram.
so no dedicated graphics card other HD520 from intel. basically performance of any other utrabook with these specs just like surfce with i7

But has the option to connect desktop class graphic card. I really wish the Surface line offered the same option.

Yes that is good option hopefully surface 5 will support thunderbolt over usb c type. If I remember correctly newest dell xps 13 with skylake has this port, I wonder if razer core will work with that???

Which means no gaming on the go. I'd rather build a desktop.

But what happens when you need a computer on the go? This gives you the ability to buy one computer to use for laptop (probably with better battery life) but also use as a gaming computer at home. People also didn't see the benefits of 2-in-1's when the surface came out also claiming a separate tablet and laptop was better.

I see your point, but why should I get a gaming laptop when I can't even play with it on the go? Besides, even if it had an Nvidia GPU, it would still have the Intel HD one, so I could use that one for better battery life.

I think that's where people are making the mistake by calling this a gaming laptop. Razer is calling this an "ultimate" ultrabook. If gaming on the go is your thing than this isn't for you. I see value in this because my old dated 10lb gaming laptop that I spent too much for 2 years ago is now obsolete. The i7 processor is still strong but the video card no so much.

Whether this is the ultimate ultrabook or not is an entirely new conversation (no reason to discuss this) . However, since even Razer does not call this a gaming laptop, I'm totally ok with this not having a dedicated graphics card (other than the Intel HD). It actually makes sense (for reasons that you mentioned).

Yeah, that's the major reason why I didn't bother upgrading my Surface Pro 2. I want a Thunderbolt 3 port on my next Surface Pro.

So, what is this new inovative disruptive direct-to-consumer business model going on?

What no dedicated gpu-OMG external desktop gpu power!

You can ring my DELL.... Ring my Dell.

Oh ladddd, you made me laugh out so loud.

At that price and no dedicated video card but is an Ultrabook? I'll take a GPU over thinness any day.

WEN...... IN.......... INDIA???!!!! probably never. I am gonna cry.
Windows Central Newsletter
Get the best of Windows Central in in your inbox, every day!
Thank you for signing up to Windows Central. You will receive a verification email shortly.
There was a problem. Please refresh the page and try again.