Future Windows 10 update will reportedly use card-based UI for Action Center and Cortana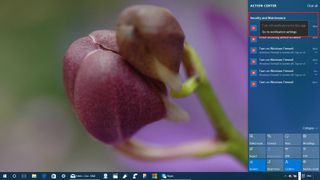 A future update for Windows 10 will reportedly make some big changes to the operating system's Action Center user interface, along with Cortana. The report claims that Microsoft will replace the current static information with more interactive card-style interfaces.
According to Winbeta's sources:
The article also claims that Windows 10 apps will also be able to offer information and actions that can be used by the revamped card UI There's no word on when these changes will be put into the OS. Microsoft is apparently still designing the UI, with concept images shown in the report.
YES. Maybe this is why Cortana is so..... Basic? On my Lumia 950 XL. Bring on the interactive cards.

This looks so much like google now on android which uses a card based notification and update system.

oh FFS of course it looks similar, stop with the "ms is copying google" yes it will look similar, material, is an expanded modern, it was the obvious next step that modern would go, google jsut jumped on it first, both oses will look similar, deal with it.

Which isn't bad, why being salty about this? Heck card-based UI is being used since W10M on Cortana, just so happens Microsoft don't use that word as far as I remember. This is great overall!

I don't think he is salty because of the card based UI, quite the opposite. His problem is with people constantly comparing card based UIs to googles material design. Funny thing is, Google didn't even invent card based UIs, they just made it "popular".

I agree. This looks like Google Now. But Material design copied Metro UI. Same to both. Posted via the Windows Central App for Android

Cool. And two years later they'll diss all of that to start from the scratch.

Yes, because the grass is always greener on the droid side. They don't start from scratch like... since the 90's! /boring

Android has had the cards interface for years now. Posted via the Windows Central App for Android

Guess what, so did many other (Web)Apps years before Material design existed. Google didn't invent Card based interfaces. Facebook, Pinterest and millions of other Websites say hello.

Yes... Because the "Material(Metro)" design language is so original, right?

@ Miarkus. I know you were probably trying to be funny, but the "genius" of Microsoft is backward compatability. Even to this day, old Win32 apps from yesteryear still run, even on our now beautiful but very different Windows UI. From the Apple Keynote a few days ago, since release 80% of active Apple devices are on the the latest version 9. Compare that to Android for example, only 2% are on the latest version (6) even though it shipped at the same time. If you've ever written any code, you always look at your old code and think "ouch, I wrote that?" :) And also, times change, and expectations change. So you things need to be revved to keep up with competitors. I think this new style of card for action centre and Cortana looks nice. Really feels like MS devs are hitting their stride with Windows development and Windows is becoming a real stunner. My hope is that Windows mobile gets to the same point in the near future, as it will make for a very nice OS on a phone. It feels like its getting closer. The latest Redstone build is pretty reasonable on the latest version.

MS needs to stop delivering "pretty reasonable" builds, and deliver a stable one already. Don't tell me the 164 public one is stable :))) a complete joke!I've seen people still complaining about poor wifi performance on the 950 even now after so many firmware updates! Are there any REAL engineers working at MS?? or just interns...it's over a year since they started win10mobile and it's still buggy! a complete mess!! I really like the 950XL, it's very elegant,slim,great display and camera, but the OS on it is a nightmware, a complete wreck!

It took Google 5 years to get Android to work reasonably.

Hmm...still didn't understood it completely though. DheeraJ

Same as google now cards or something along those lines. !

u mean the card type app switch on android? the current one w10 is good. y do they need to copy something? ~DheeraJ~

I say google now cards like those on Cortana. Not app switcher.

Now Something interesting things are coming to Action Centre Windows Central for Lumia 640XL Windows 10

Hopefully less ugly than tha ugly card based cortana integration. In Dark theme it is probably the most uglies stock app available for win10

Cortana looks ugly on W10M. The cards aren't even the width of the entire screen! And the lower you go with display scaling, the smaller they get. It looks like a big mess. I really hope these new cards clean up the UI for Cortana. The action center looks good right now, but I'd like a revamp since there hasn't been a major makeover since it's debut in WP8.1.

This! Cortana is absolutely hideous on the 950XL!

And with transparent bar Posted from Windows Central for Windows 10

Interesting they fixed the card width on Android but not on Windows 10.

Yeah, this needs to have a dark theme version of it (and maybe an option to choose the system theme independed light-theme cards for users who prefer it). They don't need to be pure black, a dark tone gray would do just fine, and keep it less busy looking.

They used the same concept from Sway.
Hmm, lets hope it works out.

I don't have a problem with a card concept, per se, but the way they are currently being used is so ugly.

More like...Material Design?

Emmmm... Let's see what this will look like at the public release. I hope that it won't look like android... Posted from the Windows Central app for Windows 10 on Lumia 535

Actually latest Android suddenly redesigned their Notification Drawer which is less card-like design. It's a bit like Cortana on W10M but less space between.

Yeah, I know. But this card design could make Windows 10 look like a copycat OS, that's ruining after android. And that's not a good thing. Posted from the Windows Central app for Windows 10 on Lumia 535

There are lot of changes still to be done for Windows 10 and mobile future that can make it even better....

So thats what they're gonna talk about at build 2016 tomorrow Posted from here, 1520.

I'm pretty sure they will do a nice thing everyone will love, if not so Microsoft is going to rethink all of this as they have doing so far

Ok, if you get this all of us can forget a transparent Action Center... Posted from Windows Central for Windows 10

Good. Text on transparent backgrounds is a horrible idea.

This makes me moist Posted from Windows Central for Windows 10

Would be nice if I had Cortana! Still not available in the Netherlands.

Not available in Turkish, either :(

Looks similar to the UI in the new Office 365 Planner program.

Nice, but many countries don't have Cortana.

This is still a big problem, Cortana roll-out to other countries is still slower than snail while Google Now is already dominating (since Siri despite iPhone popularity, is lesser useful than Google Now). I think Microsoft should at least rethought Cortana and make it at least available for everybody that use English as their secondary language and make those basic features available. Other features of Cortana are just mainly extras that not all people use anyways, or because it's not yet available.

many countries do not also have the music store, groove subscriptions, bing rewards etc...while Google and Apple both have the music store and music subscriptions...pathetic MS

Cool. Let's add support for dark cards too!

If Microsoft is going to copy everything from Android, why don't they just release an Android phone and be done with it.

For my money they need to combine action center and Cortana. Put Cortana on the left and let her manage notifications and everything else then make action center the app bin. Posted via the Windows Central App for Android

i just updated to latest fast ring build in my windows phone...but it is too unresponsive....can i again get latest slow ring build.....i tried to switch fast ring to slow ring in my insider app but after switching it still shows that my phone is up to date...please help

You would have to reset your phone using the Windows Phone Recovery tool to go back to the release build, then go in and set your Insider App to slow ring and download the latest slow ring build. You can't roll back to a previous build using the Insider App itself.

I don't know man. Not a fan of card based UIs. In my experience they aren't smooth in scrolling or elegant in looks. Wish they could find other ways of integrating similar functionality without messing with UI. Already, I'm sick of what they have done with Cortana/Search in windows 10 mobile. Not on PCs and involving action center too. Please no.

Scrolling is more of an OS optimization and rendering issue, not because it looks like card which is purely aesthetic.

this is goin to be amazing. Windows 10 with a touch of material design would look amazing.looking forward to that.

What's the point if they cut off devices at 10586.64? They need to keep Windows universal, meaning updates to get them all on Win10 train, so the whole ecosystem can benefit, not just new users

I'll settle for the return of deprecated feature of Live Tile updates for Groups showing e-mail, call, and text notifications. I have four tiles for clients, professional organizations, and friends and family. With WP 8.1, I can tell in one glance which of the 60 most important contacts is trying to reach me. With W10M, I'm left to plow through Notification Center and hope I don't overlook something. Cards could conceivably replicate this functionality, but are not the same as Live Tiles for W10M. ​

They are talking about cards, i am just sad that they ucked up the offline capabilities of Cortana on w10m. Uck em

I hate androids card style. Please don't copy it! Posted via the Windows Central App for Android

Cool, now google cards can be ported to Windows! JK.

I would prefer the Action Centre transparency to remain. Gives a nice variation to Cortana with cards.

I thought they were 'tiles.' Maybe MS designers are too inclined to Material Design that they cannot make a distinguishable design concept.

It's not transparent though

Isn't this also referring to the new Live Tiles.

I see a foursquare notification, but I think the current app, windows 8.1 app, doesn't have notifications. Or is it some kind of internal beta testing app that we gonna get. Posted from Windows Central for Windows 10

It's just concepts for now. Sent from my Windows 10 PC.

I'd would have been better if they haven't released the official windows 10 mobile update with so many bugs.... Every new OS has bugs i know but not as much as win 10 mobile official version....

they are unable to fix even the most notable bugs...this is the worst OS I have ever seen.

https://code.google.com/p/android/issues/list These are the 47680 known bugs in Android. You are welcome.

Lord, Microsoft in the name of all that is Holy, PLEASE get all the design teams in the same room this time to work with the overall UI concept, lol.

Finally! Looks like we will have richer actionable notifications than what we have now. I love now how Action Center becoming more powerful to use, living up with its name. It would be great if all notification toast have this Snooze/Read it later and Archive, so you can be reminded or take actions on certain notification later.

they should modify the UI design for the People app! I don't know which idiot designed that circle template and thought it was cool...

It's been pretty much a standard since 2010 that profile pictures are circular and it also makes perfect sense if you know how the brain interprets circles. Circles are more personal than squares and squares is better to represent something fictional.
Windows Central Newsletter
Get the best of Windows Central in in your inbox, every day!
Thank you for signing up to Windows Central. You will receive a verification email shortly.
There was a problem. Please refresh the page and try again.