Microsoft should bring the Galaxy Note 10's 'Your Phone' improvements to other phones
Your Phone is great on the Galaxy Note 10. Now make it great for non-Galaxy Note 10 devices too.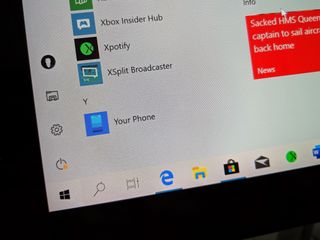 Being able to sync your smartphone's notifications, photos, and text messages directly to your PC is an incredibly useful feature made possible by Microsoft's Your Phone app for Windows 10. The app itself has been around for quite a while now but was only recently shoved into the limelight with the launch of the Galaxy Note 10. For the first time, the Your Phone service is now natively integrated with Samsung's flagship smartphone, and likely more Samsung smartphones in the future.
This is a massive win for Your Phone as now Microsoft no longer has to rely on users to manually discover, download, and install Your Phone onto their smartphones before use. The service is now integrated into those phones, meaning the user now has two areas of discovery. Microsoft has taken this opportunity to improve the Your Phone experience specifically for the Galaxy Note 10, with better performance and screen mirroring functionality on any Windows 10 PC.
I've seen quite a few people online say that there's no difference between Your Phone on the Galaxy Note 10 compared to if you installed the service manually on a non-Samsung smartphone. I'm here to tell you those people are wrong. Your Phone is much improved when paired with a Galaxy Note 10, as the faster syncing and overall performance increase makes a huge difference to the user experience.
Better for one, worse for the other
The problem with this is that it makes other Android smartphones seem like they are getting a lesser experience when it comes to Your Phone because these improvements are exclusive to the Galaxy Note 10 for now. For example, Your Phone, when paired with my Pixel 3 XL, worked for the most part, but it wasn't always reliable. It was slower to sync, and features like screen mirroring didn't work because the list of smartphones that support that feature is limited to either OnePlus or Samsung.
Even if the Pixel 3 XL were supported, the screen mirroring function would only work on a selection of Surface hardware. The feature doesn't yet work on non-Surface hardware unless it's paired with a Galaxy Note 10 as Microsoft is using Wi-Fi Direct there, compared to the other smartphones that rely on the PC supporting updated drivers with Bluetooth LE. All of this means very few people can take advantage of screen mirroring at this time, which sucks.
To be fair to Microsoft, the screen mirroring feature is still labeled as a preview, so its limited list of supported devices is excusable for now. We just have to hope that Microsoft is planning to roll out these improved Your Phone capabilities to more than the Galaxy Note 10, and more than Samsung, OnePlus, and Surface hardware as a whole in the future. If not, then Your Phone's usefulness will remain in an incredibly small scope, basically remaining exclusive to Samsung devices.
Related: Samsung Galaxy Note 10 review at Android Central
The Microsoft and Samsung partnership should not mean that other smartphones get a lesser Your Phone experience. Microsoft hasn't yet announced if the improvements to Your Phone with the Galaxy Note 10 will be coming to other non-Samsung smartphones again, but I think it's a fair assumption that for now, these improvements will be exclusive to Samsung.
What are your thoughts on the improvements to Your Phone with the Galaxy Note 10? Let us know in the comments.
Biggest and best
The best of Samsung in a single phone.

Samsung improved on the Note 9 in every way … except for removing the headphone jack. But the big display, top-end specs, wide-angle camera, and massive battery could make up for it.
Windows Central Newsletter
Get the best of Windows Central in in your inbox, every day!
Zac Bowden is a Senior Editor at Windows Central. Bringing you exclusive coverage into the world of Windows on PCs, tablets, phones, and more. Also an avid collector of rare Microsoft prototype devices! Keep in touch on Twitter: @zacbowden.
100% agree, and hopefully (not holding my breath, though...) MS will provide more info about their plans for the service in general and specifically which devices will be eligible for the "premium" option.

Using it on a Note 10+ and a Spectre x360 and it works beautifully.
I fully agree, this needs to be brought to the masses.

The thing is this isn't new. To Windows Insiders we had Screen Control in the Your Phone app for a while. It's not beta at all, just Microsoft jumping on the Samsung hype to make it an exclusive feature. I was using it in July with my Nokia 6.1 and an HP Spectre x360, it's within their right to remove the feature altogether but it's a scummy move to restrict it to one device maker. Other flagships have WiFi direct certification too!

Your Phone is the worst name for an app yet.
"Microsoft needs to improve Your Phone."

I would like Note 10 features with Your Phone on my S9. It's capable.

Your Phone app is a joke at best. They should feel ashamed for creating such a half assed app.

I received my Note10 yesterday and I see two differences between my Your Phone experience on this phone and my experience on my older phone (a Note 5): 1. Your Phone is built into the operating system, and
2. There's screen mirroring. I see no other differences. Not in speed or reliability or anything. After setup, it's the same experience, but with no screen mirroring. If anything, the setup experience is more complicated, because the MS website's tutorial on how to connect your phone to your account requires the use of the Your Phone app, whereas on the Note10, it's baked into the OS and you can't actually open the Your Phone app. Is screen mirroring really worth all the ink spilled here?

I was disappointed to hear from Microsoft's speech at the Samsung Galaxy Event that they focussed so much on one hero device to promote Your Phone in the collaboration. That's such an exclusionary pitch that does not per se reflect the global market. I would have been more wowed and have sparkles in my eyes if both companies went the extra mile to announce and show it was supported for the galaxy A line devices too. That would have made a much more inclusive message and show adequate customer support and care. A missed opportunity. I agree with Zac's point.

I can see why they have limited the full feature set (or at least marketed the Samsung devices to suggest this), however for me the 'Your Phone' app is completely pointless until it supports phone calls co that i can use my headset on my computer for the call and work/business Microsoft accounts. If it gets these two features i will go out and buy a Note next day and will use this feature multiple times a day. Until then it holds little to no value to me.

I can't figure out why Microsoft hasn't partnered with Samsung (for hardware) to have them make a phone with native Microsoft apps. no bloatware. connected with the yourphone app. I know you can change up android phones and make them have whatever as default app. I am just thinking something super optimized to work with Windows 10. not just a simple 'theme', a clean bloat-free pure windows (as possible). They could even use a them to do Live Tiles. (widgets)
Windows Central Newsletter
Thank you for signing up to Windows Central. You will receive a verification email shortly.
There was a problem. Please refresh the page and try again.