Gameloft alters list of upcoming Xbox Windows Phone 8 games. Pray they don't alter it further.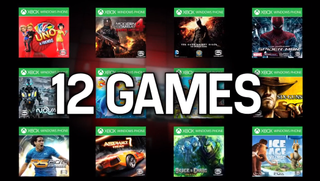 Gameloft seems to have scored a bid deal with Microsoft and their Xbox on Windows Phone games as we've seen this iteration of "twelve new games" teaser back in January (and even then it was not new).
Now, the gaming house has posted another video – same music, same style –but two games have been replaced. Instead of Texas Poker for Prizes and Fashion Icon we have Kingdoms & Lords and Six Guns added to the lineup. We're not sure if that means 14 titles are actually coming (with some maybe exclusive to Nokia) or Gameloft was just unsure of what games they were releasing.
Adding games like Six Guns and Kingdom & Lords should amp up the Xbox on Windows Phone catalog a little more towards the males, aged 20-35 demographic who are looking for something more than just simple puzzle games. Toss in Modern Combat 4 and NOVA 3 and now we're talking about some noteworthy titles for the platform.
Six Guns, which has been on iOS for quite some time now (2011, seriously) and is a solid third person shooter set in the Wild West…with zombies or something. We just know you have to run around, Lara Croft style shooting things and we're more than okay with that prospect.
Kingdom & Lords meanwhile looks like a fun Sim-City esque game but set in medieval times. That game has also been on iOS/Android since late last year but at least it's coming around now to Windows Phone. The game has stellar, bold graphics and should be a hoot for those who have a managerial style for gaming.
No word on when these titles will be coming out. In the past, we've seen some titles cancelled and shuffled around but hopefully this list won't be changing anytime soon.
We're more curious as to when a Windows Phone game will launch first on the platform, instead of us catching up. Here's the full list of those 12 Gameloft games coming sometime in the near future.
Amazing Spider Man
NOVA 3
The Dark Knight Rises
Order and Chaos: online
Kingdoms & Lords (New)
Uno & Friends
Ice Age Village
Real Football 2013
Six Guns (New)
Shark Dash
Modern Combat 4: Zero Hour
Windows Central Newsletter
Get the best of Windows Central in in your inbox, every day!
Daniel Rubino is the Editor-in-chief of Windows Central, head reviewer, podcast co-host, and analyst. He has been covering Microsoft since 2007 when this site was called WMExperts (and later Windows Phone Central). His interests include Windows, laptops, next-gen computing, and for some reason, watches. Before all this tech stuff, he worked on a Ph.D. in linguistics, watched people sleep (for medical purposes!), and ran the projectors at movie theaters because it was fun.
Hey Daniel, was this "Pray they don't alter it further" a Robot Chicken reference? Is so, that's awesome, if not, then nevermind I'll digress.

I would assume its a Star Wars reference...

LOL - Star Wars is so old and irrelevant that even nerds on a Windows Phone fan site don't realize the true source of a reference

Um dude...star wars...seriously? This is like the kids that consider the prequels to be real star wars

Pretty sure it was a Star Wars reference (Empire Strikes Back specifically). Robot Chicken has plenty of SW episodes though so I can see how you could think that.

I'm thinking Darth Vader from The Empire Strikes Back.

Reference to the Muppets Pigs in Space.

Indeed. Children these days...

Correctomundo. Vader said it to Lando at the end of ESB.

"nevermind I'll digress." What does that even mean?

It's "I digress". He can't say "I'll digress" (future intent) when he just digressed :P

Here's hoping for a super quick succession of launches from Gameloft.

Can't wait for some of these titles! Then I can slow down playing most of these games on my Tab 2 & earn Xbox achievements instead. I really hope the platform starts to get more quality games/apps as soon as (or reasonably close to) the big 2 get them.

Yeah, you might not know this but that Robot Chicken was actually an homage to a little indie movie called Star Wars, which is what the title is referring to.

Looking forward to this. I am very impressed with the graphics and gameplay of Asphalt 7. If that is any indication of the quality of the games (and fantastic pricing!!!) consider me sold. Gameloft folks, thank you for making windows phone even more awesome!!!

I'm going take a stab at it and guess the prices will be identical with their iOS' and Android prices, as Asphalt is .99 on both those as well.

You will see more Gameloft games this month, pretty much confirmed

I'd like to buy all these games but I can't. The "other" folder took all the memory from my phone and won't give it back to me.

Try Shrink Storage on the marketplace...

I did. It cleared 64 mb. Not enough.

Nice find, but I too have not benefited enough to install asphalt 7.

I don't have enough space to install it!

Don't worry, Microsoft will fix the "other" storage problem in WP 8.9 in 2014. Or not.

That's for all of the space your apps are either using or reserved. It doesn't necessarily mean you can't use it. In WP7 you could adjust this reservation (via Zune) from a default of 10% down to 1% or even 0.

Literally all I want is dodonpachi maximum or equivalent bullet hell. There are no good bullet hell shooters on wp8. Zero. Grrr

I agree. It's incredible that the Xbox has gotten nearly all of the top Japanese bullet hell shooters, especially impressive given it's an American console, but somehow Windows Phone has managed to get nothing at all.

WP7 got DoDonPachi Maximum, it just hasn't been updated to run on 8 yet. I'm starting to wonder if it ever will.

Modern Combat 4 is COD sort of ;)

CoD only has two mobile phone titles on current smartphones, and both are poor ports of the Zombies modes from World at War and Black Ops.

If these are the games that are upcoming, just forget it.

You'd prefer if games didn't come to the platform at all, right?

What is the issue? You want something completely new? Like its that easy to think up a brand new game!

Order and Chaos: online would mark the first moba game on windows phone, no ?


Order and Chaos isn't a MOBA title (a MOBA would be something along the lines of LoL or DotA). It's instead a pretty great knockoff of World of Warcraft. I've played the Android and iOS versions and both are actually fun MMOs with decently sized devoted communities.

oh my bad mixed it up with heroes of order and chaos.

I got rather excited when you said MOBA but it's just an MMO. Does WP have any MOBAs?

If you ask me .. it looks like they are getting their Graphics Pipeline and Tools in order before diving deep.

sense these cames go over gameloft servers couldn't we play with people on ios or android?
and second is the poker and fashion game confirmed cancelled or just pushed from there recent launch titles *maybe there were a bit buggy and pushed back for more polish *

What are the chances these are going to be ported to Windows RT...........PLEASE GAMELOFT, I need more than fruit ninja on this freaking thing.

Guns 4 Hire,
Reckless racing,
Jetpack Joyride,
Armed,
My Country,
Pinball FX2,
Soulcraft...
These are all good titles for RT. Not all are Xbox though.

More like "Pray these come out at all"........ These Gameloft games have been promised since before launch, and we're STILL waiting for them. The lineup is going to change at least 8 more times before any of them are released for WP8.
BTW: Gameloft has already begun releasing some of these games for BB10...... just sayin'

1. False on the 8 more changes, seeing as the first game came out before this first change...
2. The BB10 games are likely just more of those shoddy Android 2.3 ports.

"Shoddy" ports or not, they are still better than the halfcocked crap apps littering the windows phone 8 market place. Gingerbread might be right in line with the quality of windows phone apps at this point.

well im glad they swap them with new titles because the other games looks boring
and i hope non of those games exclusive to nokia because all windowsphone users need to enjoy them

In case you missed it, the replacements aren't new. One if from 2011.

still better than nothing

Hopefully it's a speedy release for Order and Chaos...

These all look great and I'm sure they will be.. But whatever happened to Zen Pinball aka Pinball FX2?? Is that still coming?

Same with Ms. Splosion Man, they said on Twitter it was coming super soon 2 weeks ago.

Why does the video say download now when the titles are not in store? :/

I wondered the same thing. Seems strange.

Finally some real First Shooter games!

Epic headliner here, good work.

Wonder if any of these will run on a Lumia 620 hmm

I'll stick with casual Bejeweled+ on my phone and serious Dead Space 3 experience on my PC (:

just give me real soccer and make it decent....

I can't wait to not being able to play any of those games, beacuse 8GB of storage is not enough to install one fckign game on WP8.

And why does the trailer say "Download now..." - is this some kind of a joke?

I came to post on this story for one reason and one reason only:

My nomination for "WPCentral Headline of the Year".

Kingdoms and Lords reminds me of Lords of the Realm and Age of Empires on PC. Looking forward to that game and can't wait for Order and Chaos (World of Warcraft clone)

My problem with Gameloft: microtransactions. They can't make a proper game anymore, hmm? First Block Breaker? Third Asphalt?

so i guess the surface rt wont be getting this games


So do i :) i can see a bright future given the right backing and effort wp8 gaming should surpase ios.
Windows Central Newsletter
Thank you for signing up to Windows Central. You will receive a verification email shortly.
There was a problem. Please refresh the page and try again.