Gameloft announces 12 killer Windows Phone 8 Xbox games [Updated]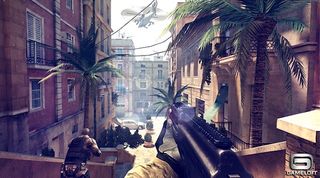 If there's one mobile games publisher whose titles Windows Phone needs in order to appeal to mainstream gamers, it's Gameloft. The Paris-based developer has made a massive business of cloning popular console games as smartphone titles, in addition to publishing actual licensed and wholly original titles. Sadly, Gameloft never fully supported Windows Phone 7. They released a few quality games (Splinter Cell: Conviction, Assassin's Creed) and several buggy and/or severely delayed ones (Let's Golf 2, Asphalt 5, Brain Challenge, and Real Soccer), but none of their most popular franchises.
Thankfully that should be changing with Windows Phone 8, as Gameloft has just announced a whopping 12 games for Microsoft's new mobile OS, most of which are true heavy hitters! Check them out after the break.
Modern Combat 4: Zero Hour (pictured at top): The Modern Combat series is essentially a clone of Call of Duty. Yet unlike Activision's stripped-down Call of Duty: Zombies on iOS, Gameloft provides the full campaign and competitive multiplayer experience that fans enjoy in console FPS games. Modern Combat 4 (which isn't even out on iOS or Android yet) will utilize the Havok physics engine, promising to impress the eyes with realistic physics and real-time shadows. It will also support online multiplayer.
N.O.V.A. 3:
Since Microsoft sadly doesn't seem to believe in Windows Phone enough to port their flagship Halo franchise to it, Gameloft picks up the slack with N.O.V.A. 3. This sci-fi first-person shooter involves such exciting activities as piloting a mech, manning a turret on a moving vehicle, and of course providing sniper coverage for NPCs. The touch-screen controls are said to be quite intuitive, and gyroscope aiming is also supported. Plus it will have online multiplayer.
The Amazing Spider-Man:
:
We played the iOS version of this game at E3 and loved it. The official adaptation of the recent (and terrific) movie, Amazing Spider-Man has fantastic graphics, intuitive web-swinging controls, and (not so good) voiced story scenes. The actual game design differs from the console version, but it still feels like a console-quality game. As a huge Marvel fan, I'm looking forward to taking down the Lizard on the go!
Order & Chaos Online:
:
What's the biggest hole in the Xbox Windows Phone 7 lineup? RPGs! Besides Final Fantasy, there aren't any. Order & Chaos Online will fix that in a big way. It's not just an RPG, it's an MMORPG – a World of Warcraft clone, to be precise. Players will be able to create their own unique character and venture online with other players to combat foes and complete quests in real-time. The iOS version is graphically rich, controls well, and apparently without too many lag issues, so our version should be an absolutely enthralling experience as well.
Ice Age Village: Based the movie Ice Age: Continental Drift, this title combines city building with zoo management. Players will create a village and breed all manner of prehistoric animals to populate it. There are even minigames like one based on Fruit Ninja. It's basically like Bug Village but faster paced and with far more stuff to do. I don't enjoy the Ice Age film series, but the game sounds like fun.
Shark Dash:
A physics puzzle game in which a toy shark must eat rubber ducks in order to rescue his girlfriend. You aim the shark and launch him, and then he bounces around the level knocking into things and eating them. It supports Play-Pause-Resume, so it should be coming to Windows 8 too.
Asphalt 7: Heat: Asphalt 5 may have been old and not that good when it finally arrived on Windows Phone, but part 7 has the potential to be much better. We played it at E3 and enjoyed the arcade-style racing and beautiful graphics. Let's just hope the difficulty is more reasonable in Asphalt 7, since part 5 got downright annoying (not to mention grindy) towards the end. Regardless of the single-player difficulty, the new version should have much more staying power thanks to the inclusion of online multiplayer.
The Dark Knight Rises:
For some reason, there has only been a single, largely forgotten console game based on the Nolanverse Batman films, the original Xbox-era Batman Begins. Gameloft's take on the third film plays much like Batman: Arkham City, allowing Batman to explore Gotham City and take on story missions at will. On top of fighting foes on foot, Bats even gets to drive the ugly bat tank, bike, and jet things from the movies. This one should play a lot like The Amazing Spider-Man but without the web-swinging.
UNO & Friends: Sure, the single-player UNO game for Windows Phone 7 sucked. Who wants to play such a simple card game all by their lonesomes? But Uno & Friends (not yet released on any platform) corrects that version's faults by including online multiplayer! It also supports Play-Pause-Resume, which seems to indicate that it will be coming to Windows 8 as well.
Fashion Icon: This is basically an RPG about being a vapid female stereotype. You'll play as a lady blogger who dresses up, attends exclusive parties, and bags boyfriends like they were groceries. This is one of those games in which doing things costs energy, so you'll need to check in with it throughout the day instead of just playing all day, unless you want to pony up for PDLC items. Hey, the Sally's games are fun, so maybe Fashion Icon will be too. It will support Play-Pause-Resume, at least.
Texas Poker for Prizes:
This game, which isn't out for iOS and Android yet, will be a free-to-play Texas Hold 'Em simulator. It doesn't impress graphically, with a very flat and no-frills art style. But looks aren't the most important things in a card game; speed, gameplay, and single-player/multiplayer features are. This one will have Play-Pause-Resume and online multiplayer, so it should topple Full House Poker easily enough.
Real Soccer 2013: Alright, so the gimped version of Real Soccer that recently launched on Windows Phone 7 was pretty bad all around. But Gameloft may just redeem itself with Real Soccer 2013, which we can only hope will actually come out before the end of the year 2013 instead of two years later (the iOS version just came out this month). The lack of multiplayer (even on iOS) is somewhat disconcerting considering that even FIFA offers that essential feature. 2013 is a freemium game, so we'll be able to find out how it stacks up without the need to purchase it outright.
A bright future
Gameloft did not announce a release schedule yet, so it remains to be seen when these games will reach Windows Phone 8. Since some have not been released on any platform yet, there is the possibility that they could launch simultaneously on WP8, iOS, and Android. However, the late release of the WP8 SDK makes that scenario a bit unlikely, at least for the time being.
Let's also hope that these games will be less glitchy than Gameloft's Windows Phone 7 lineup. Three out of the developer's six WP7 games have broken Achievements that were never fixed – not the best track record. By all accounts, Windows Phone 8 is much easier to develop for, so glitchy Achievements should be scarcer going forward. Gameloft is also showing more confidence in WP8 by announcing a larger lineup filled with higher quality games. Surely they will put more care into these ports than the previous ones.
Update
Texas Poker for Prizes has been cancelled, and Fashon Icon is likely cancelled as well. In their places, Gameloft will release Six Guns and Kingdoms & Lords. Check out the new teaser video here.
Windows Central Newsletter
Get the best of Windows Central in in your inbox, every day!
Paul Acevedo is the Games Editor at Windows Central. A lifelong gamer, he has written about videogames for over 15 years and reviewed over 350 games for our site. Follow him on Twitter @PaulRAcevedo. Don't hate. Appreciate!
Brace yourself , more and more game coming !!

This is really good news. Now hopefully others will follow suite

I would be concerned with the pricing, i see angry birds space 4.99 on win8, but 99 cents on mobile.

Even angrybirds on wp7 was like 2.99 when it released and finally reduced to .99.

Hopefully wp8 can get some competitive pricing.



I'm sorry, but it's NOT real soccer unless you're outside on a grassy field with goals, a ball, and friends...

Well that sucks - I have no friends. I guess I'll never take up soccer/football then. :( In fact really most sports are a bore with no friends fyi.

Well son, it is a game afterall.

Call of Duty: It's not really war unless you're in the trenches with mortars flying over your head!

we don't fight in trenches anymore



Halo Wars like Advance Wars. A tactices Halo Wars stratagey game. Perfect for tablets and phones.

PS I will say this in many threads about games on this platform, sorry, everyone has an annoying quirk.

I always thought a good RTS would be great for a mobile phone [yeah i'm old] and a tablet.

I agree with that. I've been dying for a good rts for mobile. In the mean time I'll have to live with turn based.

I agree rts would be amazing on wp

Advance wars was one of my favorite games of all time. Have you tried Armed! It is a fantastic strategy game just on Windows Phone

Yes! Finally! I hope we will get some other titles too, I would love to play "Grand Theft Auto: Vice City" again when it does come at its 10th anniversary next year!
Microsoft, give the big game developers some many and "make them do something" - for Windows 8 and Windows Phone 8!

I would definetly buy GTA, but I guess it's dreaming too high...

At last! With the arrival of WP8 and awesome hardware we will finally have good quality games, hopefully other big name devellopers will jump on WP8 as well.

Well I was hoping for Sacred Odyssey and Shadow Guardian but Nova 3 will do for now, meh on the others.

Awesome! Can't wait. Now only for AT&T to wake up and release the L920...

can we assume these will make it to surface RT too?

If it's on wp8 its automatically on windows 8 right??

Dont think it is that simple, im sure there is some porting that needs to be done, but im talking about surface RT which runs windows RT.

If MS's vision is correctly, the games should be playable on WP8, Surface RT/Pro, and any w8 device with some porting involved.

Probably not!
According to Microsoft, it would be easy to port them to Windows 8 once they are Windows Phone 8 games, but Gameloft will probably not bother like most of other companies...

Any game listed with Play-Pause-Resume will be coming to Windows 8 as well, so several of these are indeed coming to WinRT.

Take all the Xbox 360 arcade games and put them on the windows phone 8

Nice to see some really advanced games and support coming from the developers finally! I have to agree with others that my only worry is pricing and hoping that is finally competitive to iOS and Android in those terms.

Really got to het myself a wp8 phone, i love my Lumia 800 but its gonna lack so much from wp8

Same. I love my 900 but I'm getting the 920 when it first comes out. I'm also getting the surface pro, nexus 4, and new iMac. Been saving up money for a while.

Yeah! I can't get tired of playing FIFA 2012, Madden NFL, NBA Jam 12, Death Space and the other 16 games EA and Nokia brought to Windows Phone this year...
Ho!! Whait... we haven't got any of those games Nokia and Eletronic Arts told they were working on. I didn't buy PES 12 because I waited too long for FIFA 12 (that was beter than PES on Android and iOS) to end up realising it would never come and it was to late to buy PES by that time because the PES 13 should be arriving anytime.
Drawsomethink come just in time to I play it with nobody because most people already forgot about it and moved to other games...
Even Microsoft develops apps that are exclusives to non-Windows Phone devices and promotes services and apps to iOS and Android as main target instead of Windows Phone.
I just can't trust Microsoft, Nokia or any game developing company anymore because they almost never do what they promise.
I'm not saying to give up from Windows Phone and move to Android or iOS, specialy because I'm in Windows Phone most because I hate the alternatives and I remeber the time I loved WP7 and come to wpcentral.com and wmpoweruser.com is still the first thing I do when I turn on my computer. I'm just saying to don't have much hope on this games to come to Windows Phone, specially before Android or iOS like Modern Combat.

Let me guess. All this keynotes and announcements, but in the end when they release games for iOS and Android, there will be a small WP8 logo on the bottom somewhere with a text "Coming Soon".

here is the thing alot of you guys seem to be complaining about it is annoying and hard to port a game to wp7 as the coding is completelty different and most developers are not use to it but with wp8 it is much much easier *if you understand programming watch the build keynotes* so for those ea games they didn't say windows phone 7 they just said windows phone they may just port them all to winodws phone 8 right away same with these gameloft titles, most likely if given xbox live treatment we will see launchs at the same time or very close to it.

those look amazing, I am glad windows phone is growing so much and so fast and so well

No one has made games based on Nolan's movies because the Arkham Games are adequate enough and IMO, are one of the best interpretations of Batman outside of the TAS

And we'll also see Angry birds star wars:
http://www.xbox.com/en-US/live/mobile/windows-phone-8-games

You should realize, technology is growing fast. Of course windows phone 8 is better than 7...

And Microsoft chose to promote Pandora? This would have been a bigger announcement.

Why Pandora? Thru have a service to replace that, even 3rd party apps. What we need is instagram. That's it!!

Sadly I will miss the days of being the only one in the room with this awesome UI.

Someone should port Jagged Alliance, that's an awesome strategy game that would work great on the mobile/tablet platform.

Now if they could give me gears1 or a clone I'll be happy shoty battles on the go and blind headshots with TBow that's the way to go

This is exactly the type of announcement I was looking forward to. Glad to see Developers jumping on the wagon, hope it keeps getting better.

Yeah but I'm still waiting for capcom to get on board. I could really use a real fighting game on windows phone

well, some decent sounding games, some of which i'll no doubt try at some point, but with them being from gameloft, i think at least half of them will contain a glitched achievement and they will be slightly overpriced

at least someone still makes games for this thing...hoping that we move away from 1 release a week owards 2 or more when WP8 hits properly

Links to what? This is just an announcement. The games aren't available yet.

Fucking finally. Bring more please, much more. And people say Dual Core didn't matter XD.

really great new love all games but not the poker really

wow.... guys the future of wp Central is HAPPILY EVER AFTER...........ossssm look guys

Guys Do you know if using an OTG cable will let u use USB Xbox controllers on wp8 devices? Like androids HTC one x and galaxy x 3 do out of the box (without the need for root access) I don't see why not being as both r Microsoft products, could you do a story on it and post your findings please? First person shooters would be so Money supermarket using a controller (Epic)

These games look damn good for being on a phone.

Awesome, tried Spidey on an old iPhone and it was decent. Can't imagine it on the 920!

On the XBox Hub page on the phone, they are now showing a video that has all these games in it. So hopefully they are coming soon. Good to see that Microsoft is acknowledging that we need some new games. At the end it says "Coming 2012/2013", so it looks like they have some things queued up.

Yeah, wish we could find out the web link for that video! I'd love to embed it in a story.

http://www.youtube.com/watch?v=Bij4fMQaCrY
tada..

I hope they haven't forgotten about us windows phone folks. Come on gameloft. Just today, they let me download Assassin Creed for free. I hope this is a sign of some things to come :) Using the free Assasins Creed as free publicity may be...Fingers crossed

Gamesloft has announced 12 titles for windows phone likes Real Soccer 2013, The Amazing Spider-Man, Modern Combat 4: Zero Hour,Asphalt 7: Heat,The Dark Knight Rises etc... I heard that these games require 1GB ram. I am gonna buy Nokia lumia 720 and it has got 512mb ram.... can any one help me reg. this ?????

Please when is fashion icon coming to windowns phone!!! Cant seem to find any fashion game.

As stated at the end of the article, Fashion Icon was cancelled.

hi Paul, i saw that just asking if there is hope that it would come anytime soon cos i cant seen any game like 'fashion icon' in the windows store. like stardom, miami night, newyork night etc. Jst sad!!!

Ah, well it's definitely a shame that there aren't any games like that for Windows Phone. Hopefully we'll see more female-oriented games as Windows Phone continues to grow. My daughter would love 'em.

lol @ female oriented games. Hope its really soon. Thanks for the update
Windows Central Newsletter
Thank you for signing up to Windows Central. You will receive a verification email shortly.
There was a problem. Please refresh the page and try again.