I've always wished that Starfield had in-game radio, but now someone has actually made one and it's amazing. From galactic conspiracy theorists to ABBA at light speed — you need to check this out.
Embark on interstellar adventures with the sounds of Starfield Radio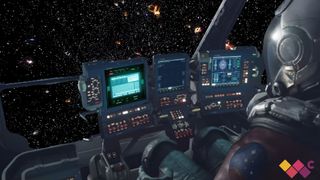 (Image credit: Future)
What you need to know
Starfield doesn't have an in-game radio, but thankfully someone has made one featuring over 10 hours of custom content from music to talk radio.
Starfield Radio hosts 5 stations and you can listen directly through the website, through Spotify, or using an in-game mod from Nexus Mods.
The DJs are a combined effort of voice actors and AI text-to-speech tools that work seamlessly to give a real radio experience in space.
---
Starfield is full of undiscovered worlds to explore and already has an atmospheric soundtrack as a background to your journey through space and time, but I must admit when playing I really missed the in-game radio of the Fallout games. I'd certainly be less inclined to hit the fast travel in my ship if I had some Guardians of the Galaxy-style tunes echoing from the cockpit.

Well I yearn no longer, as someone has answered my cosmic prayer and birthed Starfield Radio for players to listen to as they zoom through the Settled Systems. A combination of voice acting, AI text-to-speech tools, and most importantly, killer tunes, makes these radio stations a must-listen for any intrepid explorer of the galaxies.
Starfield Radio is truly a joy to listen to, in fact, I'm enjoying it as I work this morning and think of easier times, playing video games. You don't need any mods to listen, just head on over to StarfieldRadio.com and either hit 'Tune in (Random)' or pick one of the following 6 stations:
Radio Active - Oldies
The Black Box with Willy Kind - Talk
Nocturna: Music of the Ancients - Classical
The Dust - Lo-Fi
Sol Train: Music from the 3rd Rock - Assorted
Solar Flares - Electronic
While I've just listened so far on my PC or smartphone, you can get these stations in the game on PC by using the Starfield Galactic Radio mod. "Radio Active" has quickly become my go-to, evoking the nostalgia of Fallout's radio. "Sol Train" creatively blends tunes from 'Long-dead Earth,' complete with DJ segments and ad breaks for questionable products you can purchase back at New Atlantis.
Willy Kino's talk radio is a revelation, featuring a conspiracy theorist whose musings on gravity drives real purposes and will leave you in stitches. It's like injecting the Info Wars Podcast into the Starfield Universe, interspersed with rock and roll — a delightful combination that had even my non-gaming Mom laughing.
Starfield Radio has give me the push I need to go back to NG+
I managed to complete the main story campaign of Starfield in under 30 hours, and it was a whirlwind journey through uncharted territories. This newfound discovery has reignited my curiosity, urging me to return to the depths of space and unravel every mystery the game has to offer in an NG+ playthrough.

The vast, mostly empty worlds that once echoed with solitude now evoke a longing for the companionship of Starfield Radio's banging tunes as I explore their hidden corners. While Xbox currently lacks mods for Starfield, the seamless functionality of the Starfield Radio website is good enough right now. Looking ahead, it would be great to have an official addition, perhaps in the realm of expansions. Just picture fitting the Starfield radio into Vasco as an upgrade and Sarah belittling your music choices as you bop along to Abba? The possibilities are as endless as the Starfield universe itself.
Get the Windows Central Newsletter
All the latest news, reviews, and guides for Windows and Xbox diehards.
Jen is a News Writer for Windows Central, focused on all things gaming and Microsoft. Anything slaying monsters with magical weapons will get a thumbs up such as Dark Souls, Dragon Age, Diablo, and Monster Hunter. When not playing games, she'll be watching a horror or trash reality TV show, she hasn't decided which of those categories the Kardashians fit into. You can follow Jen on Twitter @Jenbox360 for more Diablo fangirling and general moaning about British weather.