Garmin set to release Bluetooth Heads-up Display for Windows Phone navigation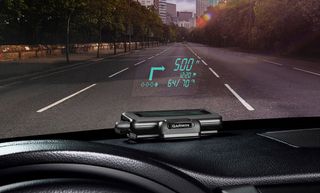 Garmin has announced the release of heads-up display (HUD) that connects to your Windows Phone via Bluetooth. The HUD unit will project navigation information on to your windshield. This will help increase safety and reduce driver distraction when using your Windows Phone as a navigational tool. By projecting the navigational information in the driver's line of sight, it keeps their eyes more on the road.
The Garmin HUD is compatible with any Bluetooth enabled smartphone running Garmin Streetpilot or NAVIGON apps. HUD displays turn arrows, distance to the next turn, current speed, and the estimated time of arrival. Additional display options include alerts for when drivers exceed the speed limit, traffic delays and safety camera locations.
When you combine the heads-up display of the Garmin HUD with the spoken turn-by-turn directions from StreetPilot or NAVIGON and you had a pretty decent navigation setup. The HUD's car power cable will have a USB port that will let you piggy-back charge your Windows Phone to boot.
While there's no hard date on release, the Garmin HUD carries a MSRP of $129.99. We're trying to get our hands on a unit to review and as we learn more about the Garmin HUD, we'll pass it on. The full presser follows.
A New Way to View Directions in the Car: Garmin® Introduces Its First Portable Head-up Display (HUD)
OLATHE, Kan./July 8, 2013/Business Wire — Garmin® International Inc., a unit of Garmin Ltd. (NASDAQ: GRMN), the global leader in satellite navigation, today announced HUD[1], the company's first portable head-up display for smartphone navigation apps[2]. HUD is an innovative new way of viewing navigation information in the car, projecting crisp and bright directions onto a transparent film on the windshield or an attached reflector lens. By providing comprehensive road guidance at a glance and right within the driver's line of sight, HUD can help increase safety and reduce driver distraction. HUD receives navigation information from a Bluetooth-enabled smartphone running a Garmin StreetPilot1 or NAVIGON app.
"HUD redefines the navigation experience by allowing drivers to find their way without taking their eyes off the road," said Dan Bartel, Garmin vice president of worldwide sales. "Head-up displays currently have their place in select high-end cars, but HUD makes this technology available as an aftermarket accessory for any vehicle, at an affordable price."
HUD offers more navigation details than other portable head-up displays, yet presents them in a simplified way that doesn't divert the driver's attention from the road. The directions are easy to follow and allow drivers to navigate even the most challenging interchanges and traffic situations with ease. HUD displays turn arrows, distance to the next turn, current speed and speed limit, as well as estimated time of arrival. It even lets drivers know what lane to be in for the next maneuver and alerts them when they exceed the speed limit2. HUD also warns users of potential traffic delays and upcoming safety camera locations[3]. The crisp display automatically adjusts the brightness level so projections are clearly visible in direct sunlight or at night.
Complementing the visual display, spoken turn-by-turn directions are provided simultaneously by a compatible Garmin or Navigon app1, either through the smartphone speaker or a Bluetooth-connected car stereo. Music streamed to the car stereo from the smartphone will automatically fade out for turn-by-turn voice prompts. HUD also continues to display navigation information while taking incoming calls.
HUD is easy to set up. Users can choose between displaying navigation information on their windshield, with the included, transparent film, or on to the included reflector lens that attaches directly to HUD. The device pairs wirelessly with a compatible Bluetooth®-enabled iPhone, Android™ phone or Windows® Phone 8. An integrated USB port on the vehicle power/adapter cable makes it easy to charge the smartphone while driving.
HUD has an MSRP of $129.99 and will be available this summer. Garmin StreetPilot and NAVIGON apps1, starting at $29.99 for a regional map (NAVIGON U.S. Central, East or West), provide premium turn-by-turn navigation for smartphones, including onboard maps, lane guidance, speed limit warnings2, real-time traffic2, and many other features.
HUD is the latest from Garmin's consumer automotive segment, the leading worldwide provider of mobile navigation solutions for automobiles, motorcycles and trucks. Garmin's user-friendly personal navigation devices and apps have innovative features that provide time- and fuel-saving benefits to meet the demands of everyday driving.
About Garmin International Inc. Garmin International Inc. is a subsidiary of Garmin Ltd. (Nasdaq: GRMN), the global leader in satellite navigation. Since 1989, this group of companies has designed, manufactured, marketed and sold navigation, communication and information devices and applications – most of which are enabled by GPS technology. Garmin's products serve automotive, mobile, wireless, outdoor recreation, marine, aviation, and OEM applications. A component of the S&P 500 index, Garmin Ltd. is incorporated in Switzerland, and its principal subsidiaries are located in the United States, Taiwan and the United Kingdom. For more information, visit Garmin's virtual pressroom at https://www.windowscentral.com/e?link=https%3A%2F%2Fwww.kqzyfj.com%2Fclick-100048247-12469246-1452185283000%3Fsid%3DUUwpUdUnU17007%26url%3Dhttp%253A%252F%252Fwww.garmin.com%252Fpressroom&token=EbZwapkM or contact the Media Relations department at 913-397-8200. Garmin is a registered trademark of Garmin Ltd.
All other brands, product names, company names, trademarks and service marks are the properties of their respective owners. All rights reserved.
Notice on Forward-Looking Statements: This release includes forward-looking statements regarding Garmin Ltd. and its business. Such statements are based on management's current expectations. The forward-looking events and circumstances discussed in this release may not occur and actual results could differ materially as a result of known and unknown risk factors and uncertainties affecting Garmin, including, but not limited to, the risk factors listed in the Annual Report on Form 10-K for the year ended December 29, 2012, filed by Garmin with the Securities and Exchange Commission (Commission file number 0-31983). A copy of such Form 10-K is available at https://www.windowscentral.com/e?link=https%3A%2F%2Fwww.kqzyfj.com%2Fclick-100048247-12469246-1452185283000%3Fsid%3DUUwpUdUnU17007%26url%3Dhttp%253A%252F%252Fwww.garmin.com%252Fen-US%252Fcompany%252Finvestors&token=Y1XSL6MI No forward-looking statement can be guaranteed. Forward-looking statements speak only as of the date on which they are made and Garmin undertakes no obligation to publicly update or revise any forward-looking statement, whether as a result of new information, future events, or otherwise.
George is the Reviews Editor at Windows Central, concentrating on Windows 10 PC and Mobile apps. He's been a supporter of the platform since the days of Windows CE and uses his current Windows 10 Mobile phone daily to keep up with life and enjoy a game during down time.
Whoohoo now I don't have to buy a Cadillac Cts x for fighter plane heads up display!

The XTS is much better than the CTS. just saying

Maybe if you're a grandpa. FWD is not something you want in a large luxury vehicle.

The XTS would be like the 920 & CTS like the 620. On luxury FWD doesn't matter but the XTS does have the magnetic ride suspension like the vette. RWD is mandatory on muscle cars though.

LOL I want to see a HUD in person, it is great that it was designed to work with wp8 from the get go. $130 is not too bad either for new tech.

I have it in my Camaro and while a few people complain that its just a distraction, I think it's great and feel like it should be standard (with the ability to be turned off.) I don't think it'd be an easy transition if I had to go back to a tranditional dash. Frankly, I love just having to refocus my attention slightly just to see my tach, speedo, and directions without looking down.
Edit: I'm referring to the factory HUD on my car, not the garmin one.

I had HUD in my 04 Grand Prix and was sad to lose it when we bought a Ford Edge. It is the only thing I really miss.

I definitely want a factory HUD, with integrated navigation, awesome. This device is a good start until the tech is more widely integrated.

That looks pretty cool and futuristic. Now if only it worked with Here Drive...

Just what I thought. I don't want to purchase a new SatNav app when I already have HERE Drive, which is excellent.

Or just update their own GPS app.

That's the price you pay to have their HUD. Navigation companies are struggling to stay relevant with the rise of free navigation on phones. They want to lock you in to buying their app and map updates... Not use a free Nokia maps system that gets them nothing long-term.

Here Drive, Maps is out of date. In Gothenburg Sweden there is hardly anything correct. So as long it works with anything other then Here Drive I'm happy. H.D is free for a reason.

It was just updated recently here in the US, works great. The HUD sounds cool, but as others said, I'm not giving up my FREE Nokia Drive+ for a paid service that, in my experience, doesn't even work as good.

Used Here maps in Gothenburg as late as today, and it seemed fine for me. Which part of Gothenburg is out of date? Here Transit, on the other hand, in Gothenburg is a total train wreck! Totally worthless!

Pröva köra vid Ullevi och mot staden/centrun aveny. Massor av enkel riktat som inte GPS'en vet om. Kör vid gårda och den kommer rekommendera dig att köra rakt mot trafiken (ist för att köra upp mot avenyn kunde du vika höger mot Kungsportsplatsen förr.. Är ju enkelriktat här och där. INGA hastighets skyltar som är 80 och 60 km stämmer. Dom visar fel hastigheter på alla vägar som inte är 50km. Om man försöker gå efter gps'en så kommer man ha fått fortkörningsböter, krockat i enkel fil och kört alla omvägar som finns inne i stan. Skaffade CoPilot idag, mycket stabil än så länge.

Really great thing. And it's available on WP from the start, which is quite... unusual.

Here's hoping that this becomes more common!

It seems its more of a Bluetooth thing than actually being "compatible" with WP. Says it works with any BT phone.

Garmin the best in navigation working with Microsoft wp8 lets see if they bring us working stuff. U see soon.

I bought the Garmin navigation app since day one (probably two years ago or more) and works great.

It really needs a WP8 update though... No background multitasking, no hi res graphics. Unfortunately they seem to have abandoned it to only support Navigon.

Hope for an EU release too.

Very cool. Nokia, its your turn...

I wouldn't hold your breath. From what I've seen so far in the software department l...yeah not gonna happen.

Hopefully this means they'll be updating Streetpilot to be fully compatible with WP8, soon.

Street pilot works great on WP8

Not really... No background multitasking or hi-res graphics. Other than that it works, but it's a tough choice with such a dated looking interface.

Exactly. Usually, I have to choose between using Streetpilot for traffic updates with no background multitasking or Here Drive that'll run in the background but with no traffic updates. Fortunately, Mapquest is available and Waze is on its way, but it'd be nice if the app I paid for worked a little better on my phone.

Yep... I bought Garmin shortly after Navigon came out, because I liked the interface better and the clunky way Navigon was integrated with contacts at the time, It's become very clear that was not the correct choice. Ironically, Here Drive also has terrible contact integration... completely missing, in fact. If Nokia would add Contacts, directions list, less intrusive audio directions (miss large segments of podcasts while Drive completely overtakes audio to give voice prompts), and traffic to Drive I'd be happy to just bury Garmin. But that doesn't look likely.

Looks cool. Would love to see it in action

Wow, looks awesome! Maybe Garmin can send me one free so that I can forgive the outdated maps where I live ;-) (I know, Navteq's fault...)

Why don't they show the street name where I'd turn? Is wanting a map view too much also?

Looks nice. I'd buy it for sure

Too expensive, but way cool...

Get used to seeing that heart on your phone.

If I understand correctly, this doesn't use the phone's screen, so battery usage should be much less than normal GPS apps... right?

It also says that has its own USB port to charge your phone.

it will have its own power supply most likely..just like bluetooth speaker accessories.

it has to ..but i am just wondering about its daylight performance

More worthy of a purchase than those $350 monster headphones.

Will it be available for all the regions in the world? And also, will it be compatible with Nokia Here maps or do I have to buy those apps to get HUD to work?

You have to buy their apps. Read the article.

Could the device be hacked to use with other apps?? Would love to see one that worked with Here and showed time and temp, too.

Pretty useless in day light i guess....

It seems my lumia has way too few bluetooth receivers. it needs one for my speaker phone, one for the hud, one for information sharing phone to phone, one for the elm327... wtf? why does it have just one :-\

That HUD is straight baller I got to admit that

always wanted this but only top configuration models of automobiles such as BMW 550i offered it.

take my money garmin, just take it
Windows Central Newsletter
Get the best of Windows Central in in your inbox, every day!
Thank you for signing up to Windows Central. You will receive a verification email shortly.
There was a problem. Please refresh the page and try again.