Gartner: PC, tablet and mobile phone shipments to go up 4.2 percent in 2014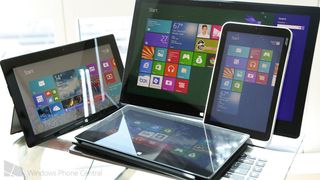 The research firm Gartner is predicting that the total number of PC, tablet and mobile phone shipments will go up 4.2 percent worldwide in 2014, with traditional PC shipments starting to recover while tablets slow down.
Gartner believes that shipments of traditional PC desktop and notebook sales will total 276.22 million units in 2014, while shipments of what it calls "Ultramobiles" and "Premium" PCs will come to 32.25 million worldwide, for a total of 308.47 million PC units this year. That would be a contraction of 2.9 percent compared to a 9.5 percent shipment decline in 2013.
Tablets will see 256.3 million units shipped in 2014, according to Gartner, up 23.9 percent from 2013 but still a slower growth rate than in previous years. Mobile phones will see shipments of nearly 1.9 billion units this year, up 3.1 percent from 2013.
In terms of operating systems, devices that use Google's Android will dominate with 1.1 billion units. Microsoft's various versions of Windows, including Windows Phone, will be installed in 333 million devices in 2014. Apple's iOS and Mac OS will be installed on a total of 271 million devices in 2014, according to Gartner.
Do you think these predictions will turn out to be accurate?
Source: Gartner
Those numbers are kind of weird.. Traditional PC will see a sales growth, but android platform will also see a growth?

That platform included phones tabs and laptops

Plus Google wear and android TV?

Windows Phone is going to overtake ios? Wow! Windows Phone rocks!

No it says various Microsoft products aka pc,tablet, phone including windows phone will be 333 and ios and mac will total 271

Don't get too excited, that number mixes WP and windows, and iOS with Mac OS

That's not what they are savying at all (the figure they give includes windows PCs). When you back out the 300 million or so Windows PCs there is only a modest amount left for mobile - maybe 30 million or so. Apple sells more than twice that in iOS devices per quarter,

But Apple does'nt sell as much OS X desktop/laptop/ultrabooks as Microsoft is shipping Windows desktop/laptop/ultrabooks. Apple has everything it does basicly running on iOS phones and tablets. I find it strange to see Android being top dog if you count in all computer devices, but doing so mainly with smartphones/tablets and not traditional PC's. When Android ever finds major addaptation on the PC space, Microsoft would bleed to death (hoping that day never comes!!)

It's mostly about phones. They are projectiong 1.9 billion phones being shipped. Android will be on many of those phones. PC sales are projected at 276 million. Android would be on top just from mobile phones, not counting tablets.

If you see these tables, there is nothing to wow about. It simply looks disturbung how big Android is. http://microsoft-news.com/gartner-windows-devices-will-continue-to-hold-no-2-position-in-worldwide-device-shipments/

Remember David and Goliath???

I find it hard to believe that this is a Windows phone website and John forgot to mention the part of the Gartner report that says that Windows phone will get 10% market share. I mean, really?? Posted via the WPC App for Android!

That's not until 2018 though - pretty far off for any kind of accurate projection.

Yea IMO Gartner is wrong frequently..like a lot a lot

Still, if they're wrong about a lot of stuff, but then why is he posting this? Either they're credible or they aren't so I would appreciate the entire report or none of it. Posted via the WPC App for Android!

I don't see how that's realistic. It's at 3% now; not sure how it'll get to 10% in 4 years, when they're *shrinking* in share in both the U.S. and China.

ven07 & S Vaibhav, those are absolute numbers for all computing devices, not marketshare or only mobile devices...


These predictions are useless

That's exactly what I said below... Anyone can make an educated prediction... Still doesn't hold any water.

Divide Android numbers / 4 as free lagphones I find in my cereals dont count.

We will be old waiting for windows to beating android

It's just a hunch, but I believe that MSFT products are going to surprise the industry. I say this because, since the introduction of SP3, MSFT is finally becoming the topic of positive news. On a daily basis, I hear people of all OS' talking SP3. I think MSFT would be wise to follow up the good vibes from the SP3 with a competitively priced and good quality smartphone and tablet.

Yuo know what, I had the same hunch! It seems that MSFT is recently making headway towards innovation rather than catching up. SP3 was an iconic step forward for them. If they really keep this up and value customer loyalty (yes i am talking about WP7 fiasco), they can really make Google sweat their heads out!! lol

I'm beginning not to care about these stupid reports.

Nothing to think about these except that in all these reports that show up WPCentral lately, google wins or is winning. I know MS missed the start of the smart phone but are they that vacuous in business? I don't think so but I guess I'm used to MS sitting in First Class and not sitting in coach.

When has Gartner ever been right?

So with Apple's 200 mil devices - that's mostly for iPad and iPhone. With MS' 300 mil - mostly PC. With Goog's Android - phones. Microsoft is king of PC's, and Google is king of phones. Microsoft is king of gaming consoles. Google is king of search engines. Apple is king of tablets. Posted via Windows Phone Central App
Windows Central Newsletter
Get the best of Windows Central in in your inbox, every day!
Thank you for signing up to Windows Central. You will receive a verification email shortly.
There was a problem. Please refresh the page and try again.