Gears 5 eliminates loot boxes and season pass, features 'direct purchases'
Gears 5 improves upon its predecessor.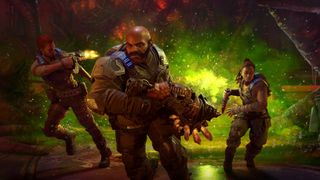 (Image credit: Xbox Game Studios)
What you need to know
Gears 5 launches in September on Xbox One and other platforms.
The game eliminates the season pass and loot crates.
There are still "direct purchase" microtransactions.
You can preorder the game for $60 on Amazon

(opens in new tab)

.
Gears 5 launches in September and The Coalition keeps on providing us with new details about the upcoming game. Unlike Gears of War 4, Gears 5 features a number of changes to the business model. According to a post on the Gears 5 website, "Gear Packs are gone. So is Season Pass. You can earn exclusive customization."
The website said that loot boxes have been removed so that players know exactly what they're getting through the microtransactions. Additionally, the player base won't be fragmented because of the season pass. You can see a list of the major changes below.
No season pass.
No "Gear Packs."
Additional maps are free for matchmaking and "Private Play."
All store purchases are direct, so you always know what you'll get.
A new "Tour of Duty" system allows you to earn customization content including character skins. Luckily, how you can earn each piece is clear so you can focus on completing those challenges. Not everyone wants the same cosmetic items, so you can choose what to pursue. There's no pay-only content in Tour of Duty. Think of this system as seasons in other games.
Rewarding players is important to Gears 5, and for every minute you play in multiplayer, you earn a random item. These supply drops can't be purchased with actual currency.
Now comes talk of the microtransactions. Aside from the optional boosts which help you level up faster, it seems like everything else is cosmetic. Customization content can be bought with a premium in-game currency called "Iron." Iron is purchased with real-world currency on the Microsoft Store. Luckily, you can earn Iron through Tour of Duty.
The Coalition added that content found in the store is "direct purchase," meaning what you see is what you get. There is no randomness at all. Keep in mind that no items in the store will provide a competitive advantage for real-money purchasers, so only buy a skin if you really like it and want to stand out.
With a continued push against paid post-launch content and microtransactions, this is a step in the right direction. Let's hope The Coalition keeps its word and there are no pay-to-win mechanics in there.
Save the planet
(opens in new tab)
A personal journey

Explore Sera. Skim across glaciers, sail over deserts, and descend into sunken ruins to discover the largest and most diverse Gears world ever created.
Excellent and affordable Xbox accessories
Up your Xbox experience with one (or all) of these budget accessories, all of which are approved by the gamers of Windows Central.
PowerA Play & Charge Kit for Xbox One (opens in new tab) ($15 at Amazon)
This charging kit keeps your Xbox One wireless controllers juiced up, and it offers batteries for two controllers. At just $15, this is hands-down our favorite budget charging companion.
ElecGear 4 Port USB Xbox One S Hub (opens in new tab) ($19 at Amazon)
This brilliant little USB splitter hub attaches perfectly to the side of your Xbox One S console. It's ideal for use with chargers, controllers, headsets, and more.
Controller Gear stand (opens in new tab) ($13 at Amazon)
Proudly display your Xbox gamepads with this stylish and functional stand. The licensed design is minimalist and black, and it has a hidden storage compartment, making the price of $13 a real steal.
Asher Madan handles gaming news for Windows Central. Before joining Windows Central in 2017, Asher worked for a number of different gaming outlets. He has a background in medical science and is passionate about all forms of entertainment, cooking, and antiquing.
They trialed that with Gears 4 and suddenly discovered that if you allow people to buy the thing they want, they will be more inclined to pay money, who would have thought. As an aside Gears 4 didn't have "pay to win" microtransactions, only cosmetic. You could argue that Horde mode was pay to win, but it was a coop pve scenario so it wasn't about player advantage over one another. Although even though it wasn't pay to win, initially it was horrendous how hard it was to get packs for free. Hell, after two years I still don't have all the horde skills for any of the classes.

Well for it was pay2 win. Any me it's about any advantage you may get vs someone who doesn't pay.

Oh GREAAT NO LOOT BOX!!!! -_- Maybe Coalition thinks they deserve some kind of trophy for that?
F*** them. This is still microtransaction in a full price game. Just because they aren't going as far as putting loot box we should be happy about this bs?
This free2play economics should not be in full price game and gamers should criticise this no matter who is doing this. Yesterday I saw how someone who looked like a EA fan was getting upset about people criticising EA and not others. In some way he doesn't have a point. I wonder how many people will actually criticise this.
Yes, no season pack but multiple versions with exclusives packs for each version and "get the game late if you don't buy these version". Ofc there will be advantage for people playing the game early in a competitive multiplayer game. So I'm not too sure about this not having pay2win.
And ofc the "boost". This is like forza. The way I see it is just that progression will be slower unless you pay cash. This for me is a bit like those free2play mobile games where you are frustrated with slow progression and you are constantly reminded that you can pay to increase progression. I think it was the fellow Xbox game studio devs Undead labs who said on their previous forum (before MS bought them). They said something like how they believed microtransactions only belong in free2play games. After the whole Star Wars bs, I predicted that more and more publishers will come out and say "no lootbox" while putting microtransactions and various other bs in their full price game and try to look like the good guys in the process...
Coalition is doing exactly that.

I guess gone are the days of simple Horse Armor. 😜 Even if these were weapons/armor in a SP part of the game, they still bother me. Games should be about a level playing field. Even in fighting games the have a handicap to make it a fair match. Why have ways to take this away?

@Guest_aotf. As long no pay to win mechanics get added it's a step in the right direction. Studios need to make money to pay staff and fund projects otherwise they have to get funds from publishers or other sources. The moment any studio becomes reliant on publisher funds the publisher can dictate the direction of the game and if the studio doesn't like it, their only option is either cancel the project or shelve the project. In the case of either the publisher can also buy out the franchise or take control over the IP and fire the staff. In an ideal world, there would be no micro transactions but as long people without sense spend thousands on micro transactions (whales) there will always be micro transactions.

Don't agree with a lot of the things you said.
We pay for a premiere product. For me, a premium product should not have these kind of cheap strategies no matter what game it is.
We are talking about free2play economics in a full price game. If it is EA or some other publisher people here won't mind trashing it but since it's MS, people are either ignoring or defending it, which is crazy.
Every companies needs to pay salaries but can that be an excuse this greed. That argument sounds like the one that Polygon made when trying to defend loot box in sports games. Here you got to consider that this is a first party XB games like SoT or SoD 2 or crackdown 3. The goal of MS is constant subscription to their game pass and gold services. We are talking about 15 bucks per month. They really don't need these. Look at SoT. This is a game that will be sold at full price with multiple versions and the "get the game late if you don't pay" edition. This has exclusive pre-order content, This will help sell XB consoles and subscriptions.
For me, these microtransactions is unacceptable, they don't need to do this and it's just greed... Whenever I discuss with people about these subjects the argument I get is almost always the same. It's either "everyone is doing it", "it's optional", "I always defend these company, so I'll do it again by saying they are doing it the right way", "it's ok it's not as bad as [name of another game]", the common "I don't mind it" or in your case .
I just wish I could discuss with someone who actually WANTS microtransactions. A gamer who WANTS to pay to progress faster.

Phil, Gears 5 éliminates physical copy stores for monopolistic view, and features "Direct Purchases" for play easily experience and progress faster
Windows Central Newsletter
Thank you for signing up to Windows Central. You will receive a verification email shortly.
There was a problem. Please refresh the page and try again.