Gears of War 4 Title Update 3 detailed: bans for rage quitters, two new maps, and more!
The Coalition just revealed Gears of War 3's third update, bringing in suspensions for early-quitters, two new maps, and much more.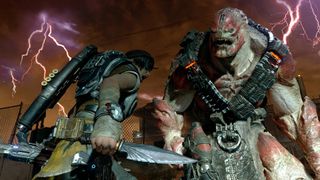 In an update posted on the official Gears of War forums, The Coalition revealed that Title Update 3 (or, Series 2) will begin rolling out on January 10th, 2017. The update clocks in at 7 GB for Xbox One, and 9 GB for Windows 10. The update contains two new maps, numerous fixes, suspensions for people who quit matches early, and hundreds of new cards to unlock.
The Coalition warned that there could be some disruption to Gears of War 4 servers during the update, so expect outages. Additionally, while new cards will be available for crafting as soon as the update goes live, Gears Packs won't be updated with Series 2 loot for several hours after the update launches, so to be safe, hold off until later in the day before buying packs. More information on the new cards will be available tomorrow morning as well, so stay tuned for that.
The full patch details are as follows.
Series 2 Release and Two Maps
Two new maps and Series 2 of our Gear Pack content arrives with Title Update 3, delivering hundreds of new Cards to collect. We'll be announcing details on all this and more tomorrow morning (PDT) - stay tuned for all the info.
Players leaving a Core/Competitive game early will now be suspended from matchmaking
Players can rejoin a Core/Competitive match within 5 minutes of being dropped or quitting from an option in the main Versus menu
Rejoining and completing a match will remove the matchmaking suspension time
Added functionality to display matchmaking suspension time (including to your Squad Leader). You will not be able to matchmake if your Squad contains a suspended user until their suspension has completed.
Spectator Mode Improvements
As we enter 2017 to continue the huge season of Gears of War 4 eSports ahead, a small part of our team have been working on improvements to the Spectator Mode experience for viewers and casters.
This latest update brings far more information for viewers to follow the action, while reducing the real estate taken up by Player Cards to make them more viable for use when streaming tournaments. We're excited to see what fans and casters think of these improvements over the coming months!
Player Cards have been re-designed to take up less visual space
Player ammo and reloads are now visible in the Spectator Mode UI
Crosshairs are now visible to Spectators
Respawn timers are now displayed on Player Cards
Weapons holstered onto a player's back can now be seen in Spectator Mode
'K' keyboard button now removes spectator inputs UI and/or the black bar altogether
'L' keyboard button toggles Player Cards to the far edges of the screen or normal positioning
'V', 'B' and 'N' keyboard buttons now jump to specific Escalation hill battle cameras
Fixed an issue with X-Ray vision not rendering as intended
Made X-Ray a 'toggle' rather than 'Press-And-Hold'
Fixed the ordering of players in Competitive UI to match the Lobby Order
Pressing B while holding Jump Cam now cancels a pending Jump Cam
Added new mapping for specific face buttons for specific camera modes, listed below: Gamepad 'A', Keyboard 'Z' -> Switches to Player or Follow Cam. If already in Player Cam, switch to Follow Cam and vice versa. Last used mode is saved as your preference when switching back to Player/Follow Cam from other modes and when using the Jump Cam Gamepad 'X', Keyboard 'X' -> Switch to Ghost Cam Gamepad 'Y', Keyboard 'C' -> Switch to Battle Cam
Other Fixes
Skill ranking will now be visible again at the end of match scoreboard
Added 'Spawns Swapped' UI when spawns flip in Versus
Increased the Energy cost of the Hammer of Dawn Strike in Horde
Increased Escalation Win and Loss bonuses
Increased Escalation Win Bounty Rewards
Tuned criteria and rewards for King of the Hill Bounties
Fixed an exploit that allowed players to teleport Energy to their position in Horde
Squad Members can immediately see when they have been removed from a Squad
The 'Horde Skills' UI Notification alerting you to new skills now works correctly
Horde Skill cards can now be equipped and unequipped in the Horde Skills inventory
Added UI notification to show new Cards in your collection when opening Gear Packs
Improved UI on Turret Heat bar
Improved performance when switching tabs in Card view menus
Added slider to control how long text chat remains visible after a message
The Longshot can no longer shoot through walls if positioned through a 90 degree corner
Added a Duplicates Only filter to the Inventory Menu
Fixed an issue where audio slowly cut out in Horde
Fixed an issue allowing grenade effects to continue into the next round in Versus
Removed an exploit allowing users to break the map boundaries in Horde on Foundation
Fixed an issue that allowed players to respawn out of the map boundaries in Horde
Fixed an issue where offline customization would reset if user changed characters
Miscellaneous fixes and improvements
It'll be interesting to see what new skins and abilities The Coalition inject into Gears of War 4. Microsoft told me they have several months of content drops planned for the game, so hopefully, we're in for a lot of cool stuff.
Are you still playing Gears of War 4? Let us know in the comments.
Jez Corden is a Senior Editor for Windows Central, focusing primarily on all things Xbox and gaming. Jez is known for breaking exclusive news and analysis as relates to the Microsoft ecosystem while being powered by caffeine. Follow on Twitter @JezCorden and listen to his Xbox Two podcast, all about, you guessed it, Xbox!
The suspension should work like NNID bans where the wait time increases every time someone breaks the rules online instead.

Would like them to add another difficulty to Horde. Insane, with class level 7+ team members, is pretty routine and easy to beat. Maybe a nightmare level? Also, have the enemies come quicker, sometimes it takes too long to go through a wave and if it they could the enemy difficulty consistent and not have it drop off after every boss wave.

Yep, still playing gears. I hope the new content will be darker like old gow

Glad they didn't fix any relevant issues... They seriously hate rage quitters, lol it ain't that serious.

What ? Try playing three ranked matches in a row with two players in the team.. Hopefully they are even more strict than ever for quitters

speaking of relevant issues, still can't vote for map selection on horde

Halo uses that ban system, and it is really bad. Making people stay in a game where other teammates have already quit is an infuriating system. "Get pummeled 4v2 or get banned" isn't a good way to do it. They should only do it for the first quitter, or stop making people play uneven games when their teammates quit. Hopefully Gears implements this smarter.

I bought an Xbox One S for this game alone basically. But now, I think it will be the center of my entertainment. I was unaware of how simple it was to use it with a Universal Remote. And having access to a few great 360 titles doesn't hurt either.

You said gears of war 3 update instead of gears of war 4 in the first paragraph

I think if they want to keep people interested in crafting their own cards, they need to increase the recycling value. I stopped scrapping most unwanted cards now simply because you get so little credit back.

My biggest issue with some of these is getting removed/banned when you don't quit, but signal loss or power loss causes you to disconnect. It may be more than 5 minutes before you are up and running again.

Just finished the story of Gears 4 last night...Not as "dark" as the others but a really good game, worthy to play. Horde Mode is fun but, only play it when fellow friends play it...

Buddy and I have owned it for a long while but last weekend we finally started a cooperative play through the campaign. I have mixed feelings but we'll keep going. The laughs alone are worth it. We are bad... like really bad. I can't even imagine trying competitive play... burningearthgames on twitch if anyone cares :)

Seriously . These updates against rage quitters are a waste and they are not neccesary . This is totally great game . The Coalition should rather put this wasted energy and focus into more important elements of the game . Horde mode should be given offline support like GOW 2 and GOW 3 . I think the idea of making this Horde mode online only was completely idiotic . Horde in GOW 4 is pretty enjoyable . Please add offline support for this mode
Windows Central Newsletter
Get the best of Windows Central in in your inbox, every day!
Thank you for signing up to Windows Central. You will receive a verification email shortly.
There was a problem. Please refresh the page and try again.