GEICO insurance finally releases an official Windows Phone 8 app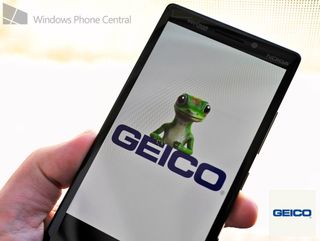 Banks and insurance. You need them and for some odd reason, we're seeing a large flux of official apps now land on the Windows Phone Store. That's important for people who, like myself, don't like doing the whole website-on-mobile thing to access my account. There's just something satisfying about launching an app.
Today, it's GEICO's turn. The popular motorcycle and car insurance company with the jocular gecko, has put out a well-polished app, allowing full access to your account and more.
Let's take a look at the listed-features:
GEICO on Windows Phone 8
Access all your GEICO policies
Access and view digital ID cards
Pay your bill
Change your payment plan
View your discounts and coverage detail
Quote adding, replacing or removing a vehicle
View reported claim details, upload accident photos and report a claim on geico.com
View driver and vehicle information
Update your contact information
Email GEICO securely from the app
I haven't rated too many insurance apps, but as far as 'things I want to do' on them, this seems to fit the bill rather nicely.
Are you running a Surface or Windows 8.1? Then make sure you also grab the GEICO app for Windows 8 here in the Store (opens in new tab), completing the experience.
If you want pure mobile, download GEICO for Windows Phone 8 here in the Store.
Thanks, caliborn, for the tip!
Windows Central Newsletter
Get the best of Windows Central in your inbox, every day!
Daniel Rubino is the Editor-in-chief of Windows Central, head reviewer, podcast co-host, and analyst. He has been covering Microsoft since 2007 when this site was called WMExperts (and later Windows Phone Central). His interests include Windows, laptops, next-gen computing, and for some reason, watches. Before all this tech stuff, he worked on a Ph.D. in linguistics, watched people sleep (for medical purposes!), and ran the projectors at movie theaters because it was fun.
I tried to play off of your joking by posting "FIRST" and I got an error message saying "Please submit a more constructive comment :)" Touche WPCentral!

But does it have Instagram?

2014 for WP. Still need Capital One and US Bank to get on board. Also Allstate

Funny, I just closed my US Bank account after 14years and told them I switched to BoA because BoA has WP and Windows 8 apps. They said they were sorry to hear that and would pass my comments along. Too late for me but I hope they do.

I use Mint app from Intuit for now

I use mint too but its limited to its uses. Its not the same.

Mint just gives you tracking and reports. You can't actually do anything like scan a check for deposit, transfer money between accounts or do bill pay.

... And that is a really good thing.

I would prefer the app had those capabilities. Mint is made by Intuit, same company that puts out TurboTax, Quickbooks, etc... Very reputable. I'd trust them with my info just like I did with MS when I ran MS Money on my computer and link with my bank accounts.

+1 Capital One and Allstate

Native apps will be nice, but I use the Capital One 360 mobile site through Web Apps (there is also the main Capital One site). I have a tile pinned to my Start Screen. It works well for me. I use the American Express site this same way. These both meet my needs, but, again, native apps will be nice to have for the platform.

+1. I use both sites also. I only want to scan checks in the rare event that I get one; only a native app can do that AFAIK.

The added bonus of a native app is being able to put it in an app folder.

Amex, PNC, the list goes on

+1 Allstate They already have an official esurance app on WP and that's owned by Allstate.

Esurance are scam artists. They give you a super low quote. Then when the bills come there's over $100 in taxes per vehicle. Other carriers such as progressive and state farm show you the taxes up front in their quotes. Not sure about GEICO.

You pay what GEICO quotes.

recently we switched to Elephant Insurance - it was very cheap compared to Statefarm. Has anyone every used them? What has been your experience with Elephant?

Bout time.....too bad its too late they kick me off their insurance....jerks! Hate them

Like a good neighbor State Farm is...oh wait

I had this before and they took it down because of issues. I'm glad its back!!!

So am I. Got into an accident this morning and opened a claim using it. Awesome!

I wouldn't call an accident "awesome"...

Yes they had the app. They are rereleasing it now .

Awesome and got into an accident in the same comment wow. Hope ur okay. And your car

I meant the app was awesome in that I had all the info needed to fill out the police report and start the claim process.

Too late... already rocking my Note 3....

http://www.androidcentral.com/

Are you saying that if Geico had a WP app before you bought your Note 3, you wouldn't have bought it? Didn't think so, so please spare us....

Well, I have State Farm. Darn it to heck lol

Surprised there was no mention of that botched NFL commercial spot they did. Showed Geico app on a Windows Phone when no app existed in the store. lol

Regions Bank did the same thing. I asked them about it on Twitter, and basically got the "sorry for the confusion, you can use our mobile site" answer.

Interesting, ditching Regions for Wells Fargo this week precisely because they don't have a WP app.

Yup, Regions has had long enough to get on board and I'm tired of waiting on them. In the process of consolidating. I'm not buying anymore devices to deal with companies. The companies can come to the devices I own or screw 'em. This is a timely release from geico, they would have been dumped next week. I became Google and Android free when I got my Icon last week.

Allstate has a commercial about their photo claim thing and the kid is holding a Lumia 920...

but the mom is using android

They had one, for WP7 (I had it) and maybe they were showing the one they just released (since that would probably fit well within the beta timeline. They probably wanted to have it out in time but found some bug or security issue that made them wave off the release I'd guess. I didn't see the commercial but either way its nice to hear WP even get mentioned. There are tons of companies that have native apps but haven't even bothered to update their websites to display anything other than the Play store and itunes for getting mobile goodness so it's nice to see one thats a bit overly anxious :)

So can the pig get his Nokia back now that they actually have an app?

+925 Come on Nokia/Microsoft, comarketing ready.

Forget the pig..give me the gecko instead

Still waiting on progressive to make an app.....

Yes, this. GET ON IT FLO!

What is it about their mobile website that makes you need an app instead?

By that logic lets just not bother with apps at all, and just use the browser for everything since most product and services offer a mobile site. I find a dedicated app usually offers a more streamlined experience or exclusive features (tools for easily logging a claim for example). I despise the mobile site- it never seems to retain my login, and is sometimes a pain when I need to access certain info.

"By that logic lets just not bother with apps at all, and just use the browser for everything since most product and services offer a mobile site." Not at all. There are many apps where it's convenient to have access to functions in a phone that are not readily available in the browser such as location, accelerometer etc. Also, apps that are used frequently where even small inconveniences in the web browser become an issue. But I'm not seeing any of these issues for a mobile website for an insurance company. It is by most people used very infrequently, and when it is only briefly, for simple thing such as checking on claim status, paying a bill and looking at documents. Just curious about what an app would bring to the user experience in this case, and whether the use of the limited resources on the phone is worth it.

I default to desktop versions on my phone. Most mobile sites are crap. When it comes to paying bills though, I just want to jump in, see what I owe and get out. App is perfect for that and I don't have to screw with browser defaults or different bookmarks.

They have one and it works good

Esurance is cheaper & has better service IMHO. Plus they have a great app that been with Windows Phone since launch day 2010.

I had GEICO back when I was in the Navy, when it stood for Government Employees Insurance Co. Screwed me over. Fast forward 25 years and a friend fought them for four months to get his car replaced when it caught fire. I'm with USAA FTW.

USAA has a decent app too, that recently got a big update.

Yup. Glad they finally returned.

That's what Clark Howard recommends.

I could write about six chapters worth of horror stories when I had Allstate. Never again.

This is just a wrapper for mobile website.

At least we have an app and they spent money on it to get it to the WinPhone store.

C'mon Flo shows wha you got! Your turn!

That's nice. Allstate, time to step up.

Nationwide where are you :'(

Nationwide is On Your Side!* *but only if you use Android or iOS

boots and pants and boots and pants and boots and pants and..

That's been in my head since I saw the article.

Come on 5th/3rd... I'm waiting...

Too little too late. I switched to Progressive and saved $600/year. Now if Progressive had a WP8 or W8.1 app that would be awesome.

Honest question, why would that be awesome? I use progressive too. What is it on their mobile website that would be better as an app?

If you're using GEICO, you're probably not getting a good deal.

Nope. And if you're a veteran you should look instead to USAA (coming from a vet who had Geico when it was Government Employees Insurance Company and now uses USAA).

Anyone else having issues with the Windows 8.1 link? Says the app has been removed. Too bad since I was actually excited to start using their services on all my devices.

"That's important for people who, like myself, don't like doing the whole website-on-mobile thing to access my account. There's just something satisfying about launching an app." I, on the other hand, don't understand why people want an app for something like this. Take up storage space for something you use, what once or twice a year? Once a month at most, for most people. A well designed mobile website beats an app every time, IMO, for these type of uses.

I'm a little bummed about this one. My biggest complaint is having to login everytime I access it. I wish all vendors had an option to keep you logged in.

I need a progressive app. The webapp version MS is giving us is not good enough.

Great app. It's got all my pertinents, and such.

So much better than the old Windows Phone 7 version.

Good to see. I do not have to dump then and can continue to laugh at their commercials.
".....can Charlie Daniels play a mean fiddle?"

Uh. This is just their mobile site with a button bar at the bottom.

I just saved 15% or more on my car insurance by downloading the gecko (I mean, Geico) app