Get Headlines Texted To You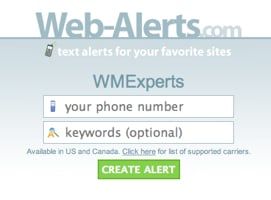 Somehow it seems odd to us that we haven't found this service -- or one identical to it -- sooner. It's Web-Alerts.com and what it does is convert RSS feeds (like ours) into text message alerts. No longer will your unconscious desire to read the latest news be shackled by your conscious mind's utter failure to constantly scan your RSS reader.
The best part - you can filter the feeds so that only posts with the keywords you care about will get pushed out to you. In other words - you can still feel relatively safe subscribing to an oft-updated blog without getting completely inundated by, well, that blog.
The bestest part is that it's completely free - well, it's as "free" as your SMS limit.
Read: Web-Alerts.com via BGR
4INFO.net actually does this too, and they have been around for a while. I use them to get all my live sports scores texted to me.
Windows Central Newsletter
Get the best of Windows Central in in your inbox, every day!
Thank you for signing up to Windows Central. You will receive a verification email shortly.
There was a problem. Please refresh the page and try again.