Get ready for it... June is #MobileFit Month!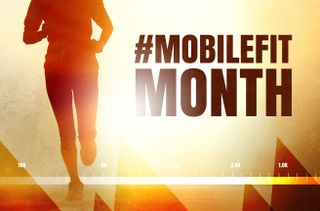 We're looking forward to making June the month we dedicate to the intersection of technology and fitness. We're going to explore and highlight fitness, diet and health apps for your platform. We're going to explore accessories that help you get the most of your workout. We'll look at connected devices that will help you achieve your fitness goals. June is where we all get #MobileFit.
You'll find great content focused on fitness all month across iMore, Android Central, CrackBerry and Windows Phone Central. This year, #MobileFit will be hosted by Connectedly – our newest community dedicated to the next era of connected devices. Things like smartwatches and wearables are leading the current charge to the next generation of health and fitness, which is why we want to use Connectedly, and their forums, as our basecamp for fitness. You'll still find platform specific content on the site of your choice, but Connectedly is where we'll be hosting content that is more platform agnostic – like which pair of headphones will help you kick ass during your weekend. There you'll also find our #MobileFit Month forum where you can discuss anything and everything related to Mobile Fit during the month of June.
Mobile Fit doesn't officially start until June, but we figured we'd get the word out so you can get ready. We wanted to share a few of our plans for the month with you and solicit some community feedback to make Mobile Fit all about you.
Fitbit Challenge
This month we're going to be doing a fun challenge for those who have a Fitbit activity tracker. We'll be setting up an activity group where we all compete with one another to be super active. Those that get active in the group will walk (or run) away with some cool new gear. This challenge starts on June 1st, which is this coming Sunday. This gives you time to pick up the Fitbit of your choice before the challenge starts. Already have a Fitbit? Then join the group!
Don't worry, this isn't the only way to win anything during Mobile Fit. We've got a ton of smaller prizes and contests we will be doing throughout the month.
So you don't miss anything, be sure to visit and bookmark connectedly.com/mobilefit, which will serve as the main event page for #mobilefit month and will pull in all related content from across participating sites.
Get social
Could you tell that #MobileFit was going to be our hashtag for the month? We want to see how you use technology to stay fit. Use the hashtag throughout the month to show us and others how you use tech to stay fit and healthy.
We can't wait to get fit with you.
Windows Central Newsletter
Get the best of Windows Central in in your inbox, every day!
NOOOOOOOOOO I LOVE MY COUCH

ermagerd! i have my endomondo ready! and raring to run! bring on the good stuff!!

The sad thing here is that Microsoft should be in the lead on this and its not. I just don't get who is running things there but they could be at the forefront of the fitness community. MS should partner with a national gym chain. Together they could offer a special program where if the member agrees to a 2 year contract they could get an Xbox One/w Kinect for their home for $99 or even a 1 year contract for $199. MS and the gym could build specialized programs for members who could then be a part of classes designed to work with the Kinect that would not only record that user's personal data but could add it to their health vault for privacy. Each session's data can be reviewed by a trainer and you can get advice and instruction on how to better your routine. They could even offer live classes where the instructor or another trainer can provide feedback to that user in real time. The gym can even arrange classes or even private virtual sessions for individuals. Want to work out with a friend or relative across the country? Snap a group Skype session and work out together at your own schedule. Instructor led Yoga or Ti Chi in the privacy of your own home seems to be a no brainer to me. They could even incorporate mobile apps and products like Fitbit, Fuelband, and Runtastic. It just seems like no one has vision there to make it happen.

Just got my FitBit Flex two weeks ago, so I'm in! And the MyFitnessPal app update on the way.. It is a good day at WPC today :)

I'm in this time need to lose about 20lbs so count me in.

20 lobsters? Duuude just cook them up and serve them to 20 friends. Or set up an underground lobster-fighting gambling ring :P :P

Yes! Mobile fit month is awso....oh wait... Does this means I have to exercise?! I'm out! Getting out of the bed is all the exercise I can stand for a day :-)
If you ever see me running you better start running too cause something bad is happening on the opposite side.

How about some coverage on how terrible Windows support for Weight Watchers is. Before 8.1 the mobile site was spotty. Now it doesn't work at all. WW isn't helping either and I don't understand why Microsoft isn't being more proactive. WW has been rated as the best weight loss/management program multiple times by multiple sources. It's a shame that i cannot follow the program if i'm using a Windows Phone and that there is no Metro app for use on my RT. I can use Desktop mode, but it runs super slowly on the RT.

Maybe you should blame WW not Microsoft.

People don't think. They just complain about Microsoft as if MS I'd stopping WW from making the app.

Shame there's no FitBit App for WP8, syncing is such a pain as I need to use my wife's SGS3.

It is extremely annoying not having an app that syncs the fitbit with my phone. My g/f's stats are always updating on her iPhone while I have to wait until I get home and use the surface 2 or laptop. This is pitiful. I really love this platform but Bluetooth LE support has been a feature on smartphones for over two years and yet I have to wait for a software/firmware update to enable a feature that my phone already has. This a really piss poor effort.

You'll have TrackRunner http://www.windowsphone.com/en-us/store/app/track-runner/95c6a10c-84a7-4c26-98eb-5d6b9df93698 users participating. June might be a good month to introduce and update health and fitness apps on WPC?
Windows Central Newsletter
Thank you for signing up to Windows Central. You will receive a verification email shortly.
There was a problem. Please refresh the page and try again.