GHub for Windows 10 conveniently consolidates all your Google services
Microsoft may have learned to play nice with other companies, but Google still keeps Microsoft at arm's length. GHub helps you use Google services on Windows devices.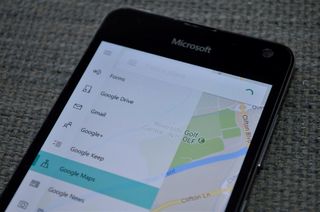 The Google ecosystem is ubiquitous these days. Some services, such as Google Maps, Gmail, and Google Drive, have competition, while others, such as YouTube, realistically don't. But Google hasn't, and seemingly won't, release first-party apps for its services on Windows 10.
You can fill this gap in some cases by turning to third-party alternatives, like myTube!, but in other cases, you have to stick to the web. GHub is somewhat of a merger of these ideas. It's a third-party Universal Windows Platform (UWP) app that wraps up the web versions of Google's services. It's available on Windows 10, Windows 10 Mobile, Xbox One, Surface Hub, and HoloLens. And there is a free version with ads called GHub and a paid version called GHub U available for $0.99.
Keeping Google together
The main benefit of using GHub is that it keeps all of your Google services together without requiring you to open a bunch of tabs in a browser. Once you login on one of them, your login details extend throughout the app and the layout is easy to use.
GHub is set up with a hamburger menu on the left that allows you to quickly jump between any of the supported services. The full list is long but the big ones are there including Gmail, Google Drive, YouTube, Google Maps, and Google Hangouts. The app's description claims Google Play is also supported but it's not, which is disappointing.
There isn't much more to the app. You can change the menu color from light to dark but the real reason to use this app is for speed and convenience, and it does a good job at facilitating those.
Limitations of GHub
Because GHub is a collection of web-wrappers, it doesn't have all the features of a native app experience. For example, you can look at Google Maps in full detail but you can't get turn-by-turn directions to use it as a GPS.
This means that GHub is what the app's name suggests: a hub for viewing and using Google services. It is not a replacement for first- or dedicated third-party apps.
Overall thoughts on GHub
GHub aims to meet a need for Windows users who are part of the Google ecosystem. The app has limitations because of its nature of relying on web experiences, but it's worth taking a look at, especially if you're on Windows 10 Mobile.
Despite these limitations, it creates an easy to navigate area that collects all of your Google services into one convenient place.
If you don't want to spend money right away, remember that there are two versions of the app, and one is free.
Windows Central Newsletter
Get the best of Windows Central in in your inbox, every day!
News Writer and apps editor
Sean Endicott brings nearly a decade of experience covering Microsoft and Windows news to Windows Central. He joined our team in 2017 as an app reviewer and now heads up our day-to-day news coverage. If you have a news tip or an app to review, hit him up at sean.endicott@futurenet.com (opens in new tab).
Microsoft and Google are playing nice when it comes to apps. Progressive Web Apps or PWAs. They are not here yet, but may be in the next update in the Spring.

Coincidentally PWAs arrive just in time for the death of any viable alternative mobile platform

Great app. Thanks this is needed. Just downloaded it. Are there any plans to have things like hangouts scale better on windows 10 mobile? Also will the app push notifications for new chat requests that come in via hangouts?

Hi. We are very surprised to appear in Windows Central! We are just a very small group of developers, and GHub is just one of our applications (our users' favorite is Mobile Studio). Those who know us know that we try to be very close to people, so, after seeing that the acceptance of this application has not stopped rising, we want to tell you that we are preparing a new update! We want to thank Sean Endicott for this great article, too. We know we have a lot to do with this application (¡the Google Play support was dropped because of Google policies, but we forgot change the description, sorry!). Thank you so much.

...and thanks for your dedication and support of the platform.....especially Mobile.

Hi, Kenzibit. Our dedication is due to the kindness of our users. Our support, however, is an effort that every developer should do. Thank you for your compliments!

Thanks so much guys. I will totally buy this. One question: You mention in description Google Play. What is this? Thanks in advance

Google Play (formerly known as Android Marketplace) is a place for apps, games, movies, etc. similar to how the Microsoft Store is for Windows 10.

Great work guys! If you can get Windows 10 notifications to work whenever you get an email message, a Google Voice text (add Google Voice :) ), or a Hangout chat, I'd say the app is near perfect!

See JoshNay's comment here. If you can make this happen you got a winner and my money too.

Does your app sync Google Assistant reminders and integrate them into the Action Centre at all? If not, do you think that is something you'll look to do in the near future? Cortana just doesn't integrate deep enough into Android yet, but getting reminders (at the right time) on both PC and Phone are important to me - Google Assistant doesn't currently sync reminders to PC

I've heard from somewhere on Android Central that if you want Google Assistant to sync on your laptop, you should be using Google Chrome and have a Google account.
.
I instead installed the Cortana apk file on the Android phone and continue to use Cortana :)

I have found you can ask for your reminders in Chrome, either via typing into the search or by using Voice. It does work, hoping there is a way to get those reminders to appear in Action Centre. I think I could do a basic app that shows you the reminders in a UWP, but having them push to Action Centre is another story. Might see what I can knock together though.

Cortana works okay, but just not integrated well (yet) and voice activation sucks compared to what it was like on W10M. Cortana doesn't guide you through setting a reminder like on PC and W10M unfortunately. Google Assistant also works with Google Home, I'm hoping Microsoft To-Do adds location based reminders and also IFTTT integration at some point, I could switch to using that for all my reminders instead then

I'm wondering what the point is. What's the difference between using an app that makes you switch between menus to get at the services, and does not support them all, and using a web browser that does support all the services, in different tabs. Looks to ke like GHub is looking to fix a problem that isn't there, and making things not as useful.

What is the point of using anything Google? it's an option - people like options
Other benefits include: Touch, single click access between services, and sandboxing your google account.

You're missing his point. Why use an app that restricts you to a single page instead of using a browser where you can have all Google sites loaded at the same time. The point he's making is that there's no benefit to using GHub over a browser. Hence, why does it exist?

Convenience is the obvious point. If you don't find it more convenient, then I guess it's not for you.

It's less convenient to view the Google sites one at a time in GHub. Using a browser, you can have all sites open in individual tabs and you don't have to wait for the app to load when you switch in GHub. GHub is less convenient in this regard, IMO.

Good review. Thanks Sean. And thanks developer for coming here.

Hi, Ananve. Every developer must be with their users. We are the ones who should thank people like you!

I'm impressed so I have spread the word about this app to my local Lumia group. I think at least a few people have bought the app since.

Microsoft such for the way they have treated their customers and Google suck over the way they hope a monopoly over Microsoft head and refuse apps o the very platform that gave it life. I wish these companies gave the consumer what they wanted because then I'm sure we'd still have a Windows mobile phone. Maybe it's time Google was taken to court cause I feel it's been unfair for them to hold you tube app away from Microsoft while allowing it in iPhone. Am I the only person who feels this way.

I agree with you 100% someone should sue Google! Maybe if someone starts a Go fund me page they could raise enough to get the ball rolling? Maybe petition Microsoft to drop all Google services? Petition Google? Make some noise.

No thanks, wish google die as they dont play fair

Thanks for the effort. Since MSFT gave up on mobile, this will be a good way to make the transition once my HP Elite x3 dies. I dont have interest in sticking to MSFT apps once I have to move to Android or iphone. Would prefer a seemless ecosystem. If there will be no more consumer-focused mobile device by Microsoft, I dont have interest in a disjointed app experience.

Google is a pest if your using third party Youtube apps as they keep fiddling around with their apis and preventing said third party apps working properly.
For instance if I run a video on mytube or metrotube it will stop randomly, however if I run the same video in the browser and directly from youtube.com, it doesn't stop randomly. Have to use youtube as I have yet to find a place that has high quality lecturers from universities. Edit: Freaking auto correct, I typed apps not adverts!

probably the auto correct is AI based, it saw google and assumed adverts.

support the devs by using their apps and rating it high That costs nothing

This is indeed a great ap and with the purchase, though unsurprisingly things such as docs and slides still will not work on mobile due to Google's seemingly childish approach. Still a nice idea and handy for most services. added as a reply because i cannot post a comment straight into the article itself. Oh the irony of a Windows central app!
Windows Central Newsletter
Thank you for signing up to Windows Central. You will receive a verification email shortly.
There was a problem. Please refresh the page and try again.