Giffgaff's new universal app for Windows 10 is taking shape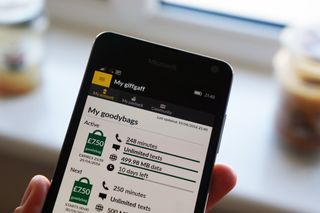 Giffgaff is working on a universal app for Windows 10, which will enable customers to manage their account, see how much allowance they have remaining, and more. The app isn't quite ready yet, but one of the developers working on the official app has revealed details and shared some screenshots.
Neowin got in contact with Ian Morland who is working on the official Giffgaff app after publishing a third-party offering on a previous version of Windows Phone. The release of this new universal app shouldn't be far off, as hinted by Giffgaff in a statement:
As touched on already, this new app will sport similar functionality to other carrier offerings, including a self-support system, community access, and Goodybag purchasing. The company expects to work hard on the Windows app to really bring it up to speed with Android and iOS counterparts. You'll soon be able to download the new Giffgaff app and try it out for yourself.
Rich Edmonds is Senior Editor of PC hardware at Windows Central, covering everything related to PC components and NAS. He's been involved in technology for more than a decade and knows a thing or two about the magic inside a PC chassis. You can follow him over on Twitter at @RichEdmonds.
Great to see a smaller company creating Windows 10 apps where the larger ones aren't seemingly very interested (Like Vodafone) I know GiffGaff runs on O2 and they're popular here in the UK but still consider them smaller than other really big names.

They don't just run on o2, they are owned by o2. It's nothing more than clever marketing, pretending they're somehow owned by the users. Once upon a time, there was a company called Genie, who had the same business model, but instead were an offshoot of o2's predecessor, BT Cellnet. When o2 came in and BT sold up, it was killed off, in a slow and painful death aka o2 Online. The same will happen when Three get ahold of o2 later this year. Both Genie and GiffGaff save money by offering practically no customer support although at least in Genies' case you could phone a premium 75p per minute number when things went wrong and speak to a human who actually had the capacity to do something, rather than relying on volunteers with little/no capabilities from a technical point of view to assist, and waiting days for a reply to a forum private message when you actually need technical assistance. What's more amazing is Life Mobile or better packages and prices now and yet they actually have full time Freephone customer service, as well as a much better network (EE - who they're owned by) and don't suffer network faults every few weeks. Anyone using the GiffGaff model must be mental these days, given the competition. Cheaper and better services out there. And none of the "goody bag" malarkey where it costs it's too renew their package, just simple straight forward prices.

Been on GiffGaff over 5 years, while there have been some issues it is no way near as bad as you claim. There is customer service and not just a forum, they are called agents and do actually get back to you within 24 hours. I rarely ever need to "speak" to companies though, I can figure everything out myself without a call centre worker. Your comparison to LifeMobile is not fair either. GiffGaff is prepay, while LifeMobile is a contract (requires credit checks etc). Also GiffGaff has 4G, LifeMobile is still 3G. GiffGaff has a payback reward system and is also far bigger than LifeMobile, which is actually a good thing because if LM ever go bust they don't have a parent like O2 to save them. I'm waiting to see what happens after the takeover, but for the next 6 months, GiffGaff is still the UKs cheapest prepaid 4G option.

Life Mobile does NOT require a credit check. At any point! Additionally, it's no more a contract than GiffGaff goody bags are, since you can cancel at any point. 24 hours if your service was off is ridiculous for customer support, not to mention the fact you have kids and other folk repeating incorrect answers to gain more credit. Life is rolling out 4G and is cheaper, so how is GG cheapest? There is also other even cheaper MVNO's currently rolling out 4G. And then you have the fact that GiffGaff have suffered numerous serious outages, and will continue to do, as o2 have placed them on dedicated hardware separate from the o2 network with lower priority status and seemingly less redundancy, multiple SPOF's and generally cheap and nasty hardware in itself to save money.

Well done guys... WP is never dead :) Posted from Windows Central for Windows 10

This is great! I use Giffgaff. Great little network Posted from Windows Central for Windows 10

What's the point? Once Three get ahold of o2, GiffGaff will be killed off anyway. They'd be better served spending this budget on actually having customer support, instead of relying on forums and volunteers. They could learn a lot from Life Mobile.

I used GiffGaff between July 2012 & October 2014 and the old app was very useful for keeping tabs on the goodybag I had chosen. It's good to have continued support, since Three's app is little more than a web wrapper (though in fairness their mobile website is pretty good). My issue with GiffGaff is that between July 2012 and late last year the price for unlimited data went up from £10>£12>£20 over 3 years. That's not acceptable (especially since tethering on unlimited is not allowed) compared to the offering Three had when I signed up in October 2014. Can't beat 200 mins voice unlimited SMS/data with 4GB tethering for £15 per month sim free ($23 inc. tax).

My missus moved from GiffGaff to Life Mobile last year, went from paying £12 per month for 500 mins, unlim text and 2GB data, to paying £10 per month for 3000 mins, unlim text and 3GB days iirc. And every time he GiffGaff goody bag ran out, it cost her to put the new one on! With Life they take the night payment by direct debit, and she also has a £1 spend cap stop so her bills are never high if she phones some premium number etc... And they have Freephone customer support who can actually help! Giffgaff was awful plus if her service was down, she doesn't have broadband at home lol. I pay £15 a month on Three now, lost my one plan last year :( but get 600 mins, unlim text and unlim data worth 12GB tethering. I do miss the unlim tethering though!

@MattLFC How did you lose your one plan?

They removed it from everyone. I was one of the first hit once my contract expired as I was averaging about 600GB per month. Not surprising they killed ot really!

600GB per month! Hmmmz. I think we know what you were up to :)

To be truthful, it was between 150 and 200GB most months, but last August I tested the 1000GB theory (supposedly the cap on unlimited plans) and blew though 2TB in a single month!! Mainly hammering my (burning hot) 920 tethering downloading Tele2 speed testfiles via 4G whenever I was at home, and to the phone itself when on work. Needless to say, it was incredibly hard work tbh, but it proved unlimited on Three truly is unlimited!! Without unlimited tethering I'm doing 30-60GB per month now.

There is also no guarantee that the takeover will go through. It has already been objected by the Ofcom and now with the EU Competition Commissioner. Hutchinson (owners of Three) say they have a plan-B that will involve keeping both companies separate. And as for takeovers, you do realise that EE has just been acquired by BT???

I know the mobile industry very well, its common knowledge BT acquired EE. This in itself means nothing, it was the merger of Orange ans TMo that damaged the industry. They will allow Three to acquire o2 because Three are not a dominant player in the industry. Hutchison have been planning a large acquisition for many years, hence their gradual re-positioning from budget towards premium, so they can argue the impact on price will be negligible (they've spent the last 3 years increasing prices already). Regardless of whether they take up plan B or not, GiffGaff will be gone as the service is not only sub-standard, but in the long term it's not sustainable. It's a brilliant way, like Genie, to gain market share and eventually bring the customers under one umbrella where the prices will increase and the benefits will diminish.

There must be a windows phone user on the Giff Gaff managment team! Their WP8.0 app is still the best of any other provider in the UK anyway. Unfortunatley i left giff gaff last month and have to put up with an EE web wrapper piece of rubbish now.

They actually boxed clever and employed the unofficial app developer direct. Other companies take note.

To be fair, the My EE app on both Android and iOS is also just a crappy web wrapper.

This is great news. Giff Gaff are seriously underrated. I've been with them for a few years now and I've never had an issue. Great to see support for the platform

That's great news as a Giff Gaff user I'll look forward to this app. The service has been good and cost effective

I left GiffGaff a few months back. The data speed was completely unacceptable. They run off the back of O2 yet in multiple tests across number weeks get les than 10% of the speed of an O2 customer. I've moved to iDmobile and get good data speeds.

Ex Giff Gaff customer. The price rises, poor network reliability, laughable data speeds & annoying forum support system where the reasons I left. I swear there are people on that forum who just reply " Do they do payback? " to any question asked.

Looks great! I'm looking forward to their new app although their current app isn't too shabby. Now if only FreedomPop would get their sh*t together and make a WP app, then both my sims would have apps..
Windows Central Newsletter
Get the best of Windows Central in in your inbox, every day!
Thank you for signing up to Windows Central. You will receive a verification email shortly.
There was a problem. Please refresh the page and try again.